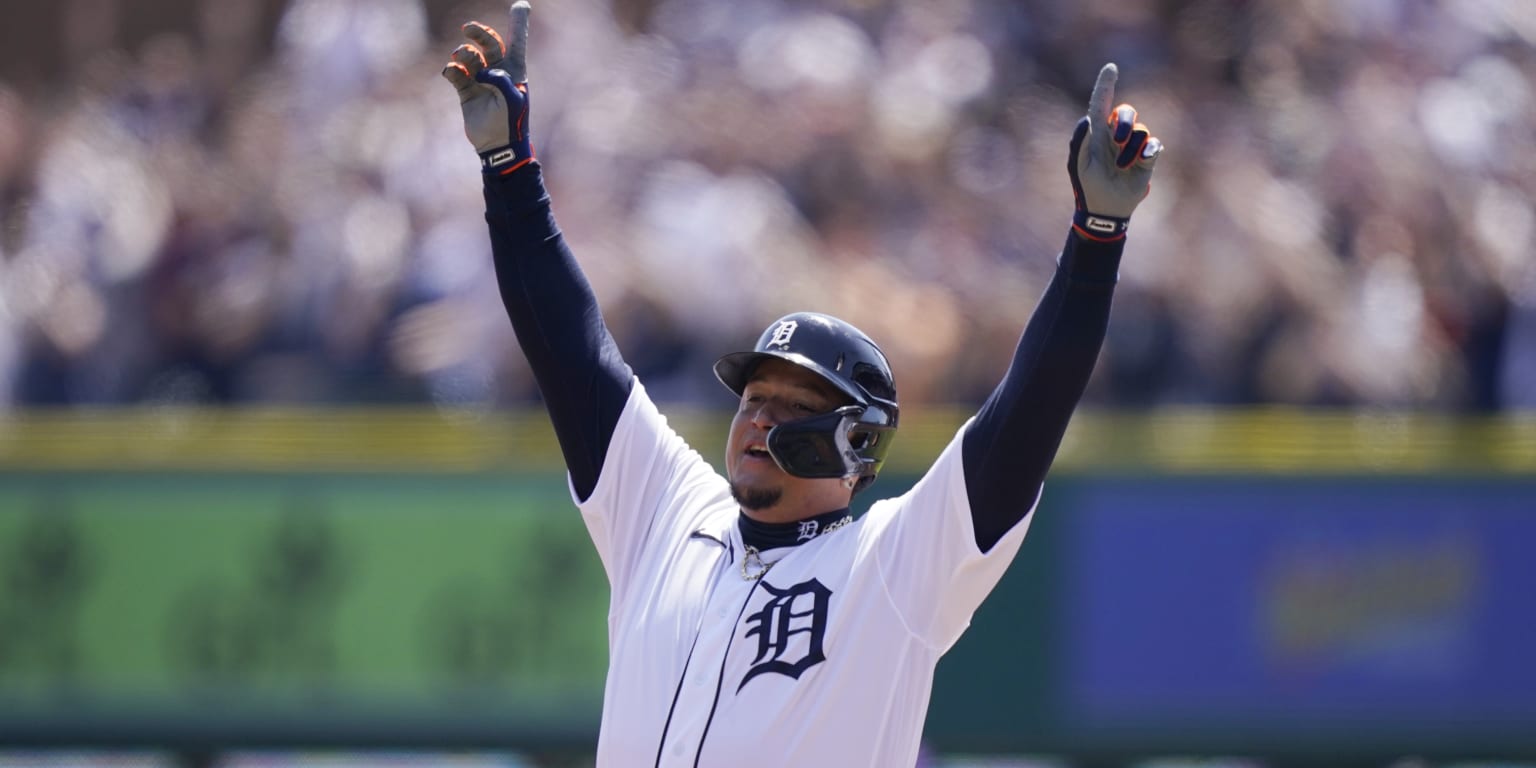 n","providerName":"Twitter","providerUrl":"https://twitter.com","sort":"wealthy","width":550,"__typename":"ExteriorEmbedContent"},"$ROOT_QUERY.getForgeContentBySlug({"locale":"en-us","slug":"miguel-cabrera-records-3-000th-hit","sort":"story"}).elements.2″:{"information":{"sort":"id","generated":true,"id":"$ROOT_QUERY.getForgeContentBySlug({"locale":"en-us","slug":"miguel-cabrera-records-3-000th-hit","sort":"story"}).elements.2.information","typename":"ExteriorEmbedContent"},"sort":"oembed","__typename":"ExteriorEmmattress"},"$ROOT_QUERY.getForgeContentBySlug({"locale":"en-us","slug":"miguel-cabrera-records-3-000th-hit","sort":"story"}).elements.3″:{"content material":"While the three,000-hit chase was a repeat in some methods, it additionally felt totally different. This was extra of a recognition of Cabrera's skill as a pure hitter. While Cabrera's path to stardom included a walk-off house run for his first Major League hit, he has taken nice delight in successful 4 batting titles in a five-year span, together with his 2012 title as a part of his American League Triple Crown season.","sort":"markdown","__typename":"Markdown"},"$ROOT_QUERY.getForgeContentBySlug({"locale":"en-us","slug":"miguel-cabrera-records-3-000th-hit","sort":"story"}).elements.4″:{"contentDate":"2003-06-21T02:00:00Z","description":"Miguel Cabrera's first profession hit is a walk-off house run in his Major League debut","period":"00:00:37″,"slug":"cabrera-hits-walk-off-homer-c2524637583″,"supply":null,"tags":[{"type":"id","generated":true,"id":"$ROOT_QUERY.getForgeContentBySlug({"locale":"en-us","slug":"miguel-cabrera-records-3-000th-hit","type":"story"}).parts.4.tags.0″,"typename":"Tag"},{"type":"id","generated":true,"id":"$ROOT_QUERY.getForgeContentBySlug({"locale":"en-us","slug":"miguel-cabrera-records-3-000th-hit","type":"story"}).parts.4.tags.1″,"typename":"Tag"},{"type":"id","generated":true,"id":"$ROOT_QUERY.getForgeContentBySlug({"locale":"en-us","slug":"miguel-cabrera-records-3-000th-hit","type":"story"}).parts.4.tags.2″,"typename":"Tag"},{"type":"id","generated":true,"id":"$ROOT_QUERY.getForgeContentBySlug({"locale":"en-us","slug":"miguel-cabrera-records-3-000th-hit","type":"story"}).parts.4.tags.3″,"typename":"Tag"},{"type":"id","generated":true,"id":"$ROOT_QUERY.getForgeContentBySlug({"locale":"en-us","slug":"miguel-cabrera-records-3-000th-hit","type":"story"}).parts.4.tags.4″,"typename":"Tag"},{"type":"id","generated":true,"id":"$ROOT_QUERY.getForgeContentBySlug({"locale":"en-us","slug":"miguel-cabrera-records-3-000th-hit","type":"story"}).parts.4.tags.5″,"typename":"Tag"}],"templateUrl":"https://img.mlbstatic.com/mlb-images/picture/non-public/{formatInstructions}/mlb/hbkkuefymmjzpj6dgrot","title":"Cabrera hits walk-off homer","sort":"video","url":"/video/cabrera-hits-walk-off-homer-c2524637583″,"__typename":"Video"},"$ROOT_QUERY.getForgeContentBySlug({"locale":"en-us","slug":"miguel-cabrera-records-3-000th-hit","sort":"story"}).elements.4.tags.0″:{"slug":"hbmig-subject-mlbcom-feature","title":"HBmig MLBCOM_FEATURE","__typename":"Tag"},"$ROOT_QUERY.getForgeContentBySlug({"locale":"en-us","slug":"miguel-cabrera-records-3-000th-hit","sort":"story"}).elements.4.tags.1″:{"slug":"hbmig-combined-media-state-media-archive","title":"HBmig MEDIA_ARCHIVE","__typename":"Tag"},"$ROOT_QUERY.getForgeContentBySlug({"locale":"en-us","slug":"miguel-cabrera-records-3-000th-hit","sort":"story"}).elements.4.tags.2″:{"slug":"playerid-408234″,"title":"Miguel Cabrera","__typename":"Tag"},"$ROOT_QUERY.getForgeContentBySlug({"locale":"en-us","slug":"miguel-cabrera-records-3-000th-hit","sort":"story"}).elements.4.tags.3″:{"slug":"hbmig-subject-mlbcom-no-transcode","title":"HBmig MLBCOM_NO_TRANSCODE","__typename":"Tag"},"$ROOT_QUERY.getForgeContentBySlug({"locale":"en-us","slug":"miguel-cabrera-records-3-000th-hit","sort":"story"}).elements.4.tags.4″:{"slug":"gamepk-17066″,"title":"2003/06/20 [email protected]","__typename":"Tag"},"$ROOT_QUERY.getForgeContentBySlug({"locale":"en-us","slug":"miguel-cabrera-records-3-000th-hit","sort":"story"}).elements.4.tags.5″:{"slug":"traditional","title":"traditional","__typename":"Tag"},"$ROOT_QUERY.getForgeContentBySlug({"locale":"en-us","slug":"miguel-cabrera-records-3-000th-hit","sort":"story"}).elements.5″:{"content material":"Cabrera's pure hitting talent contains his trademark skill to hit to the other area, a talent and philosophy he has handed alongside to present and former teammates.nnCabrera churned out a minimum of 180 hits in 11 of 12 seasons from 2005-16, the lone exception being an injury-shortened '15 marketing campaign by which he nonetheless received a batting title. When Cabrera recorded his 2,Five hundredth hit late within the '16 season, he was the eighth participant to achieve the full by the top of his age-33 season, and the youngest to take action since Hank Aaron.","sort":"markdown","__typename":"Markdown"},"$ROOT_QUERY.getForgeContentBySlug({"locale":"en-us","slug":"miguel-cabrera-records-3-000th-hit","sort":"story"}).elements.6.information":{"html":"
Miguel 3000 pic.twitter.com/duaKxKTIvU

— MLB (@MLB) April 23, 2022
nn","providerName":"Twitter","providerUrl":"https://twitter.com","sort":"wealthy","width":550,"__typename":"ExteriorEmbedContent"},"$ROOT_QUERY.getForgeContentBySlug({"locale":"en-us","slug":"miguel-cabrera-records-3-000th-hit","sort":"story"}).elements.6″:{"information":{"sort":"id","generated":true,"id":"$ROOT_QUERY.getForgeContentBySlug({"locale":"en-us","slug":"miguel-cabrera-records-3-000th-hit","sort":"story"}).elements.6.information","typename":"ExteriorEmbedContent"},"sort":"oembed","__typename":"ExteriorEmmattress"},"$ROOT_QUERY.getForgeContentBySlug({"locale":"en-us","slug":"miguel-cabrera-records-3-000th-hit","sort":"story"}).elements.7″:{"content material":""It's unbelievable while you have a look at it," Tigers supervisor A.J. Hinch mentioned earlier this week, "and I believe as coaches and me as a supervisor, the older that all of us are, the extra that we are able to respect issues that occurred some time again. Just attempting to get these gamers to know the names which can be up on the board that he is passing, the rarity of what you are truly seeing within the flesh, watching him deal with it with such pleasure.nn"There's so many classes to remove from it, however simply soaking it up and having fun with each minute of it. These gamers, Miggy may be the primary Hall of Famer they've ever performed with. You can put it in that perspective. It's fairly wonderful that we get to be part of it."","sort":"markdown","__typename":"Markdown"},"$ROOT_QUERY.getForgeContentBySlug({"locale":"en-us","slug":"miguel-cabrera-records-3-000th-hit","sort":"story"}).elements.8″:{"contentDate":"2021-08-22T18:49:35.282Z","description":"Miguel Cabrera hits profession house run No. 500, a solo homer off Steven Matz to tie the sport within the sixth","period":"00:01:23″,"slug":"miguel-cabrera-homers-13-on-a-fly-ball-to-right-center-field","supply":null,"tags":[{"type":"id","generated":true,"id":"$ROOT_QUERY.getForgeContentBySlug({"locale":"en-us","slug":"miguel-cabrera-records-3-000th-hit","type":"story"}).parts.8.tags.0″,"typename":"Tag"},{"type":"id","generated":true,"id":"$ROOT_QUERY.getForgeContentBySlug({"locale":"en-us","slug":"miguel-cabrera-records-3-000th-hit","type":"story"}).parts.8.tags.1″,"typename":"Tag"},{"type":"id","generated":true,"id":"$ROOT_QUERY.getForgeContentBySlug({"locale":"en-us","slug":"miguel-cabrera-records-3-000th-hit","type":"story"}).parts.8.tags.2″,"typename":"Tag"},{"type":"id","generated":true,"id":"$ROOT_QUERY.getForgeContentBySlug({"locale":"en-us","slug":"miguel-cabrera-records-3-000th-hit","type":"story"}).parts.8.tags.3″,"typename":"Tag"},{"type":"id","generated":true,"id":"$ROOT_QUERY.getForgeContentBySlug({"locale":"en-us","slug":"miguel-cabrera-records-3-000th-hit","type":"story"}).parts.8.tags.4″,"typename":"Tag"},{"type":"id","generated":true,"id":"$ROOT_QUERY.getForgeContentBySlug({"locale":"en-us","slug":"miguel-cabrera-records-3-000th-hit","type":"story"}).parts.8.tags.5″,"typename":"Tag"},{"type":"id","generated":true,"id":"$ROOT_QUERY.getForgeContentBySlug({"locale":"en-us","slug":"miguel-cabrera-records-3-000th-hit","type":"story"}).parts.8.tags.6″,"typename":"Tag"},{"type":"id","generated":true,"id":"$ROOT_QUERY.getForgeContentBySlug({"locale":"en-us","slug":"miguel-cabrera-records-3-000th-hit","type":"story"}).parts.8.tags.7″,"typename":"Tag"},{"type":"id","generated":true,"id":"$ROOT_QUERY.getForgeContentBySlug({"locale":"en-us","slug":"miguel-cabrera-records-3-000th-hit","type":"story"}).parts.8.tags.8″,"typename":"Tag"},{"type":"id","generated":true,"id":"$ROOT_QUERY.getForgeContentBySlug({"locale":"en-us","slug":"miguel-cabrera-records-3-000th-hit","type":"story"}).parts.8.tags.9″,"typename":"Tag"},{"type":"id","generated":true,"id":"$ROOT_QUERY.getForgeContentBySlug({"locale":"en-us","slug":"miguel-cabrera-records-3-000th-hit","type":"story"}).parts.8.tags.10″,"typename":"Tag"},{"type":"id","generated":true,"id":"$ROOT_QUERY.getForgeContentBySlug({"locale":"en-us","slug":"miguel-cabrera-records-3-000th-hit","type":"story"}).parts.8.tags.11″,"typename":"Tag"},{"type":"id","generated":true,"id":"$ROOT_QUERY.getForgeContentBySlug({"locale":"en-us","slug":"miguel-cabrera-records-3-000th-hit","type":"story"}).parts.8.tags.12″,"typename":"Tag"},{"type":"id","generated":true,"id":"$ROOT_QUERY.getForgeContentBySlug({"locale":"en-us","slug":"miguel-cabrera-records-3-000th-hit","type":"story"}).parts.8.tags.13″,"typename":"Tag"},{"type":"id","generated":true,"id":"$ROOT_QUERY.getForgeContentBySlug({"locale":"en-us","slug":"miguel-cabrera-records-3-000th-hit","type":"story"}).parts.8.tags.14″,"typename":"Tag"},{"type":"id","generated":true,"id":"$ROOT_QUERY.getForgeContentBySlug({"locale":"en-us","slug":"miguel-cabrera-records-3-000th-hit","type":"story"}).parts.8.tags.15″,"typename":"Tag"},{"type":"id","generated":true,"id":"$ROOT_QUERY.getForgeContentBySlug({"locale":"en-us","slug":"miguel-cabrera-records-3-000th-hit","type":"story"}).parts.8.tags.16″,"typename":"Tag"},{"type":"id","generated":true,"id":"$ROOT_QUERY.getForgeContentBySlug({"locale":"en-us","slug":"miguel-cabrera-records-3-000th-hit","type":"story"}).parts.8.tags.17″,"typename":"Tag"},{"type":"id","generated":true,"id":"$ROOT_QUERY.getForgeContentBySlug({"locale":"en-us","slug":"miguel-cabrera-records-3-000th-hit","type":"story"}).parts.8.tags.18″,"typename":"Tag"}],"templateUrl":"https://img.mlbstatic.com/mlb-images/picture/non-public/{formatInstructions}/mlb/gojqptkspsj3g8jewa69″,"title":"Miguel Cabrera's Five hundredth profession HR","sort":"video","url":"/video/miguel-cabrera-homers-13-on-a-fly-ball-to-right-center-field","__typename":"Video"},"$ROOT_QUERY.getForgeContentBySlug({"locale":"en-us","slug":"miguel-cabrera-records-3-000th-hit","sort":"story"}).elements.8.tags.0″:{"slug":"season-2021″,"title":"Season 2021″,"__typename":"Tag"},"$ROOT_QUERY.getForgeContentBySlug({"locale":"en-us","slug":"miguel-cabrera-records-3-000th-hit","sort":"story"}).elements.8.tags.1″:{"slug":"gamepk-632784″,"title":"2021/08/22 [email protected]","__typename":"Tag"},"$ROOT_QUERY.getForgeContentBySlug({"locale":"en-us","slug":"miguel-cabrera-records-3-000th-hit","sort":"story"}).elements.8.tags.2″:{"slug":"playerid-408234″,"title":"Miguel Cabrera","__typename":"Tag"},"$ROOT_QUERY.getForgeContentBySlug({"locale":"en-us","slug":"miguel-cabrera-records-3-000th-hit","sort":"story"}).elements.8.tags.3″:{"slug":"teamid-116″,"title":"Detroit Tigers","__typename":"Tag"},"$ROOT_QUERY.getForgeContentBySlug({"locale":"en-us","slug":"miguel-cabrera-records-3-000th-hit","sort":"story"}).elements.8.tags.4″:{"slug":"hitting","title":"hitting","__typename":"Tag"},"$ROOT_QUERY.getForgeContentBySlug({"locale":"en-us","slug":"miguel-cabrera-records-3-000th-hit","sort":"story"}).elements.8.tags.5″:{"slug":"spotlight","title":"spotlight","__typename":"Tag"},"$ROOT_QUERY.getForgeContentBySlug({"locale":"en-us","slug":"miguel-cabrera-records-3-000th-hit","sort":"story"}).elements.8.tags.6″:{"slug":"in-game-highlight","title":"in-game spotlight","__typename":"Tag"},"$ROOT_QUERY.getForgeContentBySlug({"locale":"en-us","slug":"miguel-cabrera-records-3-000th-hit","sort":"story"}).elements.8.tags.7″:{"slug":"Five hundredth-home-run","title":"Five hundredth HR","__typename":"Tag"},"$ROOT_QUERY.getForgeContentBySlug({"locale":"en-us","slug":"miguel-cabrera-records-3-000th-hit","sort":"story"}).elements.8.tags.8″:{"slug":"key-moments","title":"Key Moments","__typename":"Tag"},"$ROOT_QUERY.getForgeContentBySlug({"locale":"en-us","slug":"miguel-cabrera-records-3-000th-hit","sort":"story"}).elements.8.tags.9″:{"slug":"milestone","title":"milestone","__typename":"Tag"},"$ROOT_QUERY.getForgeContentBySlug({"locale":"en-us","slug":"miguel-cabrera-records-3-000th-hit","sort":"story"}).elements.8.tags.10″:{"slug":"home-run","title":"house run","__typename":"Tag"},"$ROOT_QUERY.getForgeContentBySlug({"locale":"en-us","slug":"miguel-cabrera-records-3-000th-hit","sort":"story"}).elements.8.tags.11″:{"slug":"international-feed","title":"International Partner feed","__typename":"Tag"},"$ROOT_QUERY.getForgeContentBySlug({"locale":"en-us","slug":"miguel-cabrera-records-3-000th-hit","sort":"story"}).elements.8.tags.12″:{"slug":"eclat-feed","title":"Eclat feed","__typename":"Tag"},"$ROOT_QUERY.getForgeContentBySlug({"locale":"en-us","slug":"miguel-cabrera-records-3-000th-hit","sort":"story"}).elements.8.tags.13″:{"slug":"1-yahoo-fantasy-feed","title":"1-Yahoo Fantasy Feed","__typename":"Tag"},"$ROOT_QUERY.getForgeContentBySlug({"locale":"en-us","slug":"miguel-cabrera-records-3-000th-hit","sort":"story"}).elements.8.tags.14″:{"slug":"yahoo-fantasy","title":"Yahoo Fantasy","__typename":"Tag"},"$ROOT_QUERY.getForgeContentBySlug({"locale":"en-us","slug":"miguel-cabrera-records-3-000th-hit","sort":"story"}).elements.8.tags.15″:{"slug":"imagen-feed","title":"Imagen feed","__typename":"Tag"},"$ROOT_QUERY.getForgeContentBySlug({"locale":"en-us","slug":"miguel-cabrera-records-3-000th-hit","sort":"story"}).elements.8.tags.16″:{"slug":"2-yahoo-mlb-ads-feed","title":"2-Yahoo MLB Ads Feed","__typename":"Tag"},"$ROOT_QUERY.getForgeContentBySlug({"locale":"en-us","slug":"miguel-cabrera-records-3-000th-hit","sort":"story"}).elements.8.tags.17″:{"slug":"yahoo-in-game-national","title":"Yahoo In-Game National","__typename":"Tag"},"$ROOT_QUERY.getForgeContentBySlug({"locale":"en-us","slug":"miguel-cabrera-records-3-000th-hit","sort":"story"}).elements.8.tags.18″:{"slug":"traditional","title":"traditional","__typename":"Tag"},"$ROOT_QUERY.getForgeContentBySlug({"locale":"en-us","slug":"miguel-cabrera-records-3-000th-hit","sort":"story"}).elements.9″:{"content material":"The intersection of Cabrera's profession feat with a roster that has grown younger round him has added to that impact. Cabrera's Tigers teammates gave him an emotional tribute in the clubhouse after he reached 500 house runs. His 3,000th-hit celebration included rookie first baseman Spencer Torkelson, who was simply 3 years previous when Cabrera had his first big-league hit.nn"He grew to become a Hall of Famer by staying contained in the baseball," Torkelson mentioned earlier this week. "It sounds easy, however that's what he's achieved. He'll take that single the opposite manner, or that double within the right-center-field hole to remain on pitches. It's positively what I'd love to do. The dedication to his method is second to none. …nn"I'm actually joyful for him. He deserves all of it."","sort":"markdown","__typename":"Markdown"},"$ROOT_QUERY.getForgeContentBySlug({"locale":"en-us","slug":"miguel-cabrera-records-3-000th-hit","sort":"story"}).elements.10.information":{"html":"
History pic.twitter.com/CUivbcsJVX

— Jason Beck (@beckjason) April 23, 2022
nn","providerName":"Twitter","providerUrl":"https://twitter.com","sort":"wealthy","width":550,"__typename":"ExteriorEmbedContent"},"$ROOT_QUERY.getForgeContentBySlug({"locale":"en-us","slug":"miguel-cabrera-records-3-000th-hit","sort":"story"}).elements.10″:{"information":{"sort":"id","generated":true,"id":"$ROOT_QUERY.getForgeContentBySlug({"locale":"en-us","slug":"miguel-cabrera-records-3-000th-hit","sort":"story"}).elements.10.information","typename":"ExteriorEmbedContent"},"sort":"oembed","__typename":"ExteriorEmmattress"},"$ROOT_QUERY.getForgeContentBySlug({"locale":"en-us","slug":"miguel-cabrera-records-3-000th-hit","sort":"story"}).elements.11″:{"content material":"Cabrera can also be the primary participant from Venezuela to achieve all these milestones. He already holds the MLB document for homers and hits by a Venezuelan-born player.nn"Even although we play for various groups, he's nonetheless from Venezuela," longtime division rival and good pal Salvador Perez mentioned final week. "I really feel joyful for him, joyful for my nation. I at all times say that Miggy represents each Venezuelan participant within the huge leagues. I do know we play in opposition to one another lots, and I wish to win, he needs to win. But moreover that, we're from the identical nation, so it makes me really feel proud {that a} man from Venezuela is doing what he's doing proper now."","sort":"markdown","__typename":"Markdown"},"$ROOT_QUERY.getForgeContentBySlug({"locale":"en-us","slug":"miguel-cabrera-records-3-000th-hit","sort":"story"}).tags.0.information":{"__typename":"UnsupportedTagSort"},"$ROOT_QUERY.getForgeContentBySlug({"locale":"en-us","slug":"miguel-cabrera-records-3-000th-hit","sort":"story"}).tags.0″:{"information":{"sort":"id","generated":true,"id":"$ROOT_QUERY.getForgeContentBySlug({"locale":"en-us","slug":"miguel-cabrera-records-3-000th-hit","sort":"story"}).tags.0.information","typename":"UnsupportedTagSort"},"exteriorSourceTitle":null,"slug":"storytype-article","title":"Article","sort":"article","__typename":"Tag"},"$ROOT_QUERY.getForgeContentBySlug({"locale":"en-us","slug":"miguel-cabrera-records-3-000th-hit","sort":"story"}).tags.1.information":{"__typename":"UnsupportedTagSort"},"$ROOT_QUERY.getForgeContentBySlug({"locale":"en-us","slug":"miguel-cabrera-records-3-000th-hit","sort":"story"}).tags.1″:{"information":{"sort":"id","generated":true,"id":"$ROOT_QUERY.getForgeContentBySlug({"locale":"en-us","slug":"miguel-cabrera-records-3-000th-hit","sort":"story"}).tags.1.information","typename":"UnsupportedTagSort"},"exteriorSourceTitle":"customentity.contributor","slug":"jason-beck","title":"Jason Beck","sort":"contributor","__typename":"Tag"},"Team:116″:{"id":"116″,"__typename":"Team"},"$ROOT_QUERY.getForgeContentBySlug({"locale":"en-us","slug":"miguel-cabrera-records-3-000th-hit","sort":"story"}).tags.2″:{"information":{"sort":"id","generated":false,"id":"Team:116″,"typename":"Team"},"exteriorSourceTitle":"crew","slug":"teamid-116″,"title":"Detroit Tigers","sort":"crew","__typename":"Tag"},"Player:408234″:{"id":"408234″,"__typename":"Player"},"$ROOT_QUERY.getForgeContentBySlug({"locale":"en-us","slug":"miguel-cabrera-records-3-000th-hit","sort":"story"}).tags.3″:{"information":{"sort":"id","generated":false,"id":"Player:408234″,"typename":"Player"},"exteriorSourceTitle":"participant","slug":"playerid-408234″,"title":"Miguel Cabrera","sort":"participant","__typename":"Tag"}},"appConfig":{"graphqlServiceUrl":"https://content-service.mlb.com"},"appState":{"advertDomost important":"mlb.mlb","appId":"","basePath":"information","membership":"mlb","contentfulProperties":{"organismHeadlineFont":null,"urlLogo":null,"favicon":null,"headerMastheadTagline":null,"headerPrimaryLogo":null,"headerMastheadTaglineContainerWidth":"512px","headerMastheadTaglineContainerHeight":"56px","organismLogoVersion":"caplogo","organismLogoStyle":"mild","headerMastheadLogoVersion":"cap","headerMastheadLogoStyle":"darkish","footerLogoVersion":"major","footerLogoStyle":"darkish","headlineTextTransform":"none","headlineFontFamily":null,"headlineFontFamilySizeMultiplier":1,"articleVideoAutoPlay":true,"articleVideoAutoPlaySound":false,"__typename":"CF_WebProperties"},"contentfulPalette":{"headerNavigationBackgroundColor":"#041E42″,"headerNavigationTextColor":"#ffffff","headerNavigationTextColorHover":"#ffffff","headerNavigationBorderColor":"#057AFF","headerMastheadBackgroundColor":"#002D72″,"buttonSpotlightBackgroundColor":"#333333″,"buttonSpotlightBackgroundColorHover":"lighten","buttonSpotlightTextColor":"#ffffff","buttonSpotlightTextColorHover":"#ffffff","footerBackgroundColor":"#333″,"footerBorderColor":"#f3f3f3″,"footerLinkColorActive":"#fff","footerLinkColor":"#ffffff","footerLinkColorHover":"#147CD1″,"footerTextColor":"#d2d2d2″,"__typename":"CF_Palette"},"contextUrlPrerepair":"","env":"manufacturing","footerState":{"clubId":"mlb","deviceProperties":{},"footerData":{"instanceId":"db2f8fb2-78c8-4d3c-a328-9e91c349dfee","identify":"global-footer","variables":[],"menuItems":[{"itemId":"aec375d3-3afa-4491-ab28-60b736f38982″,"text":"Terms of Use","properties":{"link":"/official-information/terms-of-use","target":"_blank"},"menuItems":[]},{"itemId":"debe8dbf-de27-4eae-b7ec-adae43fc4642″,"textual content":"Privacy Policy","properties":{"hyperlink":"/official-information/privacy-policy"},"menuItems":[]},{"itemId":"345a1847-cac1-43a4-91bf-70c21ecee681″,"textual content":"Legal Notices","properties":{"hyperlink":"/official-information/legal-notices"},"menuItems":[]},{"itemId":"34014aad-1069-4bba-b22e-4b287a4f7df1″,"textual content":"Contact Us","properties":{"hyperlink":"/official-information/contact"},"menuItems":[]},{"itemId":"65e06970-7f8e-4328-ad82-9d90df0f3e87″,"textual content":"Do Not Sell My Personal Data","properties":{"hyperlink":"https://privacyportal.onetrust.com/webform/53a301ae-6882-46f9-af93-24f64f792aee/3251a424-8286-4725-9313-603f12c85a49″,"goal":"_blank"},"menuItems":[]},{"itemId":"dd307e97-49c6-4f80-aff3-89a59696fb80″,"textual content":"Official Information","properties":{},"menuItems":[{"itemId":"bdf571d3-e8bb-403b-bb5f-7f28a7127c74″,"text":"Official Info","properties":{"link":"/official-information"},"menuItems":[]},{"itemId":"ecfd4d42-aa8d-4872-80a5-869c6b493018″,"textual content":"About MLB","properties":{"hyperlink":"/official-information/about-mlb"},"menuItems":[]},{"itemId":"bb62de22-5c84-4cab-b9fb-5429ea9d647c","textual content":"Team Information","properties":{"hyperlink":"https://information.google.com/crew"},"menuItems":[]},{"itemId":"7cc37e2a-667c-4405-bd1f-87ad88bc4d9e","textual content":"Official Rules","properties":{"hyperlink":"https://img.mlbstatic.com/mlb-images/picture/add/mlb/atcjzj9j7wrgvsm8wnjq.pdf"},"menuItems":[]},{"itemId":"e658056b-608b-4eee-a04a-43772f9e6bb4″,"textual content":"Replay Review Regulations","properties":{"hyperlink":"/glossary/guidelines/replay-review"},"menuItems":[]},{"itemId":"d1ffda83-f016-4ba6-8f32-7cc7ce787a9c","textual content":"Umpires","properties":{"hyperlink":"/official-information/umpires"},"menuItems":[]},{"itemId":"23dde9d7-6aba-4bec-a449-b1b4d5a5767c","textual content":"Advertise with Us","properties":{"hyperlink":"/sponsorship"},"menuItems":[]},{"itemId":"bd193214-b4a4-4c4d-965e-1a55cdc2e0fb","textual content":"Press Releases","properties":{"hyperlink":"/information/subject/mlb-press-releases"},"menuItems":[]}]},{"itemId":"7a60a8fc-0c3c-4c87-b04b-2b57b6c9894c","textual content":"Help/Contact Us","properties":{},"menuItems":[{"itemId":"efb27376-accc-4ca4-9017-c3309ee122d3″,"text":"Accessibility Information","properties":{"link":"/official-information/accessibility"},"menuItems":[]},{"itemId":"cf3490fc-f093-4457-99a7-d2bc3f4d4cef","textual content":"Auctions Customer Service","properties":{"hyperlink":"http://auctions.mlb.com/iSynApp/handleUserEmail!presentEmailContactUsType.motion?sid=1101001″},"menuItems":[]},{"itemId":"c6867706-11b7-4634-a78e-b5d513948f43″,"textual content":"Harassment Policy","properties":{"hyperlink":"/official-information/harassment-policy"},"menuItems":[]},{"itemId":"0e3932c9-beec-43f2-b712-66879a51ab63″,"textual content":"Help/Contact Us","properties":{"hyperlink":"/official-information/contact"},"menuItems":[]},{"itemId":"6d4ebef1-3168-4b79-a237-9f36931d3a2c","textual content":"MLB App FAQs","properties":{"hyperlink":"/apps/mlb-app/faq-apple"},"menuItems":[]},{"itemId":"4b3c6ee8-d4ae-4265-a7e7-7e5bea8cde28″,"textual content":"MLB.com Account Information","properties":{"hyperlink":"/official-information/faqs"},"menuItems":[]},{"itemId":"4d33a7c1-38d5-4b3b-a999-53377f55738d","textual content":"MLB.TV Help Center","properties":{"hyperlink":"/live-stream-games/help-center"},"menuItems":[]},{"itemId":"36f01834-7979-4a42-aa12-52439c2e320b","textual content":"Shop Help","properties":{"hyperlink":"https://www.mlbshop.com/customer-help-desk/hd-1″},"menuItems":[]},{"itemId":"bb6e7a31-4b7d-4e49-8c2e-00dda9e237ab","textual content":"Ticket Information","properties":{"hyperlink":"/official-information/ticket-faqs"},"menuItems":[]}]},{"itemId":"6ca8b189-8c54-428f-9f79-3c357ef18469″,"textual content":"More MLB Sites & Affiliates","properties":{},"menuItems":[{"itemId":"becc9309-94fc-491b-ad15-45f7c17f85a9″,"text":"MLB Players Alumni Association","properties":{"link":"/mlbpaa","target":""},"menuItems":[]},{"itemId":"9ff49c09-8a0d-41e6-b8b0-14f37f8e7f52″,"textual content":"MLB Players Association","properties":{"hyperlink":"http://www.mlbplayers.com/"},"menuItems":[]},{"itemId":"022ec2ca-bb20-4543-9cdc-95ba3a4443ca","textual content":"Minor League Baseball","properties":{"hyperlink":"https://www.milb.com/"},"menuItems":[]},{"itemId":"c6f9948e-3521-4788-83ed-b568f39e86aa","textual content":"MLB Network","properties":{"hyperlink":"https://www.mlb.com/community"},"menuItems":[]},{"itemId":"de2ea389-0a29-4600-8048-b4261916183d","textual content":"Baseball Assistance Team","properties":{"hyperlink":"/baseball-assistance-team"},"menuItems":[]},{"itemId":"6a47c1d6-35aa-4028-9825-7cfc34a3ea40″,"textual content":"Player Resource Center","properties":{"hyperlink":"/player-resource-center"},"menuItems":[]},{"itemId":"75f0b763-612d-4557-ae38-227fb5b3b7f1″,"textual content":"Tickets.com","properties":{"hyperlink":"http://www.tickets.com/"},"menuItems":[]},{"itemId":"cb410dd4-4ace-4b5b-be3e-4ae6d60cd20f","textual content":"YES Network","properties":{"hyperlink":"https://www.yesnetwork.com/"},"menuItems":[]},{"itemId":"5c8f6196-a4d5-4ed5-b830-189580691d3e","textual content":"Australian Baseball League","properties":{"hyperlink":"https://theabl.com.au/"},"menuItems":[]},{"itemId":"ab6fc805-0bb7-439b-8c3c-92c61b035387″,"textual content":"World Baseball Classic","properties":{"hyperlink":"https://www.worldbaseballclassic.com/"},"menuItems":[]},{"itemId":"e218ed4d-89f9-4f7d-87e7-c05a3559cd74″,"textual content":"sabr.org","properties":{"hyperlink":"http://sabr.org/"},"menuItems":[]},{"itemId":"158a95a6-bd4f-4654-b57f-465d3c356a55″,"textual content":"College Baseball Hall of Fame","properties":{"hyperlink":"https://www.mlb.com/college-baseball-hall-of-fame"},"menuItems":[]},{"itemId":"2e494e91-a92e-4763-b89b-7944f37b1b3f","textual content":"Golden Spike Award","properties":{"hyperlink":"https://www.usabaseball.com/golden-spikes-award"},"menuItems":[]},{"itemId":"ccd9020d-c619-45d2-bc1f-ef80ae2cd651″,"textual content":"USA Baseball","properties":{"hyperlink":"https://www.usabaseball.com"},"menuItems":[]},{"itemId":"75512a93-d52d-4d71-a6d3-70d6b44dfa0f","textual content":"LasMayores.com","properties":{"hyperlink":"https://www.mlb.com/es"},"menuItems":[]},{"itemId":"3b7bbad3-1ed5-468d-8703-205519315e04″,"textual content":"MLBCommunity.org","properties":{"hyperlink":"/mlb-community"},"menuItems":[]},{"itemId":"f8058121-3606-4ff2-be8a-d1a3d47642db","textual content":"AllStarGame.com","properties":{"hyperlink":"/all-star"},"menuItems":[]},{"itemId":"a624b4e5-c8d8-44b9-9084-7522ed0cee59″,"textual content":"MLB.com/Kids","properties":{"hyperlink":"https://www.mlb.com/followers/youngsters"},"menuItems":[]},{"itemId":"43c6bc47-f7d9-445a-85a1-10b3cdc02ee0″,"textual content":"MLB Photostore","properties":{"hyperlink":"https://photostore.mlb.com/","seen":"false"},"menuItems":[]},{"itemId":"c574a4a2-45ec-47fe-8ca3-b5b99d1cb443″,"textual content":"PlayBall.org","properties":{"hyperlink":"https://www.playball.org"},"menuItems":[]},{"itemId":"517cf98f-063c-486a-a725-5380e1ae063f","textual content":"MLB Educators","properties":{"hyperlink":"/mlb-educators"},"menuItems":[]}]},{"itemId":"e3a86593-6da0-4d00-a512-0b8c78c9b8a5″,"textual content":"Careers","properties":{"hyperlink":""},"menuItems":[{"itemId":"35caab61-51c7-4b17-a9b8-e9ecd201058a","text":"Careers Home","properties":{"link":"/careers/home"},"menuItems":[]}]}]},"headerData":{"instanceId":"fbde1dcd-c837-4740-991c-1087d1db26d1″,"identify":"global-nav","variables":[],"menuItems":[{"itemId":"tickets","text":"Tickets","properties":{"link":"https://news.google.com/tickets","customProperties":"align:right;"},"menuItems":[{"itemId":"764d21d8-0f58-4d63-b57c-035ec47d193c","text":"General Ticket Information","properties":{"link":"https://news.google.com/tickets","customProperties":"","visible":"false"},"menuItems":[]},{"itemId":"4e45f354-0ccd-4c89-ac5e-12f16dd11f3a","textual content":"Season Tickets","properties":{"hyperlink":"/tickets/season-tickets","customProperties":"","seen":"false"},"menuItems":[]},{"itemId":"020f5910-a69a-443a-b5a3-37b7664d8a4f","textual content":"Spring Training","properties":{"hyperlink":"/tickets/spring-training","seen":"false"},"menuItems":[]},{"itemId":"0a8ddc10-4b69-4a97-a677-6301ac30971b","textual content":"Fan Value","properties":{"hyperlink":"https://information.google.com/tickets/fan-value","customProperties":"","seen":"true"},"menuItems":[]},{"itemId":"417de43e-baa5-4ca1-802d-c0814be88688″,"textual content":"Ballpark Tours","properties":{"hyperlink":"/tickets/ballpark-tours","seen":"false"},"menuItems":[]},{"itemId":"dc1ab63d-4195-4a41-8248-cfa5513a66e9″,"textual content":"StubHub.com","properties":{"hyperlink":"https://www.stubhub.com/mlb-tickets/grouping/81/?gcid=C12289x371″,"customProperties":""},"menuItems":[]},{"itemId":"a1fd4bc8-d136-4d65-a0cd-393f31e0e14e","textual content":"All-Star Game","properties":{"hyperlink":"/all-star/tickets","customProperties":"expires:1626228000″,"seen":"false"},"menuItems":[]},{"itemId":"5d7d5f77-3b9d-4d21-bece-8b3245b7bf2a","textual content":"International Events","properties":{"hyperlink":"https://information.google.com/worldwide","seen":"false"},"menuItems":[]},{"itemId":"5e7b162c-c994-4bad-89b3-0a1b2746710d","textual content":"Ticket Terms & Conditions","properties":{"hyperlink":"https://information.google.com/tickets/terms-and-conditions"},"menuItems":[]}]},{"itemId":"7b24aad4-85fb-4206-b915-85dc84bf8046″,"textual content":"MLB.TV","properties":{"hyperlink":"https://www.mlb.com/television?&affiliateId=mlbMENU","customProperties":"amp:true;align:proper;","icon":"watch"},"menuItems":[{"itemId":"ab13d176-9838-413e-9107-7e4d718fd357″,"text":"Watch & Listen Live","properties":{"link":"/live-stream-games?&affiliateID=mlbMENU"},"menuItems":[]},{"itemId":"3153c3df-f5c8-4e02-8d3d-4c2f8f2c07ad","textual content":"Buy MLB.TV","properties":{"hyperlink":"/live-stream-games/subscribe?&affiliateId=mlbMENU"},"menuItems":[]},{"itemId":"ec113dc5-fef0-4f00-b9bd-9435cc62d961″,"textual content":"Buy MLB Audio","properties":{"hyperlink":"/live-stream-games/subscribe/mlb-audio?&affiliateId=mlbMENU"},"menuItems":[]},{"itemId":"00132689-c7ce-46b0-bfac-228fa9f70a22″,"textual content":"Watch MLB.TV Docs & Features","properties":{"hyperlink":"https://www.mlb.com/television/featured?&affiliateId=mlbMENU","seen":"false"},"menuItems":[]},{"itemId":"68b755ed-4f9d-4c0a-96ea-ffafb22ca5c5″,"textual content":"MLB.TV Help Center","properties":{"hyperlink":"/live-stream-games/help-center?&affiliateId=mlbMENU","customProperties":"","seen":"true"},"menuItems":[]}]},{"itemId":"6bfaf88e-891c-4e05-a935-8a32bd23086a","textual content":"Shop","properties":{"hyperlink":"https://www.mlbshop.com/?_s=bm-mlbcom-hp","customProperties":"align:proper;","icon":"shopping-cart"},"menuItems":[{"itemId":"d7b3c8e0-42c4-45c5-8278-c51adb21b47f","text":"Auction","properties":{"link":"http://auction.mlb.com/","visible":"true"},"menuItems":[]},{"itemId":"216d4562-456b-442d-b078-9e9be9b35b20″,"textual content":"Authentication","properties":{"hyperlink":"https://information.google.com/authentication"},"menuItems":[]},{"itemId":"20f4725a-5dc1-4543-a153-7795cd789463″,"textual content":"Autographed","properties":{"hyperlink":"http://auctions.mlb.com/iSynApp/allAuction.motion?sid=1101001&rc=25&selectedCatId=17342&type=timeleft_asc&pgmode2=catpage"},"menuItems":[]},{"itemId":"f4f69cd4-2549-45f2-ba63-d97ddb0b564c","textual content":"Jerseys","properties":{"hyperlink":"https://www.mlbshop.com/jerseys/d-1250336792+z-990485-1677480024?_s=bm-mlbcom-hp","customProperties":""},"menuItems":[]},{"itemId":"a67b9b28-c511-47a8-87e6-594cb719c787″,"textual content":"Caps","properties":{"hyperlink":"https://www.mlbshop.com/caps/d-3494554436+z-921549-1032840697?_s=bm-mlbcom-hp","customProperties":""},"menuItems":[]},{"itemId":"f5b9b657-5322-40c1-b2e8-1bd31e27abf6″,"textual content":"Men's","properties":{"hyperlink":"https://www.mlbshop.com/males/ga-12+z-9112397524-3608394688?_s=bm-mlbcom-hp","customProperties":""},"menuItems":[]},{"itemId":"dfa13a6f-17fd-4a4a-9963-f3e3734e28bf","textual content":"Women's","properties":{"hyperlink":"https://www.mlbshop.com/ladies/ga-57+z-822989763-3950492570?_s=bm-mlbcom-hp","customProperties":""},"menuItems":[]},{"itemId":"c2bf810b-0d1f-4135-b7f8-919c53fc8cc2″,"textual content":"Kids","properties":{"hyperlink":"https://www.mlbshop.com/youngsters/ga-36+z-861270405-1171990865?_s=bm-mlbcom-hp","customProperties":""},"menuItems":[]},{"itemId":"1b321c96-eb8a-4077-9868-9420205878bc","textual content":"Collectibles & Memorabilia","properties":{"hyperlink":"https://www.mlbshop.com/collectibles-and-memorabilia/d-7883550038+z-87646-4052890706?_s=bm-mlbcom-hp","customProperties":""},"menuItems":[]},{"itemId":"91dcfa1d-f4de-4bf9-93f8-8f91f4069272″,"textual content":"Home & Office","properties":{"hyperlink":"https://www.mlbshop.com/home-and-office/d-3449556733+z-992406-855732365?_s=bm-mlbcom-hp","customProperties":""},"menuItems":[]},{"itemId":"c69e35fc-900e-4fcc-9348-085aa0febeab","textual content":"Gift Cards","properties":{"hyperlink":"https://www.mlbshop.com/gift-cards/x-462351+z-94899005-3509039474?_s=bm-mlbcom-Home","customProperties":""},"menuItems":[]},{"itemId":"7423a9ca-3a6f-42fe-8d6e-9459bed284c7″,"textual content":"NYC Retail Store","properties":{"hyperlink":"https://information.google.com/store/nyc-retail-store"},"menuItems":[]},{"itemId":"44958e84-599e-44b1-96b4-44f38a477942″,"textual content":"European Shop","properties":{"hyperlink":"http://www.mlbshopeurope.com/shops/mlb/en?portal=MLTS66FS&CMP=PSC-MLTS66FS","customProperties":""},"menuItems":[]},{"itemId":"51d3278e-90fd-4462-aec0-7cfd8de1cb79″,"textual content":"Photo Store","properties":{"hyperlink":"https://photostore.mlb.com/","seen":"false"},"menuItems":[]}]},{"itemId":"5052bac6-3f1d-4847-8739-42021d7cfc2d","textual content":"News","properties":{"hyperlink":"https://information.google.com/information","customProperties":"amp:true;cellular:true"},"menuItems":[{"itemId":"82d45c9a-d055-4ab4-b785-576d982a2077″,"text":"Probable Pitchers","properties":{"visible":"true","link":"https://news.google.com/probable-pitchers"},"menuItems":[]},{"itemId":"4bfdb502-31e4-49dd-bae1-89a4772d0739″,"textual content":"Prospect Rankings","properties":{"hyperlink":"https://information.google.com/prospects"},"menuItems":[]},{"itemId":"f499f46a-a51b-443e-82aa-3b6006f9b306″,"textual content":"Starting Lineups","properties":{"seen":"false"},"menuItems":[]},{"itemId":"6ee1c331-faa0-4865-a062-1c98a2f67c0d","textual content":"Great Stories","properties":{"seen":"true","hyperlink":"https://information.google.com/information/subject/longform"},"menuItems":[]},{"itemId":"844e328c-713f-46da-8183-965d19eb7dd8″,"textual content":"Awards","properties":{"seen":"false"},"menuItems":[]},{"itemId":"c1ac7886-1d18-4ad8-9fc4-326ab4753144″,"textual content":"MLB Draft","properties":{"seen":"false","hyperlink":"/draft/2021″},"menuItems":[]},{"itemId":"230d1ec0-9d0a-4a3f-a04c-3cf16474390f","textual content":"Pipeline","properties":{"seen":"true","hyperlink":"https://information.google.com/pipeline"},"menuItems":[]},{"itemId":"28a2e573-86ba-4cdc-a924-86d3b6500979″,"textual content":"Glossary","properties":{"seen":"false"},"menuItems":[]},{"itemId":"7e316d55-5379-4151-a0e5-828b6b4f8ba8″,"textual content":"All-Star Game","properties":{"seen":"false","hyperlink":"/all-star/"},"menuItems":[]}]},{"itemId":"ed72bef5-d993-4ffe-91d2-15abf6218c12″,"textual content":"Video","properties":{"hyperlink":"https://information.google.com/video"},"menuItems":[{"itemId":"a5ff7160-ceb1-4742-a19e-a6c57b79c0d6″,"text":"– In this section heading goes here (items below should be indented) –","properties":{"visible":"false"},"menuItems":[]},{"itemId":"d6f95b2e-b8ee-41f0-a313-e74537eff685″,"textual content":"Film Room","properties":{"hyperlink":"https://information.google.com/video/search","seen":"true"},"menuItems":[]},{"itemId":"a24a8e9d-471b-4626-9535-28e1b8f62bad","textual content":"Watch Live Games","properties":{"hyperlink":"https://information.google.com/live-stream-games?affiliateId=mlbMENU","seen":"true"},"menuItems":[]},{"itemId":"286ad1ca-abe4-4d67-b80a-9020e756750e","textual content":"MLB Network","properties":{"hyperlink":"https://information.google.com/community"},"menuItems":[]},{"itemId":"948d378c-7d73-49b1-b5ba-8729c59bca9a","textual content":"Podcasts","properties":{"hyperlink":"https://information.google.com/podcasts","seen":"true"},"menuItems":[]},{"itemId":"b4db4be3-d1cd-4aeb-a1a4-c1a88127b4e0″,"textual content":"– Featured heading goes right here (objects under ought to be indented) –","properties":{"seen":"false"},"menuItems":[]},{"itemId":"c7cc3f43-1b5b-410a-aeb9-87a98410b47b","textual content":"MLB Draft","properties":{"hyperlink":"/video/subject/mlb-draft","seen":"false"},"menuItems":[]}]},{"itemId":"7c68f445-5095-46cc-bab3-73af6c921597″,"textual content":"Scores","properties":{"hyperlink":"https://information.google.com/scores","customProperties":"cellular:true;amp:true;","seen":"true"},"menuItems":[]},{"itemId":"9efaf5e3-6a93-4e4f-b8af-1219110ecb30″,"textual content":"Stats","properties":{"hyperlink":"https://information.google.com/stats","customProperties":"cellular:true;amp:true;"},"menuItems":[{"itemId":"54409829-d71b-4846-9f67-5a559c1d48a8″,"text":"2022 Regular Season Stats","properties":{"link":"https://news.google.com/stats/2022/regular-season"},"menuItems":[]},{"itemId":"670765d3-3238-4c3c-8dad-3e16850b9c51″,"textual content":"2022 Spring Training Stats","properties":{"hyperlink":"https://information.google.com/stats/2022/spring-training"},"menuItems":[]},{"itemId":"f31b263b-34d4-46ab-aa46-9796e93b048b","textual content":"2021 Regular Season Stats","properties":{"hyperlink":"https://information.google.com/stats/2021/regular-season"},"menuItems":[]},{"itemId":"8aaf8eb7-7583-4394-9a19-d95cc3323577″,"textual content":"2021 Postseason Stats","properties":{"hyperlink":"https://information.google.com/stats/2021/postseason-cumulative"},"menuItems":[]},{"itemId":"62c5195b-2630-4d9e-9896-6aee0709aeee","textual content":"2021 Sortable Team Stats","properties":{"hyperlink":"https://information.google.com/stats/crew/2021″},"menuItems":[]},{"itemId":"41566816-1cb8-421f-9a4a-9ccdefa7ed69″,"textual content":"Statcast Leaders","properties":{"hyperlink":"https://baseballsavant.mlb.com/statcast_leaderboard"},"menuItems":[]},{"itemId":"2d0a2684-64c6-4d9f-87a1-a7cf9f661e2f","textual content":"Baseball Savant","properties":{"hyperlink":"https://baseballsavant.mlb.com/"},"menuItems":[]},{"itemId":"b9d0ae31-f31d-449b-82fb-5a77f59293ba","textual content":"Top Prospect Stats","properties":{"hyperlink":"/prospects/stats/top-prospects?sort=all&dateRange=Year2019&minPA=1″},"menuItems":[]}]},{"itemId":"6af88ec1-9bfe-4494-abc0-898dc919a081″,"textual content":"Standings","properties":{"hyperlink":"https://information.google.com/standings","customProperties":"amp:true;"},"menuItems":[{"itemId":"ebed9f18-3f22-45cf-a887-ff3d89b1db3c","text":"2022 Regular Season Standings","properties":{"link":"https://news.google.com/standings/regular-season/2022″},"menuItems":[]},{"itemId":"121a61dc-a81a-45af-abbe-8230aee19b5e","textual content":"2022 Spring Training Standings","properties":{"hyperlink":"https://information.google.com/standings/spring-training"},"menuItems":[]},{"itemId":"a9713ec1-4849-41b5-8f0b-fa0746a205e4″,"textual content":"2021 Regular Season Standings","properties":{"hyperlink":"https://information.google.com/standings/regular-season/2021″,"customProperties":""},"menuItems":[]},{"itemId":"a84f52a4-d7d4-4661-b193-8c81901e8e7e","textual content":"2021 Advanced Standings","properties":{"hyperlink":"https://information.google.com/standings/regular-season/advanced-splits/2021″,"customProperties":""},"menuItems":[]}]},{"itemId":"248fea7e-1d19-452a-bb5c-999e1a09b7cd","textual content":"Schedule","properties":{"hyperlink":"https://information.google.com/schedule","customProperties":"amp:true;cellular:true;"},"menuItems":[{"itemId":"f4010b7a-902c-41e0-b405-e0fa695b5c64″,"text":"2022 Regular Season","properties":{"link":"https://news.google.com/schedule/"},"menuItems":[]},{"itemId":"74ae0fd1-28f5-41ab-8861-23d056482243″,"textual content":"2022 Spring Training","properties":{"hyperlink":"/schedule/2022-03-17″,"seen":"false"},"menuItems":[]},{"itemId":"94c9d7e4-3477-4217-87f3-008d2290b9ee","textual content":"Important Dates","properties":{"hyperlink":"/schedule/occasions#important-dates"},"menuItems":[]},{"itemId":"d3566c69-34a7-4e6c-b2bb-28203c847f9e","textual content":"Probable Pitchers","properties":{"hyperlink":"https://information.google.com/probable-pitchers","seen":"false"},"menuItems":[]},{"itemId":"3747c1bc-9b3d-43f5-bd04-d1274c59c02a","textual content":"Team by Team Schedule","properties":{"hyperlink":"https://information.google.com/schedule/team-by-team"},"menuItems":[]},{"itemId":"e75ecc62-7e72-4b53-9705-a23e2b511f83″,"textual content":"National Broadcasts","properties":{"hyperlink":"https://www.mlb.com/live-stream-games/national-broadcast-schedule","seen":"true"},"menuItems":[]},{"itemId":"bce30443-7f92-4c61-979f-058e5e6ebe17″,"textual content":"Sunday Night Broadcasts","properties":{"hyperlink":"http://m.mlb.com/promo/sunday-night-broadcasts","seen":"false"},"menuItems":[]}]},{"itemId":"8c842eeb-dedd-430c-a452-57a740d5c3df","textual content":"Players","properties":{"hyperlink":"https://information.google.com/gamers","customProperties":"","icon":"group","seen":"true"},"menuItems":[{"itemId":"1d79329f-5a6b-4294-b78f-31ead4822c69″,"text":"Injury Updates","properties":{"link":"https://news.google.com/injury-report"},"menuItems":[]},{"itemId":"1f929714-240b-4834-b859-8066a592fa8e","textual content":"Depth Charts","properties":{"hyperlink":"https://information.google.com/crew/roster/depth-chart"},"menuItems":[]},{"itemId":"b30fe902-714f-4f74-a901-d2397c750dab","textual content":"Transactions","properties":{"hyperlink":"http://mlb.mlb.com/mlb/transactions/?tcid=mm_mlb_players"},"menuItems":[]},{"itemId":"3e585331-af20-4e73-8419-2067bed2677c","textual content":"Starting Lineups","properties":{"seen":"false","hyperlink":"/starting-lineups"},"menuItems":[]},{"itemId":"2983d4a7-0410-41fe-8b08-35c866b373d5″,"textual content":"Prospect Rankings","properties":{"hyperlink":"https://information.google.com/prospects"},"menuItems":[]},{"itemId":"a07b01b6-397e-450e-bd8d-7e00c6dd2a80″,"textual content":"MLB Players Association","properties":{"hyperlink":"https://www.mlbplayers.com"},"menuItems":[]},{"itemId":"5f453f49-28d8-4036-9f14-d947b8fd4980″,"textual content":"Probable Pitchers","properties":{"hyperlink":"https://information.google.com/probable-pitchers"},"menuItems":[]},{"itemId":"3de86763-c530-400b-a7de-1761c927d7bc","textual content":"Negro Leagues","properties":{"hyperlink":"https://information.google.com/historical past/negro-leagues"},"menuItems":[]}]},{"itemId":"781f2bb2-a66a-44be-8fee-b0a0250d60e6″,"textual content":"Play Ball","properties":{"hyperlink":"https://information.google.com/play-ball","goal":"_blank","customProperties":"topNav:false;","icon":"baseball"},"menuItems":[{"itemId":"2a74747c-e482-42f5-b750-ce710dea6568″,"text":"PlayBall.org","properties":{"link":"https://news.google.com/play-ball","target":"_blank","visible":"false"},"menuItems":[]},{"itemId":"9f5ab700-d2c0-43be-a398-6926ceef9e1c","textual content":"Hank Aaron Invitational","properties":{"hyperlink":"/hank-aaron-invitational","seen":"false"},"menuItems":[]},{"itemId":"14d9fdc8-ba24-44cf-9a77-7a867852f418″,"textual content":"News","properties":{"hyperlink":"https://information.google.com/information/subject/youth-baseball"},"menuItems":[]},{"itemId":"4c876067-e576-4874-b914-d86fe7f4a538″,"textual content":"Pitch Smart","properties":{"hyperlink":"/pitch-smart","seen":"false"},"menuItems":[]},{"itemId":"6996ed01-d31d-4fc4-8d0d-a5baf177f69a","textual content":"Play Ball Near You","properties":{"hyperlink":"https://information.google.com/play-ball/play-ball-near-you"},"menuItems":[]},{"itemId":"4e66a4b2-0f27-483c-81d4-f27b0b630eac","textual content":"States Play","properties":{"hyperlink":"/states-play","seen":"false"},"menuItems":[]},{"itemId":"aed729a5-4ff6-45cc-868c-f90b9b9190af","textual content":"MLB TOUR","properties":{"hyperlink":"/mlb-tour","seen":"false"},"menuItems":[]},{"itemId":"28d79b33-aebd-4685-9cc9-c4ccce1262f8″,"textual content":"RBI","properties":{"hyperlink":"https://information.google.com/rbi"},"menuItems":[]},{"itemId":"18001329-d9d0-47b9-b2e0-5043b69cee9e","textual content":"Pitch, Hit & Run","properties":{"hyperlink":"https://information.google.com/pitch-hit-and-run"},"menuItems":[]},{"itemId":"df867e3c-db53-4d4f-9958-e10cb0939c8a","textual content":"Jr. Home Run Derby","properties":{"hyperlink":"https://information.google.com/junior-home-run-derby"},"menuItems":[]},{"itemId":"6af5ec56-5e26-45b3-93d6-2f79d929c046″,"textual content":"MLB Pipeline","properties":{"hyperlink":"https://information.google.com/pipeline","seen":"false"},"menuItems":[]},{"itemId":"bc715814-2692-4bde-9b1d-99cbd9ada5dc","textual content":"MLB Youth Academies","properties":{"hyperlink":"https://information.google.com/mlb-youth-academy"},"menuItems":[]},{"itemId":"26715913-0ae8-4106-baa4-3d914b0a33b0″,"textual content":"Breakthrough Series","properties":{"hyperlink":"/breakthrough-series","seen":"false"},"menuItems":[]},{"itemId":"56cb414b-eb00-4632-8acc-81d74ee4745e","textual content":"Development","properties":{"hyperlink":"https://information.google.com/elite-development-invitational"},"menuItems":[]},{"itemId":"04697c74-2811-4d84-8150-aa1016aa6272″,"textual content":"USA Baseball","properties":{"hyperlink":"https://www.usabaseball.com/","goal":"_blank","seen":"false"},"menuItems":[]},{"itemId":"ae77ea02-173a-4439-be6c-9ee75225bd50″,"textual content":"USA Softball","properties":{"hyperlink":"http://www.teamusa.org/USA-Softball","goal":"_blank","seen":"false"},"menuItems":[]},{"itemId":"845c6c5b-95b1-410b-9b39-7de529cb86c4″,"textual content":"Youth Baseball & Softball","properties":{"hyperlink":"https://information.google.com/youth-baseball-softball"},"menuItems":[]}]},{"itemId":"mlb-fans","textual content":"Fans","properties":{"hyperlink":"https://information.google.com/followers"},"menuItems":[{"itemId":"25c7540a-c3a3-42e8-a8f8-1e3be9f5d4fe","text":"MLB Kids","properties":{"link":"https://news.google.com/fans/kids"},"menuItems":[]},{"itemId":"8ee0a750-a1d7-4c8f-80ee-cb7beb4268ff","textual content":"MLB International","properties":{"hyperlink":"https://information.google.com/worldwide"},"menuItems":[]},{"itemId":"59ffbbaf-a56c-4cb4-b874-d5a5ce36c9f1″,"textual content":"MLB Newsletters","properties":{"hyperlink":"https://information.google.com/followers/newsletters"},"menuItems":[]},{"itemId":"9e37a80a-34da-4e92-ae40-8462146aef1c","textual content":"Virtual Backgrounds","properties":{"hyperlink":"/followers/virtual-backgrounds","seen":"false"},"menuItems":[]},{"itemId":"ef7c9f4a-5e11-4700-aad3-b29a8c5acc4c","textual content":"Podcasts","properties":{"hyperlink":"/followers/podcasts","seen":"false"},"menuItems":[]},{"itemId":"5d6dbbbf-fdff-41e7-b187-793bdb998ec8″,"textual content":"MLB Photos","properties":{"hyperlink":"https://information.google.com/pictures/house","seen":"true"},"menuItems":[]}]},{"itemId":"832ad058-32b1-4fbd-940d-a68456ad3c25″,"textual content":"Fantasy","properties":{"hyperlink":"https://information.google.com/fantasy","customProperties":"","seen":"true"},"menuItems":[{"itemId":"ee7dde99-2f2c-49e4-a5df-b319f51afa21″,"text":"Yahoo Fantasy Baseball","properties":{"target":"_blank","link":"https://baseball.fantasysports.yahoo.com/","visible":"false"},"menuItems":[]},{"itemId":"4e35b374-27ca-40c1-8f4b-d0e861496179″,"textual content":"MLB Beat the Streak","properties":{"hyperlink":"/apps/beat-the-streak","seen":"false"},"menuItems":[]},{"itemId":"fa818f3d-e28a-4dce-8ed8-928d7000a1f6″,"textual content":"The Vault","properties":{"hyperlink":"/the-vault","seen":"false"},"menuItems":[]},{"itemId":"7f0d66f2-44a0-4594-b5f9-db2c84c09356″,"textual content":"MLB Pre-Pick (AUS)","properties":{"hyperlink":"https://www.mlb.com/pre-pick/tab","seen":"false"},"menuItems":[]},{"itemId":"7af822e8-dc82-4b7e-818a-97080c0938f2″,"textual content":"Closer Report","properties":{"hyperlink":"/closer-report","seen":"false"},"menuItems":[]},{"itemId":"c2b4eeef-ec9c-4c5b-831c-1edca0316768″,"textual content":"Prospect Rankings","properties":{"hyperlink":"https://information.google.com/prospects","seen":"false"},"menuItems":[]},{"itemId":"3b212a3b-4687-4ea7-a276-3e780e18210c","textual content":"MLB Champions","properties":{"hyperlink":"https://www.mlbc.app/?ref=mlbcom","goal":"_blank","seen":"false"},"menuItems":[]}]},{"itemId":"f857d698-35a3-4b1b-8e88-d92056ca5507″,"textual content":"Apps","properties":{"hyperlink":"/apps","customProperties":"","information":"","seen":"false"},"menuItems":[{"itemId":"c974a38d-8537-4d03-9dfa-681ac5bd0f08″,"text":"MLB","properties":{"link":"/apps/mlb-app"},"menuItems":[]},{"itemId":"13d77816-460d-4783-8ed7-f1ff1d3a97ed","textual content":"MLB Rally","properties":{"hyperlink":"/apps/rally","seen":"true"},"menuItems":[]},{"itemId":"f2626a2d-160d-4682-96c6-bfe391c16398″,"textual content":"MLB Beat the Streak","properties":{"hyperlink":"/apps/beat-the-streak","seen":"false"},"menuItems":[]},{"itemId":"89f7398c-7a79-46e4-a8cd-843a44ceee13″,"textual content":"MLB Ballpark","properties":{"hyperlink":"/apps/ballpark"},"menuItems":[]},{"itemId":"03c8451e-6437-4aa6-8b5d-50c3fedad25e","textual content":"MiLB First Pitch","properties":{"hyperlink":"https://www.milb.com/about/first-pitch"},"menuItems":[]},{"itemId":"94808840-9046-445e-9a6a-83016bdadb72″,"textual content":"MLB Home Run Derby","properties":{"hyperlink":"/fantasy/home-run-derby","seen":"false"},"menuItems":[]},{"itemId":"fbe4d233-e766-4207-8886-55a2fc1f7f74″,"textual content":"MLB FAQs","properties":{"hyperlink":"/apps/mlb-app/faq-apple"},"menuItems":[]},{"itemId":"34d7bc2e-a216-4956-8105-b42f2ba4bea3″,"textual content":"MLB Ballpark FAQs","properties":{"hyperlink":"/apps/ballpark/faq-apple"},"menuItems":[]},{"itemId":"c081befb-bde5-446d-a4d4-c9292d29d525″,"textual content":"MLB Rally FAQs","properties":{"hyperlink":"/apps/rally/faq-apple","seen":"true"},"menuItems":[]}]},{"itemId":"ba2b8aec-0e14-429e-ac96-dbb1f04edaf8″,"textual content":"Vote","properties":{"hyperlink":"https://www.mlb.com/all-star/poll?affiliateId=asb-topnav-mlb-2021″,"customProperties":"seems:1622736000;expires:1625162400;","seen":"false"},"menuItems":[]},{"itemId":"57ec62ff-6517-49b7-8bef-7a3edc6874cb","textual content":"Auction","properties":{"hyperlink":"http://public sale.mlb.com/","seen":"false","customProperties":"topNav:false;"},"menuItems":[{"itemId":"3ea7f7ac-0734-47d9-8804-967eba72da0e","text":"Authentication","properties":{"link":"https://news.google.com/authentication"},"menuItems":[]},{"itemId":"e3e18801-29de-4b11-86ac-a475342dff41″,"textual content":"Autographed","properties":{"hyperlink":"http://auctions.mlb.com/iSynApp/allAuction.motion?sid=1101001&rc=25&selectedCatId=17342&type=timeleft_asc&pgmode2=catpage"},"menuItems":[]},{"itemId":"f4c0200f-4437-47c0-8c15-1a54c26d22c0″,"textual content":"Baseball Cards","properties":{"hyperlink":"http://www.baseballcards.mlb.com/"},"menuItems":[]},{"itemId":"21b7a4a2-6c76-47b5-af79-51dc0334f2c9″,"textual content":"Baseballs","properties":{"hyperlink":"http://auctions.mlb.com/iSynApp/allAuction.motion?sid=1101001&rc=25&selectedCatId=13020&type=timeleft_asc&pgmode2=catpage"},"menuItems":[]},{"itemId":"6b056370-0888-43e4-9f8c-8100e2ee7653″,"textual content":"Bats","properties":{"hyperlink":"http://auctions.mlb.com/iSynApp/allAuction.motion?sid=1101001&rc=25&selectedCatId=13041&type=timeleft_asc&pgmode2=catpage"},"menuItems":[]},{"itemId":"1b036e35-5977-4af1-9cb0-736c76d18ec4″,"textual content":"Caps","properties":{"hyperlink":"http://auctions.mlb.com/iSynApp/allAuction.motion?sid=1101001&rc=25&selectedCatId=13021&type=timeleft_asc&pgmode2=catpage"},"menuItems":[]},{"itemId":"74ae99a1-5ed5-44e4-842c-b49dc99e982d","textual content":"Experiences","properties":{"hyperlink":"http://auctions.mlb.com/iSynApp/allAuction.motion?sid=1101001&rc=25&selectedCatId=13060&type=timeleft_asc&pgmode2=catpage"},"menuItems":[]},{"itemId":"d41a4007-2f65-4b0f-a0a8-7df58870e507″,"textual content":"Game-Used","properties":{"hyperlink":"http://auctions.mlb.com/iSynApp/allAuction.motion?sid=1101001&rc=25&selectedCatId=13022&type=timeleft_asc&pgmode2=catpage"},"menuItems":[]},{"itemId":"aafaf49c-cfb9-432d-9119-f86a64fdbb27″,"textual content":"Jerseys","properties":{"hyperlink":"http://auctions.mlb.com/iSynApp/allAuction.motion?sid=1101001&rc=25&selectedCatId=13062&type=timeleft_asc&pgmode2=catpage"},"menuItems":[]},{"itemId":"c0be3bdb-025a-42ac-b09d-c391d058342b","textual content":"Photos","properties":{"hyperlink":"http://auctions.mlb.com/iSynApp/allAuction.motion?sid=1101001&rc=25&selectedCatId=13024&type=timeleft_asc&pgmode2=catpage"},"menuItems":[]}]},{"itemId":"98430c25-7924-4112-a70f-0b32fd31594f","textual content":"Teams","properties":{"hyperlink":"https://information.google.com/crew","customProperties":"amp:true;module:teammodule;align:proper;"},"menuItems":[{"itemId":"9191834c-54c4-40a7-8aac-9745d3666084″,"text":"Team Module","properties":{"customProperties":"module:teammodule;"},"menuItems":[]}]},{"itemId":"397b9e10-6d65-4fc0-bbe6-8d07f5e8d3a8″,"textual content":"ES","properties":{"hyperlink":"https://information.google.com/es","customProperties":"align:proper;lang:es;label:Español","toolTip":"Español"},"menuItems":[{"itemId":"ceb83c80-eaf2-4dd4-bdc6-e23b1e11ae60″,"text":"日本語","properties":{"link":"http://www.mlb.jp/","customProperties":"lang:ja","visible":"false"},"menuItems":[]},{"itemId":"27ac6728-00c1-4965-963b-05d33268fb50″,"textual content":"한국어","properties":{"hyperlink":"https://www.mlbkor.com/","customProperties":"lang:ko","seen":"false"},"menuItems":[]}]}]},"locale":"en","reqPath":"/information/miguel-cabrera-records-3-000th-hit","sharedNav":{"instanceId":"6c265854-d856-4f92-aea1-07dfe5cda020″,"identify":"shared-nav","variables":[],"menuItems":[{"itemId":"93b3e9b2-65a9-4585-9185-03e255cb523c","text":"MLB.TV","properties":{"link":"https://www.mlb.com/tv?&affiliateId=clubMENU","icon":"watch","customProperties":"align:right;"},"menuItems":[{"itemId":"d54a2b21-9db9-4252-9ebe-e3a4b2a3cf83″,"text":"Watch & Listen Live","properties":{"link":"https://www.mlb.com/live-stream-games?&affiliateId=clubMENU"},"menuItems":[]},{"itemId":"2d8d6ad8-dc2a-4971-9b12-f1853530c5d3″,"textual content":"Buy MLB.TV","properties":{"hyperlink":"/live-stream-games/subscribe?&affiliateId=clubMENU"},"menuItems":[]},{"itemId":"38c2991b-6331-469b-bce7-c53ab3267bc6″,"textual content":"Buy MLB Audio","properties":{"hyperlink":"/live-stream-games/subscribe/mlb-audio?&affiliateId=clubMENU"},"menuItems":[]},{"itemId":"2f433cfb-699a-43bb-ab54-d3b4a7269d8e","textual content":"Watch MLB.TV Docs & Features","properties":{"hyperlink":"https://www.mlb.com/television/featured?&affiliateId=clubMENU"},"menuItems":[]},{"itemId":"6254640c-2069-4447-822f-084d0a38f161″,"textual content":"MLB.TV Help Center","properties":{"hyperlink":"https://www.mlb.com/live-stream-games/help-center?&affiliateId=clubMENU"},"menuItems":[]}]},{"itemId":"d54d0be0-f610-4f8b-90ac-c246c361e2e2″,"textual content":"Fantasy","properties":{"hyperlink":"https://www.mlb.com/fantasy","customProperties":"","seen":"true"},"menuItems":[{"itemId":"5ec4bde4-6bc1-412b-a92b-6b7cb3b2f07c","text":"Yahoo Fantasy Baseball","properties":{"link":"http://yhoo.it/3aK5QQw","visible":"true","target":"_blank"},"menuItems":[]},{"itemId":"b2a63b51-03fc-423d-971e-1e566f6008f4″,"textual content":"MLB Rally","properties":{"hyperlink":"https://www.mlb.com/apps/rally","seen":"false"},"menuItems":[]},{"itemId":"f6929b88-632d-4a6f-ba73-8a64fccba1b0″,"textual content":"MLB Quick Pick","properties":{"hyperlink":"https://www.mlb.com/apps/rally/quickpick","seen":"false"},"menuItems":[]},{"itemId":"0ebe9e5d-3fc7-48d2-acb1-c33eb931b911″,"textual content":"MLB Beat the Streak","properties":{"hyperlink":"https://www.mlb.com/apps/beat-the-streak","seen":"false"},"menuItems":[]},{"itemId":"086bd307-a929-4414-9dd7-09bdac8d3f2e","textual content":"MLB MOONBLASTS Pick 'Em","properties":{"hyperlink":"https://www.mlb.com/sponsorship/ftx-moonblasts-pick-em","customProperties":"expires:1627754400″},"menuItems":[]},{"itemId":"14aa1d4b-0193-4670-a1fc-b4386d4977e8″,"textual content":"The Vault","properties":{"hyperlink":"https://www.mlb.com/the-vault"},"menuItems":[]},{"itemId":"4e0abdd4-8a0f-4bc5-838f-91dd2796041e","textual content":"MLB Home Run Derby","properties":{"hyperlink":"https://www.mlb.com/fantasy/home-run-derby"},"menuItems":[]},{"itemId":"7d8dfda7-345a-46fa-82dc-105068ba223e","textual content":"Season Pick 'Em","properties":{"hyperlink":"https://www.mlb.com/season-pick-em?affiliateId=spe-fantasynav-club-2021″,"seen":"false"},"menuItems":[]},{"itemId":"6eda396d-199b-4772-b3c9-c0b032513b6c","textual content":"MLB Pre-Pick (AUS)","properties":{"customProperties":"","hyperlink":"https://www.mlb.com/pre-pick/tab","seen":"false"},"menuItems":[]},{"itemId":"9f1ff266-0ed8-4adb-ba77-428d1871b237″,"textual content":"Closer Report","properties":{"hyperlink":"https://www.mlb.com/closer-report","seen":"false"},"menuItems":[]},{"itemId":"4c4f57bd-e31a-46c9-8f73-0fa2227451d3″,"textual content":"Prospect Rankings","properties":{"hyperlink":"https://www.mlb.com/prospects"},"menuItems":[]},{"itemId":"1ebe4dc3-2c6a-469f-be59-474fe14dbbd7″,"textual content":"MLB Champions","properties":{"hyperlink":"https://www.mlbc.app/?ref=mlbcom","goal":"_blank"},"menuItems":[]}]},{"itemId":"d1f61f89-9fd0-4f03-be17-2c5e128711a4″,"textual content":"Apps","properties":{"hyperlink":"/apps"},"menuItems":[{"itemId":"83ac2ddf-414b-47d1-afec-ffacd068ab57″,"text":"MLB","properties":{"link":"/apps/mlb-app"},"menuItems":[]},{"itemId":"83dbba73-02ac-4ba0-bebf-2c62ef04c19e","textual content":"MLB Rally","properties":{"hyperlink":"https://www.mlb.com/apps/rally","seen":"true"},"menuItems":[]},{"itemId":"26fda476-348c-4f42-aa7c-92d1f9b1bf5c","textual content":"MLB Beat the Streak","properties":{"hyperlink":"https://www.mlb.com/apps/beat-the-streak","seen":"false"},"menuItems":[]},{"itemId":"e09e6978-fcf7-4c2f-8387-59d83b7be38e","textual content":"MLB Ballpark","properties":{"hyperlink":"/apps/ballpark"},"menuItems":[]},{"itemId":"5e7b8019-9484-4872-abd7-8b963cd5969e","textual content":"MiLB First Pitch","properties":{"hyperlink":"https://www.milb.com/about/first-pitch"},"menuItems":[]},{"itemId":"4fd8c1f8-a753-4501-916c-663390f1a566″,"textual content":"MLB Home Run Derby","properties":{"hyperlink":"https://www.mlb.com/fantasy/home-run-derby"},"menuItems":[]},{"itemId":"9d8dfe8b-be1a-4ebf-9509-6bd0165a868e","textual content":"MLB FAQs","properties":{"hyperlink":"/apps/mlb-app/faq-apple"},"menuItems":[]},{"itemId":"df4e8527-e357-4272-bcf7-61876ed9455d","textual content":"MLB Ballpark FAQs","properties":{"hyperlink":"/apps/ballpark/faq-apple","seen":"true"},"menuItems":[]},{"itemId":"c2943c65-a843-437a-9ef4-4ccfe5be088f","textual content":"MLB Rally FAQs","properties":{"hyperlink":"https://www.mlb.com/apps/rally/faq-apple","seen":"true"},"menuItems":[]}]}]},"styleProps":{},"teamNameSlug":"","groupsData":[{"springLeague":{"id":114,"name":"Cactus League","link":"/api/v1/league/114″,"abbreviation":"CL"},"allStarStatus":"N","id":133,"name":"Oakland Athletics","link":"/api/v1/teams/133″,"season":2022,"venue":{"id":10,"name":"Oakland Coliseum","link":"/api/v1/venues/10″,"location":{"address1″:"7000 Coliseum Way","city":"Oakland","state":"California","stateAbbrev":"CA","postalCode":"94621″,"defaultCoordinates":{"latitude":37.751511,"longitude":-122.200698},"country":"USA","phone":"(510) 638-4900″},"timeZone":{"id":"America/Los_Angeles","offset":-7,"tz":"PDT"},"active":true},"springVenue":{"id":2507,"link":"/api/v1/venues/2507″},"teamCode":"oak","fileCode":"oak","abbreviation":"OAK","teamName":"Athletics","locationName":"Oakland","firstYearOfPlay":"1901″,"league":{"id":103,"name":"American League","link":"/api/v1/league/103″},"division":{"id":200,"name":"American League West","link":"/api/v1/divisions/200″},"sport":{"id":1,"link":"/api/v1/sports/1″,"name":"Major League Baseball"},"shortName":"Oakland","franchiseName":"Oakland","clubName":"Athletics","active":true},{"springLeague":{"id":115,"name":"Grapefruit League","link":"/api/v1/league/115″,"abbreviation":"GL"},"allStarStatus":"N","id":134,"name":"Pittsburgh Pirates","link":"/api/v1/teams/134″,"season":2022,"venue":{"id":31,"name":"PNC Park","link":"/api/v1/venues/31″,"location":{"address1″:"115 Federal Street","city":"Pittsburgh","state":"Pennsylvania","stateAbbrev":"PA","postalCode":"15212″,"defaultCoordinates":{"latitude":40.446904,"longitude":-80.005753},"country":"USA","phone":"(412) 323-5000″},"timeZone":{"id":"America/New_York","offset":-4,"tz":"EDT"},"active":true},"springVenue":{"id":2526,"link":"/api/v1/venues/2526″},"teamCode":"pit","fileCode":"pit","abbreviation":"PIT","teamName":"Pirates","locationName":"Pittsburgh","firstYearOfPlay":"1882″,"league":{"id":104,"name":"National League","link":"/api/v1/league/104″},"division":{"id":205,"name":"National League Central","link":"/api/v1/divisions/205″},"sport":{"id":1,"link":"/api/v1/sports/1″,"name":"Major League Baseball"},"shortName":"Pittsburgh","franchiseName":"Pittsburgh","clubName":"Pirates","active":true},{"springLeague":{"id":114,"name":"Cactus League","link":"/api/v1/league/114″,"abbreviation":"CL"},"allStarStatus":"N","id":135,"name":"San Diego Padres","link":"/api/v1/teams/135″,"season":2022,"venue":{"id":2680,"name":"Petco Park","link":"/api/v1/venues/2680″,"location":{"address1″:"100 Park Boulevard","city":"San Diego","state":"California","stateAbbrev":"CA","postalCode":"92101″,"defaultCoordinates":{"latitude":32.707861,"longitude":-117.157278},"country":"USA","phone":"(619) 795-5000″},"timeZone":{"id":"America/Los_Angeles","offset":-7,"tz":"PDT"},"active":true},"springVenue":{"id":2530,"link":"/api/v1/venues/2530″},"teamCode":"sdn","fileCode":"sd","abbreviation":"SD","teamName":"Padres","locationName":"San Diego","firstYearOfPlay":"1968″,"league":{"id":104,"name":"National League","link":"/api/v1/league/104″},"division":{"id":203,"name":"National League West","link":"/api/v1/divisions/203″},"sport":{"id":1,"link":"/api/v1/sports/1″,"name":"Major League Baseball"},"shortName":"San Diego","franchiseName":"San Diego","clubName":"Padres","active":true},{"springLeague":{"id":114,"name":"Cactus League","link":"/api/v1/league/114″,"abbreviation":"CL"},"allStarStatus":"N","id":136,"name":"Seattle Mariners","link":"/api/v1/teams/136″,"season":2022,"venue":{"id":680,"name":"T-Mobile Park","link":"/api/v1/venues/680″,"location":{"address1″:"P.O. Box 4100″,"city":"Seattle","state":"Washington","stateAbbrev":"WA","postalCode":"98104″,"defaultCoordinates":{"latitude":47.591333,"longitude":-122.33251},"country":"USA","phone":"(206) 346-4000″},"timeZone":{"id":"America/Los_Angeles","offset":-7,"tz":"PDT"},"active":true},"springVenue":{"id":2530,"link":"/api/v1/venues/2530″},"teamCode":"sea","fileCode":"sea","abbreviation":"SEA","teamName":"Mariners","locationName":"Seattle","firstYearOfPlay":"1977″,"league":{"id":103,"name":"American League","link":"/api/v1/league/103″},"division":{"id":200,"name":"American League West","link":"/api/v1/divisions/200″},"sport":{"id":1,"link":"/api/v1/sports/1″,"name":"Major League Baseball"},"shortName":"Seattle","franchiseName":"Seattle","clubName":"Mariners","active":true},{"springLeague":{"id":114,"name":"Cactus League","link":"/api/v1/league/114″,"abbreviation":"CL"},"allStarStatus":"N","id":137,"name":"San Francisco Giants","link":"/api/v1/teams/137″,"season":2022,"venue":{"id":2395,"name":"Oracle Park","link":"/api/v1/venues/2395″,"location":{"address1″:"24 Willie Mays Plaza","city":"San Francisco","state":"California","stateAbbrev":"CA","postalCode":"94107″,"defaultCoordinates":{"latitude":37.778383,"longitude":-122.389448},"country":"USA","phone":"(415) 972-2000″},"timeZone":{"id":"America/Los_Angeles","offset":-7,"tz":"PDT"},"active":true},"springVenue":{"id":2532,"link":"/api/v1/venues/2532″},"teamCode":"sfn","fileCode":"sf","abbreviation":"SF","teamName":"Giants","locationName":"San Francisco","firstYearOfPlay":"1883″,"league":{"id":104,"name":"National League","link":"/api/v1/league/104″},"division":{"id":203,"name":"National League West","link":"/api/v1/divisions/203″},"sport":{"id":1,"link":"/api/v1/sports/1″,"name":"Major League Baseball"},"shortName":"San Francisco","franchiseName":"San Francisco","clubName":"Giants","active":true},{"springLeague":{"id":115,"name":"Grapefruit League","link":"/api/v1/league/115″,"abbreviation":"GL"},"allStarStatus":"N","id":138,"name":"St. Louis Cardinals","link":"/api/v1/teams/138″,"season":2022,"venue":{"id":2889,"name":"Busch Stadium","link":"/api/v1/venues/2889″,"location":{"address1″:"700 Clark Street","city":"St. Louis","state":"Missouri","stateAbbrev":"MO","postalCode":"63102″,"defaultCoordinates":{"latitude":38.62256667,"longitude":-90.19286667},"country":"USA","phone":"(314) 345-9600″},"timeZone":{"id":"America/Chicago","offset":-5,"tz":"CDT"},"active":true},"springVenue":{"id":2520,"link":"/api/v1/venues/2520″},"teamCode":"sln","fileCode":"stl","abbreviation":"STL","teamName":"Cardinals","locationName":"St. Louis","firstYearOfPlay":"1892″,"league":{"id":104,"name":"National League","link":"/api/v1/league/104″},"division":{"id":205,"name":"National League Central","link":"/api/v1/divisions/205″},"sport":{"id":1,"link":"/api/v1/sports/1″,"name":"Major League Baseball"},"shortName":"St. Louis","franchiseName":"St. Louis","clubName":"Cardinals","active":true},{"springLeague":{"id":115,"name":"Grapefruit League","link":"/api/v1/league/115″,"abbreviation":"GL"},"allStarStatus":"N","id":139,"name":"Tampa Bay Rays","link":"/api/v1/teams/139″,"season":2022,"venue":{"id":12,"name":"Tropicana Field","link":"/api/v1/venues/12″,"location":{"address1″:"One Tropicana Drive","city":"St. Petersburg","state":"Florida","stateAbbrev":"FL","postalCode":"33705″,"defaultCoordinates":{"latitude":27.767778,"longitude":-82.6525},"country":"USA","phone":"(727) 825-3137″},"timeZone":{"id":"America/New_York","offset":-4,"tz":"EDT"},"active":true},"springVenue":{"id":2534,"link":"/api/v1/venues/2534″},"teamCode":"tba","fileCode":"tb","abbreviation":"TB","teamName":"Rays","locationName":"St. Petersburg","firstYearOfPlay":"1996″,"league":{"id":103,"name":"American League","link":"/api/v1/league/103″},"division":{"id":201,"name":"American League East","link":"/api/v1/divisions/201″},"sport":{"id":1,"link":"/api/v1/sports/1″,"name":"Major League Baseball"},"shortName":"Tampa Bay","franchiseName":"Tampa Bay","clubName":"Rays","active":true},{"springLeague":{"id":114,"name":"Cactus League","link":"/api/v1/league/114″,"abbreviation":"CL"},"allStarStatus":"N","id":140,"name":"Texas Rangers","link":"/api/v1/teams/140″,"season":2022,"venue":{"id":5325,"name":"Globe Life Field","link":"/api/v1/venues/5325″,"location":{"address1″:"734 Stadium Drive","city":"Arlington","state":"Texas","stateAbbrev":"TX","postalCode":"76011″,"defaultCoordinates":{"latitude":32.747299,"longitude":-97.081818},"country":"USA","phone":"(817) 533-1972″},"timeZone":{"id":"America/Chicago","offset":-5,"tz":"CDT"},"active":true},"springVenue":{"id":2603,"link":"/api/v1/venues/2603″},"teamCode":"tex","fileCode":"tex","abbreviation":"TEX","teamName":"Rangers","locationName":"Arlington","firstYearOfPlay":"1961″,"league":{"id":103,"name":"American League","link":"/api/v1/league/103″},"division":{"id":200,"name":"American League West","link":"/api/v1/divisions/200″},"sport":{"id":1,"link":"/api/v1/sports/1″,"name":"Major League Baseball"},"shortName":"Texas","franchiseName":"Texas","clubName":"Rangers","active":true},{"springLeague":{"id":115,"name":"Grapefruit League","link":"/api/v1/league/115″,"abbreviation":"GL"},"allStarStatus":"N","id":141,"name":"Toronto Blue Jays","link":"/api/v1/teams/141″,"season":2022,"venue":{"id":14,"name":"Rogers Centre","link":"/api/v1/venues/14″,"location":{"address1″:"1 Blue Jays Way, Suite 3200″,"city":"Toronto","state":"Ontario","stateAbbrev":"ON","postalCode":"M5V1J1″,"defaultCoordinates":{"latitude":43.64155,"longitude":-79.38915},"country":"Canada","phone":"(416) 341-1000″},"timeZone":{"id":"America/Toronto","offset":-4,"tz":"EDT"},"active":true},"springVenue":{"id":2536,"link":"/api/v1/venues/2536″},"teamCode":"tor","fileCode":"tor","abbreviation":"TOR","teamName":"Blue Jays","locationName":"Toronto","firstYearOfPlay":"1977″,"league":{"id":103,"name":"American League","link":"/api/v1/league/103″},"division":{"id":201,"name":"American League East","link":"/api/v1/divisions/201″},"sport":{"id":1,"link":"/api/v1/sports/1″,"name":"Major League Baseball"},"shortName":"Toronto","franchiseName":"Toronto","clubName":"Blue Jays","active":true},{"springLeague":{"id":115,"name":"Grapefruit League","link":"/api/v1/league/115″,"abbreviation":"GL"},"allStarStatus":"N","id":142,"name":"Minnesota Twins","link":"/api/v1/teams/142″,"season":2022,"venue":{"id":3312,"name":"Target Field","link":"/api/v1/venues/3312″,"location":{"address1″:"1 Twins Way","city":"Minneapolis","state":"Minnesota","stateAbbrev":"MN","postalCode":"55403″,"defaultCoordinates":{"latitude":44.981829,"longitude":-93.277891},"country":"USA","phone":"(612) 659-3400″},"timeZone":{"id":"America/Chicago","offset":-5,"tz":"CDT"},"active":true},"springVenue":{"id":2862,"link":"/api/v1/venues/2862″},"teamCode":"min","fileCode":"min","abbreviation":"MIN","teamName":"Twins","locationName":"Minneapolis","firstYearOfPlay":"1901″,"league":{"id":103,"name":"American League","link":"/api/v1/league/103″},"division":{"id":202,"name":"American League Central","link":"/api/v1/divisions/202″},"sport":{"id":1,"link":"/api/v1/sports/1″,"name":"Major League Baseball"},"shortName":"Minnesota","franchiseName":"Minnesota","clubName":"Twins","active":true},{"springLeague":{"id":115,"name":"Grapefruit League","link":"/api/v1/league/115″,"abbreviation":"GL"},"allStarStatus":"N","id":143,"name":"Philadelphia Phillies","link":"/api/v1/teams/143″,"season":2022,"venue":{"id":2681,"name":"Citizens Bank Park","link":"/api/v1/venues/2681″,"location":{"address1″:"One Citizens Bank Way","city":"Philadelphia","state":"Pennsylvania","stateAbbrev":"PA","postalCode":"19148″,"defaultCoordinates":{"latitude":39.90539086,"longitude":-75.16716957},"country":"USA","phone":"(215) 463-6000″},"timeZone":{"id":"America/New_York","offset":-4,"tz":"EDT"},"active":true},"springVenue":{"id":2700,"link":"/api/v1/venues/2700″},"teamCode":"phi","fileCode":"phi","abbreviation":"PHI","teamName":"Phillies","locationName":"Philadelphia","firstYearOfPlay":"1883″,"league":{"id":104,"name":"National League","link":"/api/v1/league/104″},"division":{"id":204,"name":"National League East","link":"/api/v1/divisions/204″},"sport":{"id":1,"link":"/api/v1/sports/1″,"name":"Major League Baseball"},"shortName":"Philadelphia","franchiseName":"Philadelphia","clubName":"Phillies","active":true},{"springLeague":{"id":115,"name":"Grapefruit League","link":"/api/v1/league/115″,"abbreviation":"GL"},"allStarStatus":"N","id":144,"name":"Atlanta Braves","link":"/api/v1/teams/144″,"season":2022,"venue":{"id":4705,"name":"Truist Park","link":"/api/v1/venues/4705″,"location":{"address1″:"755 Battery Avenue","city":"Atlanta","state":"Georgia","stateAbbrev":"GA","postalCode":"30339″,"defaultCoordinates":{"latitude":33.890672,"longitude":-84.467641},"country":"USA"},"timeZone":{"id":"America/New_York","offset":-4,"tz":"EDT"},"active":true},"springVenue":{"id":5380,"link":"/api/v1/venues/5380″},"teamCode":"atl","fileCode":"atl","abbreviation":"ATL","teamName":"Braves","locationName":"Atlanta","firstYearOfPlay":"1871″,"league":{"id":104,"name":"National League","link":"/api/v1/league/104″},"division":{"id":204,"name":"National League East","link":"/api/v1/divisions/204″},"sport":{"id":1,"link":"/api/v1/sports/1″,"name":"Major League Baseball"},"shortName":"Atlanta","franchiseName":"Atlanta","clubName":"Braves","active":true},{"springLeague":{"id":114,"name":"Cactus League","link":"/api/v1/league/114″,"abbreviation":"CL"},"allStarStatus":"N","id":145,"name":"Chicago White Sox","link":"/api/v1/teams/145″,"season":2022,"venue":{"id":4,"name":"Guaranteed Rate Field","link":"/api/v1/venues/4″,"location":{"address1″:"333 West 35th Street","city":"Chicago","state":"Illinois","stateAbbrev":"IL","postalCode":"60616″,"defaultCoordinates":{"latitude":41.83,"longitude":-87.634167},"country":"USA","phone":"(312) 674-1000″},"timeZone":{"id":"America/Chicago","offset":-5,"tz":"CDT"},"active":true},"springVenue":{"id":3809,"link":"/api/v1/venues/3809″},"teamCode":"cha","fileCode":"cws","abbreviation":"CWS","teamName":"White Sox","locationName":"Chicago","firstYearOfPlay":"1901″,"league":{"id":103,"name":"American League","link":"/api/v1/league/103″},"division":{"id":202,"name":"American League Central","link":"/api/v1/divisions/202″},"sport":{"id":1,"link":"/api/v1/sports/1″,"name":"Major League Baseball"},"shortName":"Chi White Sox","franchiseName":"Chicago","clubName":"White Sox","active":true},{"springLeague":{"id":115,"name":"Grapefruit League","link":"/api/v1/league/115″,"abbreviation":"GL"},"allStarStatus":"N","id":146,"name":"Miami Marlins","link":"/api/v1/teams/146″,"season":2022,"venue":{"id":4169,"name":"loanDepot park","link":"/api/v1/venues/4169″,"location":{"address1″:"501 Marlins Way","city":"Miami","state":"Florida","stateAbbrev":"FL","postalCode":"33125″,"defaultCoordinates":{"latitude":25.77796236,"longitude":-80.21951795},"country":"USA"},"timeZone":{"id":"America/New_York","offset":-4,"tz":"EDT"},"active":true},"springVenue":{"id":2520,"link":"/api/v1/venues/2520″},"teamCode":"mia","fileCode":"mia","abbreviation":"MIA","teamName":"Marlins","locationName":"Miami","firstYearOfPlay":"1991″,"league":{"id":104,"name":"National League","link":"/api/v1/league/104″},"division":{"id":204,"name":"National League East","link":"/api/v1/divisions/204″},"sport":{"id":1,"link":"/api/v1/sports/1″,"name":"Major League Baseball"},"shortName":"Miami","franchiseName":"Miami","clubName":"Marlins","active":true},{"springLeague":{"id":115,"name":"Grapefruit League","link":"/api/v1/league/115″,"abbreviation":"GL"},"allStarStatus":"N","id":147,"name":"New York Yankees","link":"/api/v1/teams/147″,"season":2022,"venue":{"id":3313,"name":"Yankee Stadium","link":"/api/v1/venues/3313″,"location":{"address1″:"One East 161st Street","city":"Bronx","state":"New York","stateAbbrev":"NY","postalCode":"10451″,"defaultCoordinates":{"latitude":40.82919482,"longitude":-73.9264977},"country":"USA","phone":"(718) 293-4300″},"timeZone":{"id":"America/New_York","offset":-4,"tz":"EDT"},"active":true},"springVenue":{"id":2523,"link":"/api/v1/venues/2523″},"teamCode":"nya","fileCode":"nyy","abbreviation":"NYY","teamName":"Yankees","locationName":"Bronx","firstYearOfPlay":"1903″,"league":{"id":103,"name":"American League","link":"/api/v1/league/103″},"division":{"id":201,"name":"American League East","link":"/api/v1/divisions/201″},"sport":{"id":1,"link":"/api/v1/sports/1″,"name":"Major League Baseball"},"shortName":"NY Yankees","franchiseName":"New York","clubName":"Yankees","active":true},{"springLeague":{"id":114,"name":"Cactus League","link":"/api/v1/league/114″,"abbreviation":"CL"},"allStarStatus":"N","id":158,"name":"Milwaukee Brewers","link":"/api/v1/teams/158″,"season":2022,"venue":{"id":32,"name":"American Family Field","link":"/api/v1/venues/32″,"location":{"address1″:"One Brewers Way","city":"Milwaukee","state":"Wisconsin","stateAbbrev":"WI","postalCode":"53214″,"defaultCoordinates":{"latitude":43.02838,"longitude":-87.97099},"country":"USA","phone":"(414) 902-4400″},"timeZone":{"id":"America/Chicago","offset":-5,"tz":"CDT"},"active":true},"springVenue":{"id":2518,"link":"/api/v1/venues/2518″},"teamCode":"mil","fileCode":"mil","abbreviation":"MIL","teamName":"Brewers","locationName":"Milwaukee","firstYearOfPlay":"1968″,"league":{"id":104,"name":"National League","link":"/api/v1/league/104″},"division":{"id":205,"name":"National League Central","link":"/api/v1/divisions/205″},"sport":{"id":1,"link":"/api/v1/sports/1″,"name":"Major League Baseball"},"shortName":"Milwaukee","franchiseName":"Milwaukee","clubName":"Brewers","active":true},{"springLeague":{"id":114,"name":"Cactus League","link":"/api/v1/league/114″,"abbreviation":"CL"},"allStarStatus":"N","id":108,"name":"Los Angeles Angels","link":"/api/v1/teams/108″,"season":2022,"venue":{"id":1,"name":"Angel Stadium","link":"/api/v1/venues/1″,"location":{"address1″:"2000 Gene Autry Way","city":"Anaheim","state":"California","stateAbbrev":"CA","postalCode":"92806″,"defaultCoordinates":{"latitude":33.80019044,"longitude":-117.8823996},"country":"USA","phone":"(714) 940-2000″},"timeZone":{"id":"America/Los_Angeles","offset":-7,"tz":"PDT"},"active":true},"springVenue":{"id":2500,"link":"/api/v1/venues/2500″},"teamCode":"ana","fileCode":"ana","abbreviation":"LAA","teamName":"Angels","locationName":"Anaheim","firstYearOfPlay":"1961″,"league":{"id":103,"name":"American League","link":"/api/v1/league/103″},"division":{"id":200,"name":"American League West","link":"/api/v1/divisions/200″},"sport":{"id":1,"link":"/api/v1/sports/1″,"name":"Major League Baseball"},"shortName":"LA Angels","franchiseName":"Los Angeles","clubName":"Angels","active":true},{"springLeague":{"id":114,"name":"Cactus League","link":"/api/v1/league/114″,"abbreviation":"CL"},"allStarStatus":"N","id":109,"name":"Arizona Diamondbacks","link":"/api/v1/teams/109″,"season":2022,"venue":{"id":15,"name":"Chase Field","link":"/api/v1/venues/15″,"location":{"address1″:"401 East Jefferson Street","city":"Phoenix","state":"Arizona","stateAbbrev":"AZ","postalCode":"85004″,"defaultCoordinates":{"latitude":33.445302,"longitude":-112.066687},"country":"USA","phone":"(602) 462-6500″},"timeZone":{"id":"America/Phoenix","offset":-7,"tz":"MST"},"active":true},"springVenue":{"id":4249,"link":"/api/v1/venues/4249″},"teamCode":"ari","fileCode":"ari","abbreviation":"ARI","teamName":"D-backs","locationName":"Phoenix","firstYearOfPlay":"1996″,"league":{"id":104,"name":"National League","link":"/api/v1/league/104″},"division":{"id":203,"name":"National League West","link":"/api/v1/divisions/203″},"sport":{"id":1,"link":"/api/v1/sports/1″,"name":"Major League Baseball"},"shortName":"Arizona","franchiseName":"Arizona","clubName":"Diamondbacks","active":true},{"springLeague":{"id":115,"name":"Grapefruit League","link":"/api/v1/league/115″,"abbreviation":"GL"},"allStarStatus":"N","id":110,"name":"Baltimore Orioles","link":"/api/v1/teams/110″,"season":2022,"venue":{"id":2,"name":"Oriole Park at Camden Yards","link":"/api/v1/venues/2″,"location":{"address1″:"333 West Camden Street","city":"Baltimore","state":"Maryland","stateAbbrev":"MD","postalCode":"21201″,"defaultCoordinates":{"latitude":39.283787,"longitude":-76.621689},"country":"USA","phone":"(410) 685-9800″},"timeZone":{"id":"America/New_York","offset":-4,"tz":"EDT"},"active":true},"springVenue":{"id":2508,"link":"/api/v1/venues/2508″},"teamCode":"bal","fileCode":"bal","abbreviation":"BAL","teamName":"Orioles","locationName":"Baltimore","firstYearOfPlay":"1901″,"league":{"id":103,"name":"American League","link":"/api/v1/league/103″},"division":{"id":201,"name":"American League East","link":"/api/v1/divisions/201″},"sport":{"id":1,"link":"/api/v1/sports/1″,"name":"Major League Baseball"},"shortName":"Baltimore","franchiseName":"Baltimore","clubName":"Orioles","active":true},{"springLeague":{"id":115,"name":"Grapefruit League","link":"/api/v1/league/115″,"abbreviation":"GL"},"allStarStatus":"N","id":111,"name":"Boston Red Sox","link":"/api/v1/teams/111″,"season":2022,"venue":{"id":3,"name":"Fenway Park","link":"/api/v1/venues/3″,"location":{"address1″:"4 Yawkey Way","city":"Boston","state":"Massachusetts","stateAbbrev":"MA","postalCode":"2215″,"defaultCoordinates":{"latitude":42.346456,"longitude":-71.097441},"country":"USA","phone":"(617) 267-9440″},"timeZone":{"id":"America/New_York","offset":-4,"tz":"EDT"},"active":true},"springVenue":{"id":4309,"link":"/api/v1/venues/4309″},"teamCode":"bos","fileCode":"bos","abbreviation":"BOS","teamName":"Red Sox","locationName":"Boston","firstYearOfPlay":"1901″,"league":{"id":103,"name":"American League","link":"/api/v1/league/103″},"division":{"id":201,"name":"American League East","link":"/api/v1/divisions/201″},"sport":{"id":1,"link":"/api/v1/sports/1″,"name":"Major League Baseball"},"shortName":"Boston","franchiseName":"Boston","clubName":"Red Sox","active":true},{"springLeague":{"id":114,"name":"Cactus League","link":"/api/v1/league/114″,"abbreviation":"CL"},"allStarStatus":"N","id":112,"name":"Chicago Cubs","link":"/api/v1/teams/112″,"season":2022,"venue":{"id":17,"name":"Wrigley Field","link":"/api/v1/venues/17″,"location":{"address1″:"1060 West Addison","city":"Chicago","state":"Illinois","stateAbbrev":"IL","postalCode":"60613-4397″,"defaultCoordinates":{"latitude":41.948171,"longitude":-87.655503},"country":"USA","phone":"(773) 404-2827″},"timeZone":{"id":"America/Chicago","offset":-5,"tz":"CDT"},"active":true},"springVenue":{"id":4629,"link":"/api/v1/venues/4629″},"teamCode":"chn","fileCode":"chc","abbreviation":"CHC","teamName":"Cubs","locationName":"Chicago","firstYearOfPlay":"1874″,"league":{"id":104,"name":"National League","link":"/api/v1/league/104″},"division":{"id":205,"name":"National League Central","link":"/api/v1/divisions/205″},"sport":{"id":1,"link":"/api/v1/sports/1″,"name":"Major League Baseball"},"shortName":"Chi Cubs","franchiseName":"Chicago","clubName":"Cubs","active":true},{"springLeague":{"id":114,"name":"Cactus League","link":"/api/v1/league/114″,"abbreviation":"CL"},"allStarStatus":"N","id":113,"name":"Cincinnati Reds","link":"/api/v1/teams/113″,"season":2022,"venue":{"id":2602,"name":"Great American Ball Park","link":"/api/v1/venues/2602″,"location":{"address1″:"100 Main Street","city":"Cincinnati","state":"Ohio","stateAbbrev":"OH","postalCode":"45202-4109″,"defaultCoordinates":{"latitude":39.097389,"longitude":-84.506611},"country":"USA","phone":"(513) 765-7000″},"timeZone":{"id":"America/New_York","offset":-4,"tz":"EDT"},"active":true},"springVenue":{"id":3834,"link":"/api/v1/venues/3834″},"teamCode":"cin","fileCode":"cin","abbreviation":"CIN","teamName":"Reds","locationName":"Cincinnati","firstYearOfPlay":"1882″,"league":{"id":104,"name":"National League","link":"/api/v1/league/104″},"division":{"id":205,"name":"National League Central","link":"/api/v1/divisions/205″},"sport":{"id":1,"link":"/api/v1/sports/1″,"name":"Major League Baseball"},"shortName":"Cincinnati","franchiseName":"Cincinnati","clubName":"Reds","active":true},{"springLeague":{"id":114,"name":"Cactus League","link":"/api/v1/league/114″,"abbreviation":"CL"},"allStarStatus":"N","id":114,"name":"Cleveland Guardians","link":"/api/v1/teams/114″,"season":2022,"venue":{"id":5,"name":"Progressive Field","link":"/api/v1/venues/5″,"location":{"address1″:"2401 Ontario Street","city":"Cleveland","state":"Ohio","stateAbbrev":"OH","postalCode":"44115″,"defaultCoordinates":{"latitude":41.495861,"longitude":-81.685255},"country":"USA","phone":"(216) 420-4200″},"timeZone":{"id":"America/New_York","offset":-4,"tz":"EDT"},"active":true},"springVenue":{"id":3834,"link":"/api/v1/venues/3834″},"teamCode":"cle","fileCode":"cle","abbreviation":"CLE","teamName":"Guardians","locationName":"Cleveland","firstYearOfPlay":"1901″,"league":{"id":103,"name":"American League","link":"/api/v1/league/103″},"division":{"id":202,"name":"American League Central","link":"/api/v1/divisions/202″},"sport":{"id":1,"link":"/api/v1/sports/1″,"name":"Major League Baseball"},"shortName":"Cleveland","franchiseName":"Cleveland","clubName":"Guardians","active":true},{"springLeague":{"id":114,"name":"Cactus League","link":"/api/v1/league/114″,"abbreviation":"CL"},"allStarStatus":"N","id":115,"name":"Colorado Rockies","link":"/api/v1/teams/115″,"season":2022,"venue":{"id":19,"name":"Coors Field","link":"/api/v1/venues/19″,"location":{"address1″:"2001 Blake Street","city":"Denver","state":"Colorado","stateAbbrev":"CO","postalCode":"80205-2000″,"defaultCoordinates":{"latitude":39.756042,"longitude":-104.994136},"country":"USA","phone":"(303) 292-0200″},"timeZone":{"id":"America/Denver","offset":-6,"tz":"MDT"},"active":true},"springVenue":{"id":4249,"link":"/api/v1/venues/4249″},"teamCode":"col","fileCode":"col","abbreviation":"COL","teamName":"Rockies","locationName":"Denver","firstYearOfPlay":"1992″,"league":{"id":104,"name":"National League","link":"/api/v1/league/104″},"division":{"id":203,"name":"National League West","link":"/api/v1/divisions/203″},"sport":{"id":1,"link":"/api/v1/sports/1″,"name":"Major League Baseball"},"shortName":"Colorado","franchiseName":"Colorado","clubName":"Rockies","active":true},{"springLeague":{"id":115,"name":"Grapefruit League","link":"/api/v1/league/115″,"abbreviation":"GL"},"allStarStatus":"N","id":116,"name":"Detroit Tigers","link":"/api/v1/teams/116″,"season":2022,"venue":{"id":2394,"name":"Comerica Park","link":"/api/v1/venues/2394″,"location":{"address1″:"2100 Woodward Avenue","city":"Detroit","state":"Michigan","stateAbbrev":"MI","postalCode":"48201″,"defaultCoordinates":{"latitude":42.3391151,"longitude":-83.048695},"country":"USA","phone":"(313) 471-2000″},"timeZone":{"id":"America/Detroit","offset":-4,"tz":"EDT"},"active":true},"springVenue":{"id":2511,"link":"/api/v1/venues/2511″},"teamCode":"det","fileCode":"det","abbreviation":"DET","teamName":"Tigers","locationName":"Detroit","firstYearOfPlay":"1901″,"league":{"id":103,"name":"American League","link":"/api/v1/league/103″},"division":{"id":202,"name":"American League Central","link":"/api/v1/divisions/202″},"sport":{"id":1,"link":"/api/v1/sports/1″,"name":"Major League Baseball"},"shortName":"Detroit","franchiseName":"Detroit","clubName":"Tigers","active":true},{"springLeague":{"id":115,"name":"Grapefruit League","link":"/api/v1/league/115″,"abbreviation":"GL"},"allStarStatus":"N","id":117,"name":"Houston Astros","link":"/api/v1/teams/117″,"season":2022,"venue":{"id":2392,"name":"Minute Maid Park","link":"/api/v1/venues/2392″,"location":{"address1″:"501 Crawford Street","city":"Houston","state":"Texas","stateAbbrev":"TX","postalCode":"77002″,"defaultCoordinates":{"latitude":29.756967,"longitude":-95.355509},"country":"USA","phone":"(713) 259-8000″},"timeZone":{"id":"America/Chicago","offset":-5,"tz":"CDT"},"active":true},"springVenue":{"id":5000,"link":"/api/v1/venues/5000″},"teamCode":"hou","fileCode":"hou","abbreviation":"HOU","teamName":"Astros","locationName":"Houston","firstYearOfPlay":"1962″,"league":{"id":103,"name":"American League","link":"/api/v1/league/103″},"division":{"id":200,"name":"American League West","link":"/api/v1/divisions/200″},"sport":{"id":1,"link":"/api/v1/sports/1″,"name":"Major League Baseball"},"shortName":"Houston","franchiseName":"Houston","clubName":"Astros","active":true},{"springLeague":{"id":114,"name":"Cactus League","link":"/api/v1/league/114″,"abbreviation":"CL"},"allStarStatus":"N","id":118,"name":"Kansas City Royals","link":"/api/v1/teams/118″,"season":2022,"venue":{"id":7,"name":"Kauffman Stadium","link":"/api/v1/venues/7″,"location":{"address1″:"One Royal Way","city":"Kansas City","state":"Missouri","stateAbbrev":"MO","postalCode":"64129″,"defaultCoordinates":{"latitude":39.051567,"longitude":-94.480483},"country":"USA","phone":"(816) 921-8000″},"timeZone":{"id":"America/Chicago","offset":-5,"tz":"CDT"},"active":true},"springVenue":{"id":2603,"link":"/api/v1/venues/2603″},"teamCode":"kca","fileCode":"kc","abbreviation":"KC","teamName":"Royals","locationName":"Kansas City","firstYearOfPlay":"1968″,"league":{"id":103,"name":"American League","link":"/api/v1/league/103″},"division":{"id":202,"name":"American League Central","link":"/api/v1/divisions/202″},"sport":{"id":1,"link":"/api/v1/sports/1″,"name":"Major League Baseball"},"shortName":"Kansas City","franchiseName":"Kansas City","clubName":"Royals","active":true},{"springLeague":{"id":114,"name":"Cactus League","link":"/api/v1/league/114″,"abbreviation":"CL"},"allStarStatus":"N","id":119,"name":"Los Angeles Dodgers","link":"/api/v1/teams/119″,"season":2022,"venue":{"id":22,"name":"Dodger Stadium","link":"/api/v1/venues/22″,"location":{"address1″:"1000 Vin Scully Avenue","city":"Los Angeles","state":"California","stateAbbrev":"CA","postalCode":"90012-1199″,"defaultCoordinates":{"latitude":34.07368,"longitude":-118.24053},"country":"USA","phone":"(323) 224-1500″},"timeZone":{"id":"America/Los_Angeles","offset":-7,"tz":"PDT"},"active":true},"springVenue":{"id":3809,"link":"/api/v1/venues/3809″},"teamCode":"lan","fileCode":"la","abbreviation":"LAD","teamName":"Dodgers","locationName":"Los Angeles","firstYearOfPlay":"1884″,"league":{"id":104,"name":"National League","link":"/api/v1/league/104″},"division":{"id":203,"name":"National League West","link":"/api/v1/divisions/203″},"sport":{"id":1,"link":"/api/v1/sports/1″,"name":"Major League Baseball"},"shortName":"LA Dodgers","franchiseName":"Los Angeles","clubName":"Dodgers","active":true},{"springLeague":{"id":115,"name":"Grapefruit League","link":"/api/v1/league/115″,"abbreviation":"GL"},"allStarStatus":"N","id":120,"name":"Washington Nationals","link":"/api/v1/teams/120″,"season":2022,"venue":{"id":3309,"name":"Nationals Park","link":"/api/v1/venues/3309″,"location":{"address1″:"1500 South Capitol Street, SE","city":"Washington","state":"District of Columbia","stateAbbrev":"DC","postalCode":"20003-1507″,"defaultCoordinates":{"latitude":38.872861,"longitude":-77.007501},"country":"USA","phone":"(202) 349-0400″},"timeZone":{"id":"America/New_York","offset":-4,"tz":"EDT"},"active":true},"springVenue":{"id":5000,"link":"/api/v1/venues/5000″},"teamCode":"was","fileCode":"was","abbreviation":"WSH","teamName":"Nationals","locationName":"Washington","firstYearOfPlay":"1968″,"league":{"id":104,"name":"National League","link":"/api/v1/league/104″},"division":{"id":204,"name":"National League East","link":"/api/v1/divisions/204″},"sport":{"id":1,"link":"/api/v1/sports/1″,"name":"Major League Baseball"},"shortName":"Washington","franchiseName":"Washington","clubName":"Nationals","active":true},{"springLeague":{"id":115,"name":"Grapefruit League","link":"/api/v1/league/115″,"abbreviation":"GL"},"allStarStatus":"N","id":121,"name":"New York Mets","link":"/api/v1/teams/121″,"season":2022,"venue":{"id":3289,"name":"Citi Field","link":"/api/v1/venues/3289″,"location":{"address1″:"Citi Field","city":"Flushing","state":"New York","stateAbbrev":"NY","postalCode":"11368″,"defaultCoordinates":{"latitude":40.75753012,"longitude":-73.84559155},"country":"USA","phone":"(718) 507-6387″},"timeZone":{"id":"America/New_York","offset":-4,"tz":"EDT"},"active":true},"springVenue":{"id":2856,"link":"/api/v1/venues/2856″},"teamCode":"nyn","fileCode":"nym","abbreviation":"NYM","teamName":"Mets","locationName":"Flushing","firstYearOfPlay":"1962″,"league":{"id":104,"name":"National League","link":"/api/v1/league/104″},"division":{"id":204,"name":"National League East","link":"/api/v1/divisions/204″},"sport":{"id":1,"link":"/api/v1/sports/1″,"name":"Major League Baseball"},"shortName":"NY Mets","franchiseName":"New York","clubName":"Mets","active":true}]},"graphqlVariables":{"getInitialData":{"contentfulLocale":"en-US","forgeLocale":"en-us","isApp":false,"preview":false,"storySlug":"miguel-cabrera-records-3-000th-hit","teamId":"mlb","teamPropertiesId":"mlb-global-properties","teamPaletteId":"mlb-base-palette"},"getRelatedContent":{"slug":"miguel-cabrera-records-3-000th-hit","choices":{"locale":"en-us","teamId":"mlb","topicSlug":""}},"getTopic":{"forgeLocale":"en-us","topicSlug":""}},"headerState":{"clubId":"mlb","deviceProperties":{},"footerData":{"instanceId":"db2f8fb2-78c8-4d3c-a328-9e91c349dfee","identify":"global-footer","variables":[],"menuItems":[{"itemId":"aec375d3-3afa-4491-ab28-60b736f38982″,"text":"Terms of Use","properties":{"link":"/official-information/terms-of-use","target":"_blank"},"menuItems":[]},{"itemId":"debe8dbf-de27-4eae-b7ec-adae43fc4642″,"textual content":"Privacy Policy","properties":{"hyperlink":"/official-information/privacy-policy"},"menuItems":[]},{"itemId":"345a1847-cac1-43a4-91bf-70c21ecee681″,"textual content":"Legal Notices","properties":{"hyperlink":"/official-information/legal-notices"},"menuItems":[]},{"itemId":"34014aad-1069-4bba-b22e-4b287a4f7df1″,"textual content":"Contact Us","properties":{"hyperlink":"/official-information/contact"},"menuItems":[]},{"itemId":"65e06970-7f8e-4328-ad82-9d90df0f3e87″,"textual content":"Do Not Sell My Personal Data","properties":{"hyperlink":"https://privacyportal.onetrust.com/webform/53a301ae-6882-46f9-af93-24f64f792aee/3251a424-8286-4725-9313-603f12c85a49″,"goal":"_blank"},"menuItems":[]},{"itemId":"dd307e97-49c6-4f80-aff3-89a59696fb80″,"textual content":"Official Information","properties":{},"menuItems":[{"itemId":"bdf571d3-e8bb-403b-bb5f-7f28a7127c74″,"text":"Official Info","properties":{"link":"/official-information"},"menuItems":[]},{"itemId":"ecfd4d42-aa8d-4872-80a5-869c6b493018″,"textual content":"About MLB","properties":{"hyperlink":"/official-information/about-mlb"},"menuItems":[]},{"itemId":"bb62de22-5c84-4cab-b9fb-5429ea9d647c","textual content":"Team Information","properties":{"hyperlink":"https://information.google.com/crew"},"menuItems":[]},{"itemId":"7cc37e2a-667c-4405-bd1f-87ad88bc4d9e","textual content":"Official Rules","properties":{"hyperlink":"https://img.mlbstatic.com/mlb-images/picture/add/mlb/atcjzj9j7wrgvsm8wnjq.pdf"},"menuItems":[]},{"itemId":"e658056b-608b-4eee-a04a-43772f9e6bb4″,"textual content":"Replay Review Regulations","properties":{"hyperlink":"/glossary/guidelines/replay-review"},"menuItems":[]},{"itemId":"d1ffda83-f016-4ba6-8f32-7cc7ce787a9c","textual content":"Umpires","properties":{"hyperlink":"/official-information/umpires"},"menuItems":[]},{"itemId":"23dde9d7-6aba-4bec-a449-b1b4d5a5767c","textual content":"Advertise with Us","properties":{"hyperlink":"/sponsorship"},"menuItems":[]},{"itemId":"bd193214-b4a4-4c4d-965e-1a55cdc2e0fb","textual content":"Press Releases","properties":{"hyperlink":"/information/subject/mlb-press-releases"},"menuItems":[]}]},{"itemId":"7a60a8fc-0c3c-4c87-b04b-2b57b6c9894c","textual content":"Help/Contact Us","properties":{},"menuItems":[{"itemId":"efb27376-accc-4ca4-9017-c3309ee122d3″,"text":"Accessibility Information","properties":{"link":"/official-information/accessibility"},"menuItems":[]},{"itemId":"cf3490fc-f093-4457-99a7-d2bc3f4d4cef","textual content":"Auctions Customer Service","properties":{"hyperlink":"http://auctions.mlb.com/iSynApp/handleUserEmail!presentEmailContactUsType.motion?sid=1101001″},"menuItems":[]},{"itemId":"c6867706-11b7-4634-a78e-b5d513948f43″,"textual content":"Harassment Policy","properties":{"hyperlink":"/official-information/harassment-policy"},"menuItems":[]},{"itemId":"0e3932c9-beec-43f2-b712-66879a51ab63″,"textual content":"Help/Contact Us","properties":{"hyperlink":"/official-information/contact"},"menuItems":[]},{"itemId":"6d4ebef1-3168-4b79-a237-9f36931d3a2c","textual content":"MLB App FAQs","properties":{"hyperlink":"/apps/mlb-app/faq-apple"},"menuItems":[]},{"itemId":"4b3c6ee8-d4ae-4265-a7e7-7e5bea8cde28″,"textual content":"MLB.com Account Information","properties":{"hyperlink":"/official-information/faqs"},"menuItems":[]},{"itemId":"4d33a7c1-38d5-4b3b-a999-53377f55738d","textual content":"MLB.TV Help Center","properties":{"hyperlink":"/live-stream-games/help-center"},"menuItems":[]},{"itemId":"36f01834-7979-4a42-aa12-52439c2e320b","textual content":"Shop Help","properties":{"hyperlink":"https://www.mlbshop.com/customer-help-desk/hd-1″},"menuItems":[]},{"itemId":"bb6e7a31-4b7d-4e49-8c2e-00dda9e237ab","textual content":"Ticket Information","properties":{"hyperlink":"/official-information/ticket-faqs"},"menuItems":[]}]},{"itemId":"6ca8b189-8c54-428f-9f79-3c357ef18469″,"textual content":"More MLB Sites & Affiliates","properties":{},"menuItems":[{"itemId":"becc9309-94fc-491b-ad15-45f7c17f85a9″,"text":"MLB Players Alumni Association","properties":{"link":"/mlbpaa","target":""},"menuItems":[]},{"itemId":"9ff49c09-8a0d-41e6-b8b0-14f37f8e7f52″,"textual content":"MLB Players Association","properties":{"hyperlink":"http://www.mlbplayers.com/"},"menuItems":[]},{"itemId":"022ec2ca-bb20-4543-9cdc-95ba3a4443ca","textual content":"Minor League Baseball","properties":{"hyperlink":"https://www.milb.com/"},"menuItems":[]},{"itemId":"c6f9948e-3521-4788-83ed-b568f39e86aa","textual content":"MLB Network","properties":{"hyperlink":"https://www.mlb.com/community"},"menuItems":[]},{"itemId":"de2ea389-0a29-4600-8048-b4261916183d","textual content":"Baseball Assistance Team","properties":{"hyperlink":"/baseball-assistance-team"},"menuItems":[]},{"itemId":"6a47c1d6-35aa-4028-9825-7cfc34a3ea40″,"textual content":"Player Resource Center","properties":{"hyperlink":"/player-resource-center"},"menuItems":[]},{"itemId":"75f0b763-612d-4557-ae38-227fb5b3b7f1″,"textual content":"Tickets.com","properties":{"hyperlink":"http://www.tickets.com/"},"menuItems":[]},{"itemId":"cb410dd4-4ace-4b5b-be3e-4ae6d60cd20f","textual content":"YES Network","properties":{"hyperlink":"https://www.yesnetwork.com/"},"menuItems":[]},{"itemId":"5c8f6196-a4d5-4ed5-b830-189580691d3e","textual content":"Australian Baseball League","properties":{"hyperlink":"https://theabl.com.au/"},"menuItems":[]},{"itemId":"ab6fc805-0bb7-439b-8c3c-92c61b035387″,"textual content":"World Baseball Classic","properties":{"hyperlink":"https://www.worldbaseballclassic.com/"},"menuItems":[]},{"itemId":"e218ed4d-89f9-4f7d-87e7-c05a3559cd74″,"textual content":"sabr.org","properties":{"hyperlink":"http://sabr.org/"},"menuItems":[]},{"itemId":"158a95a6-bd4f-4654-b57f-465d3c356a55″,"textual content":"College Baseball Hall of Fame","properties":{"hyperlink":"https://www.mlb.com/college-baseball-hall-of-fame"},"menuItems":[]},{"itemId":"2e494e91-a92e-4763-b89b-7944f37b1b3f","textual content":"Golden Spike Award","properties":{"hyperlink":"https://www.usabaseball.com/golden-spikes-award"},"menuItems":[]},{"itemId":"ccd9020d-c619-45d2-bc1f-ef80ae2cd651″,"textual content":"USA Baseball","properties":{"hyperlink":"https://www.usabaseball.com"},"menuItems":[]},{"itemId":"75512a93-d52d-4d71-a6d3-70d6b44dfa0f","textual content":"LasMayores.com","properties":{"hyperlink":"https://www.mlb.com/es"},"menuItems":[]},{"itemId":"3b7bbad3-1ed5-468d-8703-205519315e04″,"textual content":"MLBCommunity.org","properties":{"hyperlink":"/mlb-community"},"menuItems":[]},{"itemId":"f8058121-3606-4ff2-be8a-d1a3d47642db","textual content":"AllStarGame.com","properties":{"hyperlink":"/all-star"},"menuItems":[]},{"itemId":"a624b4e5-c8d8-44b9-9084-7522ed0cee59″,"textual content":"MLB.com/Kids","properties":{"hyperlink":"https://www.mlb.com/followers/youngsters"},"menuItems":[]},{"itemId":"43c6bc47-f7d9-445a-85a1-10b3cdc02ee0″,"textual content":"MLB Photostore","properties":{"hyperlink":"https://photostore.mlb.com/","seen":"false"},"menuItems":[]},{"itemId":"c574a4a2-45ec-47fe-8ca3-b5b99d1cb443″,"textual content":"PlayBall.org","properties":{"hyperlink":"https://www.playball.org"},"menuItems":[]},{"itemId":"517cf98f-063c-486a-a725-5380e1ae063f","textual content":"MLB Educators","properties":{"hyperlink":"/mlb-educators"},"menuItems":[]}]},{"itemId":"e3a86593-6da0-4d00-a512-0b8c78c9b8a5″,"textual content":"Careers","properties":{"hyperlink":""},"menuItems":[{"itemId":"35caab61-51c7-4b17-a9b8-e9ecd201058a","text":"Careers Home","properties":{"link":"/careers/home"},"menuItems":[]}]}]},"headerData":{"instanceId":"fbde1dcd-c837-4740-991c-1087d1db26d1″,"identify":"global-nav","variables":[],"menuItems":[{"itemId":"tickets","text":"Tickets","properties":{"link":"https://news.google.com/tickets","customProperties":"align:right;"},"menuItems":[{"itemId":"764d21d8-0f58-4d63-b57c-035ec47d193c","text":"General Ticket Information","properties":{"link":"https://news.google.com/tickets","customProperties":"","visible":"false"},"menuItems":[]},{"itemId":"4e45f354-0ccd-4c89-ac5e-12f16dd11f3a","textual content":"Season Tickets","properties":{"hyperlink":"/tickets/season-tickets","customProperties":"","seen":"false"},"menuItems":[]},{"itemId":"020f5910-a69a-443a-b5a3-37b7664d8a4f","textual content":"Spring Training","properties":{"hyperlink":"/tickets/spring-training","seen":"false"},"menuItems":[]},{"itemId":"0a8ddc10-4b69-4a97-a677-6301ac30971b","textual content":"Fan Value","properties":{"hyperlink":"https://information.google.com/tickets/fan-value","customProperties":"","seen":"true"},"menuItems":[]},{"itemId":"417de43e-baa5-4ca1-802d-c0814be88688″,"textual content":"Ballpark Tours","properties":{"hyperlink":"/tickets/ballpark-tours","seen":"false"},"menuItems":[]},{"itemId":"dc1ab63d-4195-4a41-8248-cfa5513a66e9″,"textual content":"StubHub.com","properties":{"hyperlink":"https://www.stubhub.com/mlb-tickets/grouping/81/?gcid=C12289x371″,"customProperties":""},"menuItems":[]},{"itemId":"a1fd4bc8-d136-4d65-a0cd-393f31e0e14e","textual content":"All-Star Game","properties":{"hyperlink":"/all-star/tickets","customProperties":"expires:1626228000″,"seen":"false"},"menuItems":[]},{"itemId":"5d7d5f77-3b9d-4d21-bece-8b3245b7bf2a","textual content":"International Events","properties":{"hyperlink":"https://information.google.com/worldwide","seen":"false"},"menuItems":[]},{"itemId":"5e7b162c-c994-4bad-89b3-0a1b2746710d","textual content":"Ticket Terms & Conditions","properties":{"hyperlink":"https://information.google.com/tickets/terms-and-conditions"},"menuItems":[]}]},{"itemId":"7b24aad4-85fb-4206-b915-85dc84bf8046″,"textual content":"MLB.TV","properties":{"hyperlink":"https://www.mlb.com/television?&affiliateId=mlbMENU","customProperties":"amp:true;align:proper;","icon":"watch"},"menuItems":[{"itemId":"ab13d176-9838-413e-9107-7e4d718fd357″,"text":"Watch & Listen Live","properties":{"link":"/live-stream-games?&affiliateID=mlbMENU"},"menuItems":[]},{"itemId":"3153c3df-f5c8-4e02-8d3d-4c2f8f2c07ad","textual content":"Buy MLB.TV","properties":{"hyperlink":"/live-stream-games/subscribe?&affiliateId=mlbMENU"},"menuItems":[]},{"itemId":"ec113dc5-fef0-4f00-b9bd-9435cc62d961″,"textual content":"Buy MLB Audio","properties":{"hyperlink":"/live-stream-games/subscribe/mlb-audio?&affiliateId=mlbMENU"},"menuItems":[]},{"itemId":"00132689-c7ce-46b0-bfac-228fa9f70a22″,"textual content":"Watch MLB.TV Docs & Features","properties":{"hyperlink":"https://www.mlb.com/television/featured?&affiliateId=mlbMENU","seen":"false"},"menuItems":[]},{"itemId":"68b755ed-4f9d-4c0a-96ea-ffafb22ca5c5″,"textual content":"MLB.TV Help Center","properties":{"hyperlink":"/live-stream-games/help-center?&affiliateId=mlbMENU","customProperties":"","seen":"true"},"menuItems":[]}]},{"itemId":"6bfaf88e-891c-4e05-a935-8a32bd23086a","textual content":"Shop","properties":{"hyperlink":"https://www.mlbshop.com/?_s=bm-mlbcom-hp","customProperties":"align:proper;","icon":"shopping-cart"},"menuItems":[{"itemId":"d7b3c8e0-42c4-45c5-8278-c51adb21b47f","text":"Auction","properties":{"link":"http://auction.mlb.com/","visible":"true"},"menuItems":[]},{"itemId":"216d4562-456b-442d-b078-9e9be9b35b20″,"textual content":"Authentication","properties":{"hyperlink":"https://information.google.com/authentication"},"menuItems":[]},{"itemId":"20f4725a-5dc1-4543-a153-7795cd789463″,"textual content":"Autographed","properties":{"hyperlink":"http://auctions.mlb.com/iSynApp/allAuction.motion?sid=1101001&rc=25&selectedCatId=17342&type=timeleft_asc&pgmode2=catpage"},"menuItems":[]},{"itemId":"f4f69cd4-2549-45f2-ba63-d97ddb0b564c","textual content":"Jerseys","properties":{"hyperlink":"https://www.mlbshop.com/jerseys/d-1250336792+z-990485-1677480024?_s=bm-mlbcom-hp","customProperties":""},"menuItems":[]},{"itemId":"a67b9b28-c511-47a8-87e6-594cb719c787″,"textual content":"Caps","properties":{"hyperlink":"https://www.mlbshop.com/caps/d-3494554436+z-921549-1032840697?_s=bm-mlbcom-hp","customProperties":""},"menuItems":[]},{"itemId":"f5b9b657-5322-40c1-b2e8-1bd31e27abf6″,"textual content":"Men's","properties":{"hyperlink":"https://www.mlbshop.com/males/ga-12+z-9112397524-3608394688?_s=bm-mlbcom-hp","customProperties":""},"menuItems":[]},{"itemId":"dfa13a6f-17fd-4a4a-9963-f3e3734e28bf","textual content":"Women's","properties":{"hyperlink":"https://www.mlbshop.com/ladies/ga-57+z-822989763-3950492570?_s=bm-mlbcom-hp","customProperties":""},"menuItems":[]},{"itemId":"c2bf810b-0d1f-4135-b7f8-919c53fc8cc2″,"textual content":"Kids","properties":{"hyperlink":"https://www.mlbshop.com/youngsters/ga-36+z-861270405-1171990865?_s=bm-mlbcom-hp","customProperties":""},"menuItems":[]},{"itemId":"1b321c96-eb8a-4077-9868-9420205878bc","textual content":"Collectibles & Memorabilia","properties":{"hyperlink":"https://www.mlbshop.com/collectibles-and-memorabilia/d-7883550038+z-87646-4052890706?_s=bm-mlbcom-hp","customProperties":""},"menuItems":[]},{"itemId":"91dcfa1d-f4de-4bf9-93f8-8f91f4069272″,"textual content":"Home & Office","properties":{"hyperlink":"https://www.mlbshop.com/home-and-office/d-3449556733+z-992406-855732365?_s=bm-mlbcom-hp","customProperties":""},"menuItems":[]},{"itemId":"c69e35fc-900e-4fcc-9348-085aa0febeab","textual content":"Gift Cards","properties":{"hyperlink":"https://www.mlbshop.com/gift-cards/x-462351+z-94899005-3509039474?_s=bm-mlbcom-Home","customProperties":""},"menuItems":[]},{"itemId":"7423a9ca-3a6f-42fe-8d6e-9459bed284c7″,"textual content":"NYC Retail Store","properties":{"hyperlink":"https://information.google.com/store/nyc-retail-store"},"menuItems":[]},{"itemId":"44958e84-599e-44b1-96b4-44f38a477942″,"textual content":"European Shop","properties":{"hyperlink":"http://www.mlbshopeurope.com/shops/mlb/en?portal=MLTS66FS&CMP=PSC-MLTS66FS","customProperties":""},"menuItems":[]},{"itemId":"51d3278e-90fd-4462-aec0-7cfd8de1cb79″,"textual content":"Photo Store","properties":{"hyperlink":"https://photostore.mlb.com/","seen":"false"},"menuItems":[]}]},{"itemId":"5052bac6-3f1d-4847-8739-42021d7cfc2d","textual content":"News","properties":{"hyperlink":"https://information.google.com/information","customProperties":"amp:true;cellular:true"},"menuItems":[{"itemId":"82d45c9a-d055-4ab4-b785-576d982a2077″,"text":"Probable Pitchers","properties":{"visible":"true","link":"https://news.google.com/probable-pitchers"},"menuItems":[]},{"itemId":"4bfdb502-31e4-49dd-bae1-89a4772d0739″,"textual content":"Prospect Rankings","properties":{"hyperlink":"https://information.google.com/prospects"},"menuItems":[]},{"itemId":"f499f46a-a51b-443e-82aa-3b6006f9b306″,"textual content":"Starting Lineups","properties":{"seen":"false"},"menuItems":[]},{"itemId":"6ee1c331-faa0-4865-a062-1c98a2f67c0d","textual content":"Great Stories","properties":{"seen":"true","hyperlink":"https://information.google.com/information/subject/longform"},"menuItems":[]},{"itemId":"844e328c-713f-46da-8183-965d19eb7dd8″,"textual content":"Awards","properties":{"seen":"false"},"menuItems":[]},{"itemId":"c1ac7886-1d18-4ad8-9fc4-326ab4753144″,"textual content":"MLB Draft","properties":{"seen":"false","hyperlink":"/draft/2021″},"menuItems":[]},{"itemId":"230d1ec0-9d0a-4a3f-a04c-3cf16474390f","textual content":"Pipeline","properties":{"seen":"true","hyperlink":"https://information.google.com/pipeline"},"menuItems":[]},{"itemId":"28a2e573-86ba-4cdc-a924-86d3b6500979″,"textual content":"Glossary","properties":{"seen":"false"},"menuItems":[]},{"itemId":"7e316d55-5379-4151-a0e5-828b6b4f8ba8″,"textual content":"All-Star Game","properties":{"seen":"false","hyperlink":"/all-star/"},"menuItems":[]}]},{"itemId":"ed72bef5-d993-4ffe-91d2-15abf6218c12″,"textual content":"Video","properties":{"hyperlink":"https://information.google.com/video"},"menuItems":[{"itemId":"a5ff7160-ceb1-4742-a19e-a6c57b79c0d6″,"text":"– In this section heading goes here (items below should be indented) –","properties":{"visible":"false"},"menuItems":[]},{"itemId":"d6f95b2e-b8ee-41f0-a313-e74537eff685″,"textual content":"Film Room","properties":{"hyperlink":"https://information.google.com/video/search","seen":"true"},"menuItems":[]},{"itemId":"a24a8e9d-471b-4626-9535-28e1b8f62bad","textual content":"Watch Live Games","properties":{"hyperlink":"https://information.google.com/live-stream-games?affiliateId=mlbMENU","seen":"true"},"menuItems":[]},{"itemId":"286ad1ca-abe4-4d67-b80a-9020e756750e","textual content":"MLB Network","properties":{"hyperlink":"https://information.google.com/community"},"menuItems":[]},{"itemId":"948d378c-7d73-49b1-b5ba-8729c59bca9a","textual content":"Podcasts","properties":{"hyperlink":"https://information.google.com/podcasts","seen":"true"},"menuItems":[]},{"itemId":"b4db4be3-d1cd-4aeb-a1a4-c1a88127b4e0″,"textual content":"– Featured heading goes right here (objects under ought to be indented) –","properties":{"seen":"false"},"menuItems":[]},{"itemId":"c7cc3f43-1b5b-410a-aeb9-87a98410b47b","textual content":"MLB Draft","properties":{"hyperlink":"/video/subject/mlb-draft","seen":"false"},"menuItems":[]}]},{"itemId":"7c68f445-5095-46cc-bab3-73af6c921597″,"textual content":"Scores","properties":{"hyperlink":"https://information.google.com/scores","customProperties":"cellular:true;amp:true;","seen":"true"},"menuItems":[]},{"itemId":"9efaf5e3-6a93-4e4f-b8af-1219110ecb30″,"textual content":"Stats","properties":{"hyperlink":"https://information.google.com/stats","customProperties":"cellular:true;amp:true;"},"menuItems":[{"itemId":"54409829-d71b-4846-9f67-5a559c1d48a8″,"text":"2022 Regular Season Stats","properties":{"link":"https://news.google.com/stats/2022/regular-season"},"menuItems":[]},{"itemId":"670765d3-3238-4c3c-8dad-3e16850b9c51″,"textual content":"2022 Spring Training Stats","properties":{"hyperlink":"https://information.google.com/stats/2022/spring-training"},"menuItems":[]},{"itemId":"f31b263b-34d4-46ab-aa46-9796e93b048b","textual content":"2021 Regular Season Stats","properties":{"hyperlink":"https://information.google.com/stats/2021/regular-season"},"menuItems":[]},{"itemId":"8aaf8eb7-7583-4394-9a19-d95cc3323577″,"textual content":"2021 Postseason Stats","properties":{"hyperlink":"https://information.google.com/stats/2021/postseason-cumulative"},"menuItems":[]},{"itemId":"62c5195b-2630-4d9e-9896-6aee0709aeee","textual content":"2021 Sortable Team Stats","properties":{"hyperlink":"https://information.google.com/stats/crew/2021″},"menuItems":[]},{"itemId":"41566816-1cb8-421f-9a4a-9ccdefa7ed69″,"textual content":"Statcast Leaders","properties":{"hyperlink":"https://baseballsavant.mlb.com/statcast_leaderboard"},"menuItems":[]},{"itemId":"2d0a2684-64c6-4d9f-87a1-a7cf9f661e2f","textual content":"Baseball Savant","properties":{"hyperlink":"https://baseballsavant.mlb.com/"},"menuItems":[]},{"itemId":"b9d0ae31-f31d-449b-82fb-5a77f59293ba","textual content":"Top Prospect Stats","properties":{"hyperlink":"/prospects/stats/top-prospects?sort=all&dateRange=Year2019&minPA=1″},"menuItems":[]}]},{"itemId":"6af88ec1-9bfe-4494-abc0-898dc919a081″,"textual content":"Standings","properties":{"hyperlink":"https://information.google.com/standings","customProperties":"amp:true;"},"menuItems":[{"itemId":"ebed9f18-3f22-45cf-a887-ff3d89b1db3c","text":"2022 Regular Season Standings","properties":{"link":"https://news.google.com/standings/regular-season/2022″},"menuItems":[]},{"itemId":"121a61dc-a81a-45af-abbe-8230aee19b5e","textual content":"2022 Spring Training Standings","properties":{"hyperlink":"https://information.google.com/standings/spring-training"},"menuItems":[]},{"itemId":"a9713ec1-4849-41b5-8f0b-fa0746a205e4″,"textual content":"2021 Regular Season Standings","properties":{"hyperlink":"https://information.google.com/standings/regular-season/2021″,"customProperties":""},"menuItems":[]},{"itemId":"a84f52a4-d7d4-4661-b193-8c81901e8e7e","textual content":"2021 Advanced Standings","properties":{"hyperlink":"https://information.google.com/standings/regular-season/advanced-splits/2021″,"customProperties":""},"menuItems":[]}]},{"itemId":"248fea7e-1d19-452a-bb5c-999e1a09b7cd","textual content":"Schedule","properties":{"hyperlink":"https://information.google.com/schedule","customProperties":"amp:true;cellular:true;"},"menuItems":[{"itemId":"f4010b7a-902c-41e0-b405-e0fa695b5c64″,"text":"2022 Regular Season","properties":{"link":"https://news.google.com/schedule/"},"menuItems":[]},{"itemId":"74ae0fd1-28f5-41ab-8861-23d056482243″,"textual content":"2022 Spring Training","properties":{"hyperlink":"/schedule/2022-03-17″,"seen":"false"},"menuItems":[]},{"itemId":"94c9d7e4-3477-4217-87f3-008d2290b9ee","textual content":"Important Dates","properties":{"hyperlink":"/schedule/occasions#important-dates"},"menuItems":[]},{"itemId":"d3566c69-34a7-4e6c-b2bb-28203c847f9e","textual content":"Probable Pitchers","properties":{"hyperlink":"https://information.google.com/probable-pitchers","seen":"false"},"menuItems":[]},{"itemId":"3747c1bc-9b3d-43f5-bd04-d1274c59c02a","textual content":"Team by Team Schedule","properties":{"hyperlink":"https://information.google.com/schedule/team-by-team"},"menuItems":[]},{"itemId":"e75ecc62-7e72-4b53-9705-a23e2b511f83″,"textual content":"National Broadcasts","properties":{"hyperlink":"https://www.mlb.com/live-stream-games/national-broadcast-schedule","seen":"true"},"menuItems":[]},{"itemId":"bce30443-7f92-4c61-979f-058e5e6ebe17″,"textual content":"Sunday Night Broadcasts","properties":{"hyperlink":"http://m.mlb.com/promo/sunday-night-broadcasts","seen":"false"},"menuItems":[]}]},{"itemId":"8c842eeb-dedd-430c-a452-57a740d5c3df","textual content":"Players","properties":{"hyperlink":"https://information.google.com/gamers","customProperties":"","icon":"group","seen":"true"},"menuItems":[{"itemId":"1d79329f-5a6b-4294-b78f-31ead4822c69″,"text":"Injury Updates","properties":{"link":"https://news.google.com/injury-report"},"menuItems":[]},{"itemId":"1f929714-240b-4834-b859-8066a592fa8e","textual content":"Depth Charts","properties":{"hyperlink":"https://information.google.com/crew/roster/depth-chart"},"menuItems":[]},{"itemId":"b30fe902-714f-4f74-a901-d2397c750dab","textual content":"Transactions","properties":{"hyperlink":"http://mlb.mlb.com/mlb/transactions/?tcid=mm_mlb_players"},"menuItems":[]},{"itemId":"3e585331-af20-4e73-8419-2067bed2677c","textual content":"Starting Lineups","properties":{"seen":"false","hyperlink":"/starting-lineups"},"menuItems":[]},{"itemId":"2983d4a7-0410-41fe-8b08-35c866b373d5″,"textual content":"Prospect Rankings","properties":{"hyperlink":"https://information.google.com/prospects"},"menuItems":[]},{"itemId":"a07b01b6-397e-450e-bd8d-7e00c6dd2a80″,"textual content":"MLB Players Association","properties":{"hyperlink":"https://www.mlbplayers.com"},"menuItems":[]},{"itemId":"5f453f49-28d8-4036-9f14-d947b8fd4980″,"textual content":"Probable Pitchers","properties":{"hyperlink":"https://information.google.com/probable-pitchers"},"menuItems":[]},{"itemId":"3de86763-c530-400b-a7de-1761c927d7bc","textual content":"Negro Leagues","properties":{"hyperlink":"https://information.google.com/historical past/negro-leagues"},"menuItems":[]}]},{"itemId":"781f2bb2-a66a-44be-8fee-b0a0250d60e6″,"textual content":"Play Ball","properties":{"hyperlink":"https://information.google.com/play-ball","goal":"_blank","customProperties":"topNav:false;","icon":"baseball"},"menuItems":[{"itemId":"2a74747c-e482-42f5-b750-ce710dea6568″,"text":"PlayBall.org","properties":{"link":"https://news.google.com/play-ball","target":"_blank","visible":"false"},"menuItems":[]},{"itemId":"9f5ab700-d2c0-43be-a398-6926ceef9e1c","textual content":"Hank Aaron Invitational","properties":{"hyperlink":"/hank-aaron-invitational","seen":"false"},"menuItems":[]},{"itemId":"14d9fdc8-ba24-44cf-9a77-7a867852f418″,"textual content":"News","properties":{"hyperlink":"https://information.google.com/information/subject/youth-baseball"},"menuItems":[]},{"itemId":"4c876067-e576-4874-b914-d86fe7f4a538″,"textual content":"Pitch Smart","properties":{"hyperlink":"/pitch-smart","seen":"false"},"menuItems":[]},{"itemId":"6996ed01-d31d-4fc4-8d0d-a5baf177f69a","textual content":"Play Ball Near You","properties":{"hyperlink":"https://information.google.com/play-ball/play-ball-near-you"},"menuItems":[]},{"itemId":"4e66a4b2-0f27-483c-81d4-f27b0b630eac","textual content":"States Play","properties":{"hyperlink":"/states-play","seen":"false"},"menuItems":[]},{"itemId":"aed729a5-4ff6-45cc-868c-f90b9b9190af","textual content":"MLB TOUR","properties":{"hyperlink":"/mlb-tour","seen":"false"},"menuItems":[]},{"itemId":"28d79b33-aebd-4685-9cc9-c4ccce1262f8″,"textual content":"RBI","properties":{"hyperlink":"https://information.google.com/rbi"},"menuItems":[]},{"itemId":"18001329-d9d0-47b9-b2e0-5043b69cee9e","textual content":"Pitch, Hit & Run","properties":{"hyperlink":"https://information.google.com/pitch-hit-and-run"},"menuItems":[]},{"itemId":"df867e3c-db53-4d4f-9958-e10cb0939c8a","textual content":"Jr. Home Run Derby","properties":{"hyperlink":"https://information.google.com/junior-home-run-derby"},"menuItems":[]},{"itemId":"6af5ec56-5e26-45b3-93d6-2f79d929c046″,"textual content":"MLB Pipeline","properties":{"hyperlink":"https://information.google.com/pipeline","seen":"false"},"menuItems":[]},{"itemId":"bc715814-2692-4bde-9b1d-99cbd9ada5dc","textual content":"MLB Youth Academies","properties":{"hyperlink":"https://information.google.com/mlb-youth-academy"},"menuItems":[]},{"itemId":"26715913-0ae8-4106-baa4-3d914b0a33b0″,"textual content":"Breakthrough Series","properties":{"hyperlink":"/breakthrough-series","seen":"false"},"menuItems":[]},{"itemId":"56cb414b-eb00-4632-8acc-81d74ee4745e","textual content":"Development","properties":{"hyperlink":"https://information.google.com/elite-development-invitational"},"menuItems":[]},{"itemId":"04697c74-2811-4d84-8150-aa1016aa6272″,"textual content":"USA Baseball","properties":{"hyperlink":"https://www.usabaseball.com/","goal":"_blank","seen":"false"},"menuItems":[]},{"itemId":"ae77ea02-173a-4439-be6c-9ee75225bd50″,"textual content":"USA Softball","properties":{"hyperlink":"http://www.teamusa.org/USA-Softball","goal":"_blank","seen":"false"},"menuItems":[]},{"itemId":"845c6c5b-95b1-410b-9b39-7de529cb86c4″,"textual content":"Youth Baseball & Softball","properties":{"hyperlink":"https://information.google.com/youth-baseball-softball"},"menuItems":[]}]},{"itemId":"mlb-fans","textual content":"Fans","properties":{"hyperlink":"https://information.google.com/followers"},"menuItems":[{"itemId":"25c7540a-c3a3-42e8-a8f8-1e3be9f5d4fe","text":"MLB Kids","properties":{"link":"https://news.google.com/fans/kids"},"menuItems":[]},{"itemId":"8ee0a750-a1d7-4c8f-80ee-cb7beb4268ff","textual content":"MLB International","properties":{"hyperlink":"https://information.google.com/worldwide"},"menuItems":[]},{"itemId":"59ffbbaf-a56c-4cb4-b874-d5a5ce36c9f1″,"textual content":"MLB Newsletters","properties":{"hyperlink":"https://information.google.com/followers/newsletters"},"menuItems":[]},{"itemId":"9e37a80a-34da-4e92-ae40-8462146aef1c","textual content":"Virtual Backgrounds","properties":{"hyperlink":"/followers/virtual-backgrounds","seen":"false"},"menuItems":[]},{"itemId":"ef7c9f4a-5e11-4700-aad3-b29a8c5acc4c","textual content":"Podcasts","properties":{"hyperlink":"/followers/podcasts","seen":"false"},"menuItems":[]},{"itemId":"5d6dbbbf-fdff-41e7-b187-793bdb998ec8″,"textual content":"MLB Photos","properties":{"hyperlink":"https://information.google.com/pictures/house","seen":"true"},"menuItems":[]}]},{"itemId":"832ad058-32b1-4fbd-940d-a68456ad3c25″,"textual content":"Fantasy","properties":{"hyperlink":"https://information.google.com/fantasy","customProperties":"","seen":"true"},"menuItems":[{"itemId":"ee7dde99-2f2c-49e4-a5df-b319f51afa21″,"text":"Yahoo Fantasy Baseball","properties":{"target":"_blank","link":"https://baseball.fantasysports.yahoo.com/","visible":"false"},"menuItems":[]},{"itemId":"4e35b374-27ca-40c1-8f4b-d0e861496179″,"textual content":"MLB Beat the Streak","properties":{"hyperlink":"/apps/beat-the-streak","seen":"false"},"menuItems":[]},{"itemId":"fa818f3d-e28a-4dce-8ed8-928d7000a1f6″,"textual content":"The Vault","properties":{"hyperlink":"/the-vault","seen":"false"},"menuItems":[]},{"itemId":"7f0d66f2-44a0-4594-b5f9-db2c84c09356″,"textual content":"MLB Pre-Pick (AUS)","properties":{"hyperlink":"https://www.mlb.com/pre-pick/tab","seen":"false"},"menuItems":[]},{"itemId":"7af822e8-dc82-4b7e-818a-97080c0938f2″,"textual content":"Closer Report","properties":{"hyperlink":"/closer-report","seen":"false"},"menuItems":[]},{"itemId":"c2b4eeef-ec9c-4c5b-831c-1edca0316768″,"textual content":"Prospect Rankings","properties":{"hyperlink":"https://information.google.com/prospects","seen":"false"},"menuItems":[]},{"itemId":"3b212a3b-4687-4ea7-a276-3e780e18210c","textual content":"MLB Champions","properties":{"hyperlink":"https://www.mlbc.app/?ref=mlbcom","goal":"_blank","seen":"false"},"menuItems":[]}]},{"itemId":"f857d698-35a3-4b1b-8e88-d92056ca5507″,"textual content":"Apps","properties":{"hyperlink":"/apps","customProperties":"","information":"","seen":"false"},"menuItems":[{"itemId":"c974a38d-8537-4d03-9dfa-681ac5bd0f08″,"text":"MLB","properties":{"link":"/apps/mlb-app"},"menuItems":[]},{"itemId":"13d77816-460d-4783-8ed7-f1ff1d3a97ed","textual content":"MLB Rally","properties":{"hyperlink":"/apps/rally","seen":"true"},"menuItems":[]},{"itemId":"f2626a2d-160d-4682-96c6-bfe391c16398″,"textual content":"MLB Beat the Streak","properties":{"hyperlink":"/apps/beat-the-streak","seen":"false"},"menuItems":[]},{"itemId":"89f7398c-7a79-46e4-a8cd-843a44ceee13″,"textual content":"MLB Ballpark","properties":{"hyperlink":"/apps/ballpark"},"menuItems":[]},{"itemId":"03c8451e-6437-4aa6-8b5d-50c3fedad25e","textual content":"MiLB First Pitch","properties":{"hyperlink":"https://www.milb.com/about/first-pitch"},"menuItems":[]},{"itemId":"94808840-9046-445e-9a6a-83016bdadb72″,"textual content":"MLB Home Run Derby","properties":{"hyperlink":"/fantasy/home-run-derby","seen":"false"},"menuItems":[]},{"itemId":"fbe4d233-e766-4207-8886-55a2fc1f7f74″,"textual content":"MLB FAQs","properties":{"hyperlink":"/apps/mlb-app/faq-apple"},"menuItems":[]},{"itemId":"34d7bc2e-a216-4956-8105-b42f2ba4bea3″,"textual content":"MLB Ballpark FAQs","properties":{"hyperlink":"/apps/ballpark/faq-apple"},"menuItems":[]},{"itemId":"c081befb-bde5-446d-a4d4-c9292d29d525″,"textual content":"MLB Rally FAQs","properties":{"hyperlink":"/apps/rally/faq-apple","seen":"true"},"menuItems":[]}]},{"itemId":"ba2b8aec-0e14-429e-ac96-dbb1f04edaf8″,"textual content":"Vote","properties":{"hyperlink":"https://www.mlb.com/all-star/poll?affiliateId=asb-topnav-mlb-2021″,"customProperties":"seems:1622736000;expires:1625162400;","seen":"false"},"menuItems":[]},{"itemId":"57ec62ff-6517-49b7-8bef-7a3edc6874cb","textual content":"Auction","properties":{"hyperlink":"http://public sale.mlb.com/","seen":"false","customProperties":"topNav:false;"},"menuItems":[{"itemId":"3ea7f7ac-0734-47d9-8804-967eba72da0e","text":"Authentication","properties":{"link":"https://news.google.com/authentication"},"menuItems":[]},{"itemId":"e3e18801-29de-4b11-86ac-a475342dff41″,"textual content":"Autographed","properties":{"hyperlink":"http://auctions.mlb.com/iSynApp/allAuction.motion?sid=1101001&rc=25&selectedCatId=17342&type=timeleft_asc&pgmode2=catpage"},"menuItems":[]},{"itemId":"f4c0200f-4437-47c0-8c15-1a54c26d22c0″,"textual content":"Baseball Cards","properties":{"hyperlink":"http://www.baseballcards.mlb.com/"},"menuItems":[]},{"itemId":"21b7a4a2-6c76-47b5-af79-51dc0334f2c9″,"textual content":"Baseballs","properties":{"hyperlink":"http://auctions.mlb.com/iSynApp/allAuction.motion?sid=1101001&rc=25&selectedCatId=13020&type=timeleft_asc&pgmode2=catpage"},"menuItems":[]},{"itemId":"6b056370-0888-43e4-9f8c-8100e2ee7653″,"textual content":"Bats","properties":{"hyperlink":"http://auctions.mlb.com/iSynApp/allAuction.motion?sid=1101001&rc=25&selectedCatId=13041&type=timeleft_asc&pgmode2=catpage"},"menuItems":[]},{"itemId":"1b036e35-5977-4af1-9cb0-736c76d18ec4″,"textual content":"Caps","properties":{"hyperlink":"http://auctions.mlb.com/iSynApp/allAuction.motion?sid=1101001&rc=25&selectedCatId=13021&type=timeleft_asc&pgmode2=catpage"},"menuItems":[]},{"itemId":"74ae99a1-5ed5-44e4-842c-b49dc99e982d","textual content":"Experiences","properties":{"hyperlink":"http://auctions.mlb.com/iSynApp/allAuction.motion?sid=1101001&rc=25&selectedCatId=13060&type=timeleft_asc&pgmode2=catpage"},"menuItems":[]},{"itemId":"d41a4007-2f65-4b0f-a0a8-7df58870e507″,"textual content":"Game-Used","properties":{"hyperlink":"http://auctions.mlb.com/iSynApp/allAuction.motion?sid=1101001&rc=25&selectedCatId=13022&type=timeleft_asc&pgmode2=catpage"},"menuItems":[]},{"itemId":"aafaf49c-cfb9-432d-9119-f86a64fdbb27″,"textual content":"Jerseys","properties":{"hyperlink":"http://auctions.mlb.com/iSynApp/allAuction.motion?sid=1101001&rc=25&selectedCatId=13062&type=timeleft_asc&pgmode2=catpage"},"menuItems":[]},{"itemId":"c0be3bdb-025a-42ac-b09d-c391d058342b","textual content":"Photos","properties":{"hyperlink":"http://auctions.mlb.com/iSynApp/allAuction.motion?sid=1101001&rc=25&selectedCatId=13024&type=timeleft_asc&pgmode2=catpage"},"menuItems":[]}]},{"itemId":"98430c25-7924-4112-a70f-0b32fd31594f","textual content":"Teams","properties":{"hyperlink":"https://information.google.com/crew","customProperties":"amp:true;module:teammodule;align:proper;"},"menuItems":[{"itemId":"9191834c-54c4-40a7-8aac-9745d3666084″,"text":"Team Module","properties":{"customProperties":"module:teammodule;"},"menuItems":[]}]},{"itemId":"397b9e10-6d65-4fc0-bbe6-8d07f5e8d3a8″,"textual content":"ES","properties":{"hyperlink":"https://information.google.com/es","customProperties":"align:proper;lang:es;label:Español","toolTip":"Español"},"menuItems":[{"itemId":"ceb83c80-eaf2-4dd4-bdc6-e23b1e11ae60″,"text":"日本語","properties":{"link":"http://www.mlb.jp/","customProperties":"lang:ja","visible":"false"},"menuItems":[]},{"itemId":"27ac6728-00c1-4965-963b-05d33268fb50″,"textual content":"한국어","properties":{"hyperlink":"https://www.mlbkor.com/","customProperties":"lang:ko","seen":"false"},"menuItems":[]}]}]},"locale":"en","reqPath":"/information/miguel-cabrera-records-3-000th-hit","sharedNav":{"instanceId":"6c265854-d856-4f92-aea1-07dfe5cda020″,"identify":"shared-nav","variables":[],"menuItems":[{"itemId":"93b3e9b2-65a9-4585-9185-03e255cb523c","text":"MLB.TV","properties":{"link":"https://www.mlb.com/tv?&affiliateId=clubMENU","icon":"watch","customProperties":"align:right;"},"menuItems":[{"itemId":"d54a2b21-9db9-4252-9ebe-e3a4b2a3cf83″,"text":"Watch & Listen Live","properties":{"link":"https://www.mlb.com/live-stream-games?&affiliateId=clubMENU"},"menuItems":[]},{"itemId":"2d8d6ad8-dc2a-4971-9b12-f1853530c5d3″,"textual content":"Buy MLB.TV","properties":{"hyperlink":"/live-stream-games/subscribe?&affiliateId=clubMENU"},"menuItems":[]},{"itemId":"38c2991b-6331-469b-bce7-c53ab3267bc6″,"textual content":"Buy MLB Audio","properties":{"hyperlink":"/live-stream-games/subscribe/mlb-audio?&affiliateId=clubMENU"},"menuItems":[]},{"itemId":"2f433cfb-699a-43bb-ab54-d3b4a7269d8e","textual content":"Watch MLB.TV Docs & Features","properties":{"hyperlink":"https://www.mlb.com/television/featured?&affiliateId=clubMENU"},"menuItems":[]},{"itemId":"6254640c-2069-4447-822f-084d0a38f161″,"textual content":"MLB.TV Help Center","properties":{"hyperlink":"https://www.mlb.com/live-stream-games/help-center?&affiliateId=clubMENU"},"menuItems":[]}]},{"itemId":"d54d0be0-f610-4f8b-90ac-c246c361e2e2″,"textual content":"Fantasy","properties":{"hyperlink":"https://www.mlb.com/fantasy","customProperties":"","seen":"true"},"menuItems":[{"itemId":"5ec4bde4-6bc1-412b-a92b-6b7cb3b2f07c","text":"Yahoo Fantasy Baseball","properties":{"link":"http://yhoo.it/3aK5QQw","visible":"true","target":"_blank"},"menuItems":[]},{"itemId":"b2a63b51-03fc-423d-971e-1e566f6008f4″,"textual content":"MLB Rally","properties":{"hyperlink":"https://www.mlb.com/apps/rally","seen":"false"},"menuItems":[]},{"itemId":"f6929b88-632d-4a6f-ba73-8a64fccba1b0″,"textual content":"MLB Quick Pick","properties":{"hyperlink":"https://www.mlb.com/apps/rally/quickpick","seen":"false"},"menuItems":[]},{"itemId":"0ebe9e5d-3fc7-48d2-acb1-c33eb931b911″,"textual content":"MLB Beat the Streak","properties":{"hyperlink":"https://www.mlb.com/apps/beat-the-streak","seen":"false"},"menuItems":[]},{"itemId":"086bd307-a929-4414-9dd7-09bdac8d3f2e","textual content":"MLB MOONBLASTS Pick 'Em","properties":{"hyperlink":"https://www.mlb.com/sponsorship/ftx-moonblasts-pick-em","customProperties":"expires:1627754400″},"menuItems":[]},{"itemId":"14aa1d4b-0193-4670-a1fc-b4386d4977e8″,"textual content":"The Vault","properties":{"hyperlink":"https://www.mlb.com/the-vault"},"menuItems":[]},{"itemId":"4e0abdd4-8a0f-4bc5-838f-91dd2796041e","textual content":"MLB Home Run Derby","properties":{"hyperlink":"https://www.mlb.com/fantasy/home-run-derby"},"menuItems":[]},{"itemId":"7d8dfda7-345a-46fa-82dc-105068ba223e","textual content":"Season Pick 'Em","properties":{"hyperlink":"https://www.mlb.com/season-pick-em?affiliateId=spe-fantasynav-club-2021″,"seen":"false"},"menuItems":[]},{"itemId":"6eda396d-199b-4772-b3c9-c0b032513b6c","textual content":"MLB Pre-Pick (AUS)","properties":{"customProperties":"","hyperlink":"https://www.mlb.com/pre-pick/tab","seen":"false"},"menuItems":[]},{"itemId":"9f1ff266-0ed8-4adb-ba77-428d1871b237″,"textual content":"Closer Report","properties":{"hyperlink":"https://www.mlb.com/closer-report","seen":"false"},"menuItems":[]},{"itemId":"4c4f57bd-e31a-46c9-8f73-0fa2227451d3″,"textual content":"Prospect Rankings","properties":{"hyperlink":"https://www.mlb.com/prospects"},"menuItems":[]},{"itemId":"1ebe4dc3-2c6a-469f-be59-474fe14dbbd7″,"textual content":"MLB Champions","properties":{"hyperlink":"https://www.mlbc.app/?ref=mlbcom","goal":"_blank"},"menuItems":[]}]},{"itemId":"d1f61f89-9fd0-4f03-be17-2c5e128711a4″,"textual content":"Apps","properties":{"hyperlink":"/apps"},"menuItems":[{"itemId":"83ac2ddf-414b-47d1-afec-ffacd068ab57″,"text":"MLB","properties":{"link":"/apps/mlb-app"},"menuItems":[]},{"itemId":"83dbba73-02ac-4ba0-bebf-2c62ef04c19e","textual content":"MLB Rally","properties":{"hyperlink":"https://www.mlb.com/apps/rally","seen":"true"},"menuItems":[]},{"itemId":"26fda476-348c-4f42-aa7c-92d1f9b1bf5c","textual content":"MLB Beat the Streak","properties":{"hyperlink":"https://www.mlb.com/apps/beat-the-streak","seen":"false"},"menuItems":[]},{"itemId":"e09e6978-fcf7-4c2f-8387-59d83b7be38e","textual content":"MLB Ballpark","properties":{"hyperlink":"/apps/ballpark"},"menuItems":[]},{"itemId":"5e7b8019-9484-4872-abd7-8b963cd5969e","textual content":"MiLB First Pitch","properties":{"hyperlink":"https://www.milb.com/about/first-pitch"},"menuItems":[]},{"itemId":"4fd8c1f8-a753-4501-916c-663390f1a566″,"textual content":"MLB Home Run Derby","properties":{"hyperlink":"https://www.mlb.com/fantasy/home-run-derby"},"menuItems":[]},{"itemId":"9d8dfe8b-be1a-4ebf-9509-6bd0165a868e","textual content":"MLB FAQs","properties":{"hyperlink":"/apps/mlb-app/faq-apple"},"menuItems":[]},{"itemId":"df4e8527-e357-4272-bcf7-61876ed9455d","textual content":"MLB Ballpark FAQs","properties":{"hyperlink":"/apps/ballpark/faq-apple","seen":"true"},"menuItems":[]},{"itemId":"c2943c65-a843-437a-9ef4-4ccfe5be088f","textual content":"MLB Rally FAQs","properties":{"hyperlink":"https://www.mlb.com/apps/rally/faq-apple","seen":"true"},"menuItems":[]}]}]},"styleProps":{},"teamNameSlug":"","groupsData":[{"springLeague":{"id":114,"name":"Cactus League","link":"/api/v1/league/114″,"abbreviation":"CL"},"allStarStatus":"N","id":133,"name":"Oakland Athletics","link":"/api/v1/teams/133″,"season":2022,"venue":{"id":10,"name":"Oakland Coliseum","link":"/api/v1/venues/10″,"location":{"address1″:"7000 Coliseum Way","city":"Oakland","state":"California","stateAbbrev":"CA","postalCode":"94621″,"defaultCoordinates":{"latitude":37.751511,"longitude":-122.200698},"country":"USA","phone":"(510) 638-4900″},"timeZone":{"id":"America/Los_Angeles","offset":-7,"tz":"PDT"},"active":true},"springVenue":{"id":2507,"link":"/api/v1/venues/2507″},"teamCode":"oak","fileCode":"oak","abbreviation":"OAK","teamName":"Athletics","locationName":"Oakland","firstYearOfPlay":"1901″,"league":{"id":103,"name":"American League","link":"/api/v1/league/103″},"division":{"id":200,"name":"American League West","link":"/api/v1/divisions/200″},"sport":{"id":1,"link":"/api/v1/sports/1″,"name":"Major League Baseball"},"shortName":"Oakland","franchiseName":"Oakland","clubName":"Athletics","active":true},{"springLeague":{"id":115,"name":"Grapefruit League","link":"/api/v1/league/115″,"abbreviation":"GL"},"allStarStatus":"N","id":134,"name":"Pittsburgh Pirates","link":"/api/v1/teams/134″,"season":2022,"venue":{"id":31,"name":"PNC Park","link":"/api/v1/venues/31″,"location":{"address1″:"115 Federal Street","city":"Pittsburgh","state":"Pennsylvania","stateAbbrev":"PA","postalCode":"15212″,"defaultCoordinates":{"latitude":40.446904,"longitude":-80.005753},"country":"USA","phone":"(412) 323-5000″},"timeZone":{"id":"America/New_York","offset":-4,"tz":"EDT"},"active":true},"springVenue":{"id":2526,"link":"/api/v1/venues/2526″},"teamCode":"pit","fileCode":"pit","abbreviation":"PIT","teamName":"Pirates","locationName":"Pittsburgh","firstYearOfPlay":"1882″,"league":{"id":104,"name":"National League","link":"/api/v1/league/104″},"division":{"id":205,"name":"National League Central","link":"/api/v1/divisions/205″},"sport":{"id":1,"link":"/api/v1/sports/1″,"name":"Major League Baseball"},"shortName":"Pittsburgh","franchiseName":"Pittsburgh","clubName":"Pirates","active":true},{"springLeague":{"id":114,"name":"Cactus League","link":"/api/v1/league/114″,"abbreviation":"CL"},"allStarStatus":"N","id":135,"name":"San Diego Padres","link":"/api/v1/teams/135″,"season":2022,"venue":{"id":2680,"name":"Petco Park","link":"/api/v1/venues/2680″,"location":{"address1″:"100 Park Boulevard","city":"San Diego","state":"California","stateAbbrev":"CA","postalCode":"92101″,"defaultCoordinates":{"latitude":32.707861,"longitude":-117.157278},"country":"USA","phone":"(619) 795-5000″},"timeZone":{"id":"America/Los_Angeles","offset":-7,"tz":"PDT"},"active":true},"springVenue":{"id":2530,"link":"/api/v1/venues/2530″},"teamCode":"sdn","fileCode":"sd","abbreviation":"SD","teamName":"Padres","locationName":"San Diego","firstYearOfPlay":"1968″,"league":{"id":104,"name":"National League","link":"/api/v1/league/104″},"division":{"id":203,"name":"National League West","link":"/api/v1/divisions/203″},"sport":{"id":1,"link":"/api/v1/sports/1″,"name":"Major League Baseball"},"shortName":"San Diego","franchiseName":"San Diego","clubName":"Padres","active":true},{"springLeague":{"id":114,"name":"Cactus League","link":"/api/v1/league/114″,"abbreviation":"CL"},"allStarStatus":"N","id":136,"name":"Seattle Mariners","link":"/api/v1/teams/136″,"season":2022,"venue":{"id":680,"name":"T-Mobile Park","link":"/api/v1/venues/680″,"location":{"address1″:"P.O. Box 4100″,"city":"Seattle","state":"Washington","stateAbbrev":"WA","postalCode":"98104″,"defaultCoordinates":{"latitude":47.591333,"longitude":-122.33251},"country":"USA","phone":"(206) 346-4000″},"timeZone":{"id":"America/Los_Angeles","offset":-7,"tz":"PDT"},"active":true},"springVenue":{"id":2530,"link":"/api/v1/venues/2530″},"teamCode":"sea","fileCode":"sea","abbreviation":"SEA","teamName":"Mariners","locationName":"Seattle","firstYearOfPlay":"1977″,"league":{"id":103,"name":"American League","link":"/api/v1/league/103″},"division":{"id":200,"name":"American League West","link":"/api/v1/divisions/200″},"sport":{"id":1,"link":"/api/v1/sports/1″,"name":"Major League Baseball"},"shortName":"Seattle","franchiseName":"Seattle","clubName":"Mariners","active":true},{"springLeague":{"id":114,"name":"Cactus League","link":"/api/v1/league/114″,"abbreviation":"CL"},"allStarStatus":"N","id":137,"name":"San Francisco Giants","link":"/api/v1/teams/137″,"season":2022,"venue":{"id":2395,"name":"Oracle Park","link":"/api/v1/venues/2395″,"location":{"address1″:"24 Willie Mays Plaza","city":"San Francisco","state":"California","stateAbbrev":"CA","postalCode":"94107″,"defaultCoordinates":{"latitude":37.778383,"longitude":-122.389448},"country":"USA","phone":"(415) 972-2000″},"timeZone":{"id":"America/Los_Angeles","offset":-7,"tz":"PDT"},"active":true},"springVenue":{"id":2532,"link":"/api/v1/venues/2532″},"teamCode":"sfn","fileCode":"sf","abbreviation":"SF","teamName":"Giants","locationName":"San Francisco","firstYearOfPlay":"1883″,"league":{"id":104,"name":"National League","link":"/api/v1/league/104″},"division":{"id":203,"name":"National League West","link":"/api/v1/divisions/203″},"sport":{"id":1,"link":"/api/v1/sports/1″,"name":"Major League Baseball"},"shortName":"San Francisco","franchiseName":"San Francisco","clubName":"Giants","active":true},{"springLeague":{"id":115,"name":"Grapefruit League","link":"/api/v1/league/115″,"abbreviation":"GL"},"allStarStatus":"N","id":138,"name":"St. Louis Cardinals","link":"/api/v1/teams/138″,"season":2022,"venue":{"id":2889,"name":"Busch Stadium","link":"/api/v1/venues/2889″,"location":{"address1″:"700 Clark Street","city":"St. Louis","state":"Missouri","stateAbbrev":"MO","postalCode":"63102″,"defaultCoordinates":{"latitude":38.62256667,"longitude":-90.19286667},"country":"USA","phone":"(314) 345-9600″},"timeZone":{"id":"America/Chicago","offset":-5,"tz":"CDT"},"active":true},"springVenue":{"id":2520,"link":"/api/v1/venues/2520″},"teamCode":"sln","fileCode":"stl","abbreviation":"STL","teamName":"Cardinals","locationName":"St. Louis","firstYearOfPlay":"1892″,"league":{"id":104,"name":"National League","link":"/api/v1/league/104″},"division":{"id":205,"name":"National League Central","link":"/api/v1/divisions/205″},"sport":{"id":1,"link":"/api/v1/sports/1″,"name":"Major League Baseball"},"shortName":"St. Louis","franchiseName":"St. Louis","clubName":"Cardinals","active":true},{"springLeague":{"id":115,"name":"Grapefruit League","link":"/api/v1/league/115″,"abbreviation":"GL"},"allStarStatus":"N","id":139,"name":"Tampa Bay Rays","link":"/api/v1/teams/139″,"season":2022,"venue":{"id":12,"name":"Tropicana Field","link":"/api/v1/venues/12″,"location":{"address1″:"One Tropicana Drive","city":"St. Petersburg","state":"Florida","stateAbbrev":"FL","postalCode":"33705″,"defaultCoordinates":{"latitude":27.767778,"longitude":-82.6525},"country":"USA","phone":"(727) 825-3137″},"timeZone":{"id":"America/New_York","offset":-4,"tz":"EDT"},"active":true},"springVenue":{"id":2534,"link":"/api/v1/venues/2534″},"teamCode":"tba","fileCode":"tb","abbreviation":"TB","teamName":"Rays","locationName":"St. Petersburg","firstYearOfPlay":"1996″,"league":{"id":103,"name":"American League","link":"/api/v1/league/103″},"division":{"id":201,"name":"American League East","link":"/api/v1/divisions/201″},"sport":{"id":1,"link":"/api/v1/sports/1″,"name":"Major League Baseball"},"shortName":"Tampa Bay","franchiseName":"Tampa Bay","clubName":"Rays","active":true},{"springLeague":{"id":114,"name":"Cactus League","link":"/api/v1/league/114″,"abbreviation":"CL"},"allStarStatus":"N","id":140,"name":"Texas Rangers","link":"/api/v1/teams/140″,"season":2022,"venue":{"id":5325,"name":"Globe Life Field","link":"/api/v1/venues/5325″,"location":{"address1″:"734 Stadium Drive","city":"Arlington","state":"Texas","stateAbbrev":"TX","postalCode":"76011″,"defaultCoordinates":{"latitude":32.747299,"longitude":-97.081818},"country":"USA","phone":"(817) 533-1972″},"timeZone":{"id":"America/Chicago","offset":-5,"tz":"CDT"},"active":true},"springVenue":{"id":2603,"link":"/api/v1/venues/2603″},"teamCode":"tex","fileCode":"tex","abbreviation":"TEX","teamName":"Rangers","locationName":"Arlington","firstYearOfPlay":"1961″,"league":{"id":103,"name":"American League","link":"/api/v1/league/103″},"division":{"id":200,"name":"American League West","link":"/api/v1/divisions/200″},"sport":{"id":1,"link":"/api/v1/sports/1″,"name":"Major League Baseball"},"shortName":"Texas","franchiseName":"Texas","clubName":"Rangers","active":true},{"springLeague":{"id":115,"name":"Grapefruit League","link":"/api/v1/league/115″,"abbreviation":"GL"},"allStarStatus":"N","id":141,"name":"Toronto Blue Jays","link":"/api/v1/teams/141″,"season":2022,"venue":{"id":14,"name":"Rogers Centre","link":"/api/v1/venues/14″,"location":{"address1″:"1 Blue Jays Way, Suite 3200″,"city":"Toronto","state":"Ontario","stateAbbrev":"ON","postalCode":"M5V1J1″,"defaultCoordinates":{"latitude":43.64155,"longitude":-79.38915},"country":"Canada","phone":"(416) 341-1000″},"timeZone":{"id":"America/Toronto","offset":-4,"tz":"EDT"},"active":true},"springVenue":{"id":2536,"link":"/api/v1/venues/2536″},"teamCode":"tor","fileCode":"tor","abbreviation":"TOR","teamName":"Blue Jays","locationName":"Toronto","firstYearOfPlay":"1977″,"league":{"id":103,"name":"American League","link":"/api/v1/league/103″},"division":{"id":201,"name":"American League East","link":"/api/v1/divisions/201″},"sport":{"id":1,"link":"/api/v1/sports/1″,"name":"Major League Baseball"},"shortName":"Toronto","franchiseName":"Toronto","clubName":"Blue Jays","active":true},{"springLeague":{"id":115,"name":"Grapefruit League","link":"/api/v1/league/115″,"abbreviation":"GL"},"allStarStatus":"N","id":142,"name":"Minnesota Twins","link":"/api/v1/teams/142″,"season":2022,"venue":{"id":3312,"name":"Target Field","link":"/api/v1/venues/3312″,"location":{"address1″:"1 Twins Way","city":"Minneapolis","state":"Minnesota","stateAbbrev":"MN","postalCode":"55403″,"defaultCoordinates":{"latitude":44.981829,"longitude":-93.277891},"country":"USA","phone":"(612) 659-3400″},"timeZone":{"id":"America/Chicago","offset":-5,"tz":"CDT"},"active":true},"springVenue":{"id":2862,"link":"/api/v1/venues/2862″},"teamCode":"min","fileCode":"min","abbreviation":"MIN","teamName":"Twins","locationName":"Minneapolis","firstYearOfPlay":"1901″,"league":{"id":103,"name":"American League","link":"/api/v1/league/103″},"division":{"id":202,"name":"American League Central","link":"/api/v1/divisions/202″},"sport":{"id":1,"link":"/api/v1/sports/1″,"name":"Major League Baseball"},"shortName":"Minnesota","franchiseName":"Minnesota","clubName":"Twins","active":true},{"springLeague":{"id":115,"name":"Grapefruit League","link":"/api/v1/league/115″,"abbreviation":"GL"},"allStarStatus":"N","id":143,"name":"Philadelphia Phillies","link":"/api/v1/teams/143″,"season":2022,"venue":{"id":2681,"name":"Citizens Bank Park","link":"/api/v1/venues/2681″,"location":{"address1″:"One Citizens Bank Way","city":"Philadelphia","state":"Pennsylvania","stateAbbrev":"PA","postalCode":"19148″,"defaultCoordinates":{"latitude":39.90539086,"longitude":-75.16716957},"country":"USA","phone":"(215) 463-6000″},"timeZone":{"id":"America/New_York","offset":-4,"tz":"EDT"},"active":true},"springVenue":{"id":2700,"link":"/api/v1/venues/2700″},"teamCode":"phi","fileCode":"phi","abbreviation":"PHI","teamName":"Phillies","locationName":"Philadelphia","firstYearOfPlay":"1883″,"league":{"id":104,"name":"National League","link":"/api/v1/league/104″},"division":{"id":204,"name":"National League East","link":"/api/v1/divisions/204″},"sport":{"id":1,"link":"/api/v1/sports/1″,"name":"Major League Baseball"},"shortName":"Philadelphia","franchiseName":"Philadelphia","clubName":"Phillies","active":true},{"springLeague":{"id":115,"name":"Grapefruit League","link":"/api/v1/league/115″,"abbreviation":"GL"},"allStarStatus":"N","id":144,"name":"Atlanta Braves","link":"/api/v1/teams/144″,"season":2022,"venue":{"id":4705,"name":"Truist Park","link":"/api/v1/venues/4705″,"location":{"address1″:"755 Battery Avenue","city":"Atlanta","state":"Georgia","stateAbbrev":"GA","postalCode":"30339″,"defaultCoordinates":{"latitude":33.890672,"longitude":-84.467641},"country":"USA"},"timeZone":{"id":"America/New_York","offset":-4,"tz":"EDT"},"active":true},"springVenue":{"id":5380,"link":"/api/v1/venues/5380″},"teamCode":"atl","fileCode":"atl","abbreviation":"ATL","teamName":"Braves","locationName":"Atlanta","firstYearOfPlay":"1871″,"league":{"id":104,"name":"National League","link":"/api/v1/league/104″},"division":{"id":204,"name":"National League East","link":"/api/v1/divisions/204″},"sport":{"id":1,"link":"/api/v1/sports/1″,"name":"Major League Baseball"},"shortName":"Atlanta","franchiseName":"Atlanta","clubName":"Braves","active":true},{"springLeague":{"id":114,"name":"Cactus League","link":"/api/v1/league/114″,"abbreviation":"CL"},"allStarStatus":"N","id":145,"name":"Chicago White Sox","link":"/api/v1/teams/145″,"season":2022,"venue":{"id":4,"name":"Guaranteed Rate Field","link":"/api/v1/venues/4″,"location":{"address1″:"333 West 35th Street","city":"Chicago","state":"Illinois","stateAbbrev":"IL","postalCode":"60616″,"defaultCoordinates":{"latitude":41.83,"longitude":-87.634167},"country":"USA","phone":"(312) 674-1000″},"timeZone":{"id":"America/Chicago","offset":-5,"tz":"CDT"},"active":true},"springVenue":{"id":3809,"link":"/api/v1/venues/3809″},"teamCode":"cha","fileCode":"cws","abbreviation":"CWS","teamName":"White Sox","locationName":"Chicago","firstYearOfPlay":"1901″,"league":{"id":103,"name":"American League","link":"/api/v1/league/103″},"division":{"id":202,"name":"American League Central","link":"/api/v1/divisions/202″},"sport":{"id":1,"link":"/api/v1/sports/1″,"name":"Major League Baseball"},"shortName":"Chi White Sox","franchiseName":"Chicago","clubName":"White Sox","active":true},{"springLeague":{"id":115,"name":"Grapefruit League","link":"/api/v1/league/115″,"abbreviation":"GL"},"allStarStatus":"N","id":146,"name":"Miami Marlins","link":"/api/v1/teams/146″,"season":2022,"venue":{"id":4169,"name":"loanDepot park","link":"/api/v1/venues/4169″,"location":{"address1″:"501 Marlins Way","city":"Miami","state":"Florida","stateAbbrev":"FL","postalCode":"33125″,"defaultCoordinates":{"latitude":25.77796236,"longitude":-80.21951795},"country":"USA"},"timeZone":{"id":"America/New_York","offset":-4,"tz":"EDT"},"active":true},"springVenue":{"id":2520,"link":"/api/v1/venues/2520″},"teamCode":"mia","fileCode":"mia","abbreviation":"MIA","teamName":"Marlins","locationName":"Miami","firstYearOfPlay":"1991″,"league":{"id":104,"name":"National League","link":"/api/v1/league/104″},"division":{"id":204,"name":"National League East","link":"/api/v1/divisions/204″},"sport":{"id":1,"link":"/api/v1/sports/1″,"name":"Major League Baseball"},"shortName":"Miami","franchiseName":"Miami","clubName":"Marlins","active":true},{"springLeague":{"id":115,"name":"Grapefruit League","link":"/api/v1/league/115″,"abbreviation":"GL"},"allStarStatus":"N","id":147,"name":"New York Yankees","link":"/api/v1/teams/147″,"season":2022,"venue":{"id":3313,"name":"Yankee Stadium","link":"/api/v1/venues/3313″,"location":{"address1″:"One East 161st Street","city":"Bronx","state":"New York","stateAbbrev":"NY","postalCode":"10451″,"defaultCoordinates":{"latitude":40.82919482,"longitude":-73.9264977},"country":"USA","phone":"(718) 293-4300″},"timeZone":{"id":"America/New_York","offset":-4,"tz":"EDT"},"active":true},"springVenue":{"id":2523,"link":"/api/v1/venues/2523″},"teamCode":"nya","fileCode":"nyy","abbreviation":"NYY","teamName":"Yankees","locationName":"Bronx","firstYearOfPlay":"1903″,"league":{"id":103,"name":"American League","link":"/api/v1/league/103″},"division":{"id":201,"name":"American League East","link":"/api/v1/divisions/201″},"sport":{"id":1,"link":"/api/v1/sports/1″,"name":"Major League Baseball"},"shortName":"NY Yankees","franchiseName":"New York","clubName":"Yankees","active":true},{"springLeague":{"id":114,"name":"Cactus League","link":"/api/v1/league/114″,"abbreviation":"CL"},"allStarStatus":"N","id":158,"name":"Milwaukee Brewers","link":"/api/v1/teams/158″,"season":2022,"venue":{"id":32,"name":"American Family Field","link":"/api/v1/venues/32″,"location":{"address1″:"One Brewers Way","city":"Milwaukee","state":"Wisconsin","stateAbbrev":"WI","postalCode":"53214″,"defaultCoordinates":{"latitude":43.02838,"longitude":-87.97099},"country":"USA","phone":"(414) 902-4400″},"timeZone":{"id":"America/Chicago","offset":-5,"tz":"CDT"},"active":true},"springVenue":{"id":2518,"link":"/api/v1/venues/2518″},"teamCode":"mil","fileCode":"mil","abbreviation":"MIL","teamName":"Brewers","locationName":"Milwaukee","firstYearOfPlay":"1968″,"league":{"id":104,"name":"National League","link":"/api/v1/league/104″},"division":{"id":205,"name":"National League Central","link":"/api/v1/divisions/205″},"sport":{"id":1,"link":"/api/v1/sports/1″,"name":"Major League Baseball"},"shortName":"Milwaukee","franchiseName":"Milwaukee","clubName":"Brewers","active":true},{"springLeague":{"id":114,"name":"Cactus League","link":"/api/v1/league/114″,"abbreviation":"CL"},"allStarStatus":"N","id":108,"name":"Los Angeles Angels","link":"/api/v1/teams/108″,"season":2022,"venue":{"id":1,"name":"Angel Stadium","link":"/api/v1/venues/1″,"location":{"address1″:"2000 Gene Autry Way","city":"Anaheim","state":"California","stateAbbrev":"CA","postalCode":"92806″,"defaultCoordinates":{"latitude":33.80019044,"longitude":-117.8823996},"country":"USA","phone":"(714) 940-2000″},"timeZone":{"id":"America/Los_Angeles","offset":-7,"tz":"PDT"},"active":true},"springVenue":{"id":2500,"link":"/api/v1/venues/2500″},"teamCode":"ana","fileCode":"ana","abbreviation":"LAA","teamName":"Angels","locationName":"Anaheim","firstYearOfPlay":"1961″,"league":{"id":103,"name":"American League","link":"/api/v1/league/103″},"division":{"id":200,"name":"American League West","link":"/api/v1/divisions/200″},"sport":{"id":1,"link":"/api/v1/sports/1″,"name":"Major League Baseball"},"shortName":"LA Angels","franchiseName":"Los Angeles","clubName":"Angels","active":true},{"springLeague":{"id":114,"name":"Cactus League","link":"/api/v1/league/114″,"abbreviation":"CL"},"allStarStatus":"N","id":109,"name":"Arizona Diamondbacks","link":"/api/v1/teams/109″,"season":2022,"venue":{"id":15,"name":"Chase Field","link":"/api/v1/venues/15″,"location":{"address1″:"401 East Jefferson Street","city":"Phoenix","state":"Arizona","stateAbbrev":"AZ","postalCode":"85004″,"defaultCoordinates":{"latitude":33.445302,"longitude":-112.066687},"country":"USA","phone":"(602) 462-6500″},"timeZone":{"id":"America/Phoenix","offset":-7,"tz":"MST"},"active":true},"springVenue":{"id":4249,"link":"/api/v1/venues/4249″},"teamCode":"ari","fileCode":"ari","abbreviation":"ARI","teamName":"D-backs","locationName":"Phoenix","firstYearOfPlay":"1996″,"league":{"id":104,"name":"National League","link":"/api/v1/league/104″},"division":{"id":203,"name":"National League West","link":"/api/v1/divisions/203″},"sport":{"id":1,"link":"/api/v1/sports/1″,"name":"Major League Baseball"},"shortName":"Arizona","franchiseName":"Arizona","clubName":"Diamondbacks","active":true},{"springLeague":{"id":115,"name":"Grapefruit League","link":"/api/v1/league/115″,"abbreviation":"GL"},"allStarStatus":"N","id":110,"name":"Baltimore Orioles","link":"/api/v1/teams/110″,"season":2022,"venue":{"id":2,"name":"Oriole Park at Camden Yards","link":"/api/v1/venues/2″,"location":{"address1″:"333 West Camden Street","city":"Baltimore","state":"Maryland","stateAbbrev":"MD","postalCode":"21201″,"defaultCoordinates":{"latitude":39.283787,"longitude":-76.621689},"country":"USA","phone":"(410) 685-9800″},"timeZone":{"id":"America/New_York","offset":-4,"tz":"EDT"},"active":true},"springVenue":{"id":2508,"link":"/api/v1/venues/2508″},"teamCode":"bal","fileCode":"bal","abbreviation":"BAL","teamName":"Orioles","locationName":"Baltimore","firstYearOfPlay":"1901″,"league":{"id":103,"name":"American League","link":"/api/v1/league/103″},"division":{"id":201,"name":"American League East","link":"/api/v1/divisions/201″},"sport":{"id":1,"link":"/api/v1/sports/1″,"name":"Major League Baseball"},"shortName":"Baltimore","franchiseName":"Baltimore","clubName":"Orioles","active":true},{"springLeague":{"id":115,"name":"Grapefruit League","link":"/api/v1/league/115″,"abbreviation":"GL"},"allStarStatus":"N","id":111,"name":"Boston Red Sox","link":"/api/v1/teams/111″,"season":2022,"venue":{"id":3,"name":"Fenway Park","link":"/api/v1/venues/3″,"location":{"address1″:"4 Yawkey Way","city":"Boston","state":"Massachusetts","stateAbbrev":"MA","postalCode":"2215″,"defaultCoordinates":{"latitude":42.346456,"longitude":-71.097441},"country":"USA","phone":"(617) 267-9440″},"timeZone":{"id":"America/New_York","offset":-4,"tz":"EDT"},"active":true},"springVenue":{"id":4309,"link":"/api/v1/venues/4309″},"teamCode":"bos","fileCode":"bos","abbreviation":"BOS","teamName":"Red Sox","locationName":"Boston","firstYearOfPlay":"1901″,"league":{"id":103,"name":"American League","link":"/api/v1/league/103″},"division":{"id":201,"name":"American League East","link":"/api/v1/divisions/201″},"sport":{"id":1,"link":"/api/v1/sports/1″,"name":"Major League Baseball"},"shortName":"Boston","franchiseName":"Boston","clubName":"Red Sox","active":true},{"springLeague":{"id":114,"name":"Cactus League","link":"/api/v1/league/114″,"abbreviation":"CL"},"allStarStatus":"N","id":112,"name":"Chicago Cubs","link":"/api/v1/teams/112″,"season":2022,"venue":{"id":17,"name":"Wrigley Field","link":"/api/v1/venues/17″,"location":{"address1″:"1060 West Addison","city":"Chicago","state":"Illinois","stateAbbrev":"IL","postalCode":"60613-4397″,"defaultCoordinates":{"latitude":41.948171,"longitude":-87.655503},"country":"USA","phone":"(773) 404-2827″},"timeZone":{"id":"America/Chicago","offset":-5,"tz":"CDT"},"active":true},"springVenue":{"id":4629,"link":"/api/v1/venues/4629″},"teamCode":"chn","fileCode":"chc","abbreviation":"CHC","teamName":"Cubs","locationName":"Chicago","firstYearOfPlay":"1874″,"league":{"id":104,"name":"National League","link":"/api/v1/league/104″},"division":{"id":205,"name":"National League Central","link":"/api/v1/divisions/205″},"sport":{"id":1,"link":"/api/v1/sports/1″,"name":"Major League Baseball"},"shortName":"Chi Cubs","franchiseName":"Chicago","clubName":"Cubs","active":true},{"springLeague":{"id":114,"name":"Cactus League","link":"/api/v1/league/114″,"abbreviation":"CL"},"allStarStatus":"N","id":113,"name":"Cincinnati Reds","link":"/api/v1/teams/113″,"season":2022,"venue":{"id":2602,"name":"Great American Ball Park","link":"/api/v1/venues/2602″,"location":{"address1″:"100 Main Street","city":"Cincinnati","state":"Ohio","stateAbbrev":"OH","postalCode":"45202-4109″,"defaultCoordinates":{"latitude":39.097389,"longitude":-84.506611},"country":"USA","phone":"(513) 765-7000″},"timeZone":{"id":"America/New_York","offset":-4,"tz":"EDT"},"active":true},"springVenue":{"id":3834,"link":"/api/v1/venues/3834″},"teamCode":"cin","fileCode":"cin","abbreviation":"CIN","teamName":"Reds","locationName":"Cincinnati","firstYearOfPlay":"1882″,"league":{"id":104,"name":"National League","link":"/api/v1/league/104″},"division":{"id":205,"name":"National League Central","link":"/api/v1/divisions/205″},"sport":{"id":1,"link":"/api/v1/sports/1″,"name":"Major League Baseball"},"shortName":"Cincinnati","franchiseName":"Cincinnati","clubName":"Reds","active":true},{"springLeague":{"id":114,"name":"Cactus League","link":"/api/v1/league/114″,"abbreviation":"CL"},"allStarStatus":"N","id":114,"name":"Cleveland Guardians","link":"/api/v1/teams/114″,"season":2022,"venue":{"id":5,"name":"Progressive Field","link":"/api/v1/venues/5″,"location":{"address1″:"2401 Ontario Street","city":"Cleveland","state":"Ohio","stateAbbrev":"OH","postalCode":"44115″,"defaultCoordinates":{"latitude":41.495861,"longitude":-81.685255},"country":"USA","phone":"(216) 420-4200″},"timeZone":{"id":"America/New_York","offset":-4,"tz":"EDT"},"active":true},"springVenue":{"id":3834,"link":"/api/v1/venues/3834″},"teamCode":"cle","fileCode":"cle","abbreviation":"CLE","teamName":"Guardians","locationName":"Cleveland","firstYearOfPlay":"1901″,"league":{"id":103,"name":"American League","link":"/api/v1/league/103″},"division":{"id":202,"name":"American League Central","link":"/api/v1/divisions/202″},"sport":{"id":1,"link":"/api/v1/sports/1″,"name":"Major League Baseball"},"shortName":"Cleveland","franchiseName":"Cleveland","clubName":"Guardians","active":true},{"springLeague":{"id":114,"name":"Cactus League","link":"/api/v1/league/114″,"abbreviation":"CL"},"allStarStatus":"N","id":115,"name":"Colorado Rockies","link":"/api/v1/teams/115″,"season":2022,"venue":{"id":19,"name":"Coors Field","link":"/api/v1/venues/19″,"location":{"address1″:"2001 Blake Street","city":"Denver","state":"Colorado","stateAbbrev":"CO","postalCode":"80205-2000″,"defaultCoordinates":{"latitude":39.756042,"longitude":-104.994136},"country":"USA","phone":"(303) 292-0200″},"timeZone":{"id":"America/Denver","offset":-6,"tz":"MDT"},"active":true},"springVenue":{"id":4249,"link":"/api/v1/venues/4249″},"teamCode":"col","fileCode":"col","abbreviation":"COL","teamName":"Rockies","locationName":"Denver","firstYearOfPlay":"1992″,"league":{"id":104,"name":"National League","link":"/api/v1/league/104″},"division":{"id":203,"name":"National League West","link":"/api/v1/divisions/203″},"sport":{"id":1,"link":"/api/v1/sports/1″,"name":"Major League Baseball"},"shortName":"Colorado","franchiseName":"Colorado","clubName":"Rockies","active":true},{"springLeague":{"id":115,"name":"Grapefruit League","link":"/api/v1/league/115″,"abbreviation":"GL"},"allStarStatus":"N","id":116,"name":"Detroit Tigers","link":"/api/v1/teams/116″,"season":2022,"venue":{"id":2394,"name":"Comerica Park","link":"/api/v1/venues/2394″,"location":{"address1″:"2100 Woodward Avenue","city":"Detroit","state":"Michigan","stateAbbrev":"MI","postalCode":"48201″,"defaultCoordinates":{"latitude":42.3391151,"longitude":-83.048695},"country":"USA","phone":"(313) 471-2000″},"timeZone":{"id":"America/Detroit","offset":-4,"tz":"EDT"},"active":true},"springVenue":{"id":2511,"link":"/api/v1/venues/2511″},"teamCode":"det","fileCode":"det","abbreviation":"DET","teamName":"Tigers","locationName":"Detroit","firstYearOfPlay":"1901″,"league":{"id":103,"name":"American League","link":"/api/v1/league/103″},"division":{"id":202,"name":"American League Central","link":"/api/v1/divisions/202″},"sport":{"id":1,"link":"/api/v1/sports/1″,"name":"Major League Baseball"},"shortName":"Detroit","franchiseName":"Detroit","clubName":"Tigers","active":true},{"springLeague":{"id":115,"name":"Grapefruit League","link":"/api/v1/league/115″,"abbreviation":"GL"},"allStarStatus":"N","id":117,"name":"Houston Astros","link":"/api/v1/teams/117″,"season":2022,"venue":{"id":2392,"name":"Minute Maid Park","link":"/api/v1/venues/2392″,"location":{"address1″:"501 Crawford Street","city":"Houston","state":"Texas","stateAbbrev":"TX","postalCode":"77002″,"defaultCoordinates":{"latitude":29.756967,"longitude":-95.355509},"country":"USA","phone":"(713) 259-8000″},"timeZone":{"id":"America/Chicago","offset":-5,"tz":"CDT"},"active":true},"springVenue":{"id":5000,"link":"/api/v1/venues/5000″},"teamCode":"hou","fileCode":"hou","abbreviation":"HOU","teamName":"Astros","locationName":"Houston","firstYearOfPlay":"1962″,"league":{"id":103,"name":"American League","link":"/api/v1/league/103″},"division":{"id":200,"name":"American League West","link":"/api/v1/divisions/200″},"sport":{"id":1,"link":"/api/v1/sports/1″,"name":"Major League Baseball"},"shortName":"Houston","franchiseName":"Houston","clubName":"Astros","active":true},{"springLeague":{"id":114,"name":"Cactus League","link":"/api/v1/league/114″,"abbreviation":"CL"},"allStarStatus":"N","id":118,"name":"Kansas City Royals","link":"/api/v1/teams/118″,"season":2022,"venue":{"id":7,"name":"Kauffman Stadium","link":"/api/v1/venues/7″,"location":{"address1″:"One Royal Way","city":"Kansas City","state":"Missouri","stateAbbrev":"MO","postalCode":"64129″,"defaultCoordinates":{"latitude":39.051567,"longitude":-94.480483},"country":"USA","phone":"(816) 921-8000″},"timeZone":{"id":"America/Chicago","offset":-5,"tz":"CDT"},"active":true},"springVenue":{"id":2603,"link":"/api/v1/venues/2603″},"teamCode":"kca","fileCode":"kc","abbreviation":"KC","teamName":"Royals","locationName":"Kansas City","firstYearOfPlay":"1968″,"league":{"id":103,"name":"American League","link":"/api/v1/league/103″},"division":{"id":202,"name":"American League Central","link":"/api/v1/divisions/202″},"sport":{"id":1,"link":"/api/v1/sports/1″,"name":"Major League Baseball"},"shortName":"Kansas City","franchiseName":"Kansas City","clubName":"Royals","active":true},{"springLeague":{"id":114,"name":"Cactus League","link":"/api/v1/league/114″,"abbreviation":"CL"},"allStarStatus":"N","id":119,"name":"Los Angeles Dodgers","link":"/api/v1/teams/119″,"season":2022,"venue":{"id":22,"name":"Dodger Stadium","link":"/api/v1/venues/22″,"location":{"address1″:"1000 Vin Scully Avenue","city":"Los Angeles","state":"California","stateAbbrev":"CA","postalCode":"90012-1199″,"defaultCoordinates":{"latitude":34.07368,"longitude":-118.24053},"country":"USA","phone":"(323) 224-1500″},"timeZone":{"id":"America/Los_Angeles","offset":-7,"tz":"PDT"},"active":true},"springVenue":{"id":3809,"link":"/api/v1/venues/3809″},"teamCode":"lan","fileCode":"la","abbreviation":"LAD","teamName":"Dodgers","locationName":"Los Angeles","firstYearOfPlay":"1884″,"league":{"id":104,"name":"National League","link":"/api/v1/league/104″},"division":{"id":203,"name":"National League West","link":"/api/v1/divisions/203″},"sport":{"id":1,"link":"/api/v1/sports/1″,"name":"Major League Baseball"},"shortName":"LA Dodgers","franchiseName":"Los Angeles","clubName":"Dodgers","active":true},{"springLeague":{"id":115,"name":"Grapefruit League","link":"/api/v1/league/115″,"abbreviation":"GL"},"allStarStatus":"N","id":120,"name":"Washington Nationals","link":"/api/v1/teams/120″,"season":2022,"venue":{"id":3309,"name":"Nationals Park","link":"/api/v1/venues/3309″,"location":{"address1″:"1500 South Capitol Street, SE","city":"Washington","state":"District of Columbia","stateAbbrev":"DC","postalCode":"20003-1507″,"defaultCoordinates":{"latitude":38.872861,"longitude":-77.007501},"country":"USA","phone":"(202) 349-0400″},"timeZone":{"id":"America/New_York","offset":-4,"tz":"EDT"},"active":true},"springVenue":{"id":5000,"link":"/api/v1/venues/5000″},"teamCode":"was","fileCode":"was","abbreviation":"WSH","teamName":"Nationals","locationName":"Washington","firstYearOfPlay":"1968″,"league":{"id":104,"name":"National League","link":"/api/v1/league/104″},"division":{"id":204,"name":"National League East","link":"/api/v1/divisions/204″},"sport":{"id":1,"link":"/api/v1/sports/1″,"name":"Major League Baseball"},"shortName":"Washington","franchiseName":"Washington","clubName":"Nationals","active":true},{"springLeague":{"id":115,"name":"Grapefruit League","link":"/api/v1/league/115″,"abbreviation":"GL"},"allStarStatus":"N","id":121,"name":"New York Mets","link":"/api/v1/teams/121″,"season":2022,"venue":{"id":3289,"name":"Citi Field","link":"/api/v1/venues/3289″,"location":{"address1″:"Citi Field","city":"Flushing","state":"New York","stateAbbrev":"NY","postalCode":"11368″,"defaultCoordinates":{"latitude":40.75753012,"longitude":-73.84559155},"country":"USA","phone":"(718) 507-6387″},"timeZone":{"id":"America/New_York","offset":-4,"tz":"EDT"},"active":true},"springVenue":{"id":2856,"link":"/api/v1/venues/2856″},"teamCode":"nyn","fileCode":"nym","abbreviation":"NYM","teamName":"Mets","locationName":"Flushing","firstYearOfPlay":"1962″,"league":{"id":104,"name":"National League","link":"/api/v1/league/104″},"division":{"id":204,"name":"National League East","link":"/api/v1/divisions/204″},"sport":{"id":1,"link":"/api/v1/sports/1″,"name":"Major League Baseball"},"shortName":"NY Mets","franchiseName":"New York","clubName":"Mets","active":true}]},"isApp":false,"isCookieNoTrackQueryParam":false,"isPremiumQueryParam":false,"lang":"en","publicationServiceUrl":"https://us-central1-mlb-webeng-prod-39c3.cloudfunctions.internet/email-newsletter","questionString":"","shareOptions":{"shareUrl":"https://www.mlb.com/information/miguel-cabrera-records-3-000th-hit","twitterHandle":"mlb"},"storySlug":"miguel-cabrera-records-3-000th-hit","topicSlug":"","userAgent":"Mozilla/5.0 (Macintosh; Intel Mac OS X 10_14_6) AppleWebKit/537.36 (KHTML, like Gecko) Chrome/83.0.4103.116 Safari/537.36″}}
window.adobeAnalytics = {"reportingSuiteId":"mlbglobal08,mlbcom08″,"hyperlinkInternalFilters":"mlb"}
window.worldState = {"tracking_title":"Major League Baseball","lang":"en"}
window.appId = "
/*–>*/
DETROIT — Miguel Cabrera grew to become the thirty third member of Major League Baseball's 3,000-hit membership on Saturday, churning out a single to proper area off Rockies righty Antonio Senzatela.
The profession feat follows Cabrera's 500th home run final Aug. 22 at Toronto. Cabrera turns into simply the seventh participant in MLB historical past to achieve each milestones. This time, he was in a position to have fun at house in entrance of Tigers followers.
While the three,000-hit chase was a repeat in some methods, it additionally felt totally different. This was extra of a recognition of Cabrera's skill as a pure hitter. While Cabrera's path to stardom included a walk-off house run for his first Major League hit, he has taken nice delight in successful 4 batting titles in a five-year span, together with his 2012 title as a part of his American League Triple Crown season.
Cabrera's pure hitting talent contains his trademark skill to hit to the other area, a talent and philosophy he has handed alongside to present and former teammates.
Cabrera churned out a minimum of 180 hits in 11 of 12 seasons from 2005-16, the lone exception being an injury-shortened '15 marketing campaign by which he nonetheless received a batting title. When Cabrera recorded his 2,Five hundredth hit late within the '16 season, he was the eighth participant to achieve the full by the top of his age-33 season, and the youngest to take action since Hank Aaron.
"It's unbelievable while you have a look at it," Tigers supervisor A.J. Hinch mentioned earlier this week, "and I believe as coaches and me as a supervisor, the older that all of us are, the extra that we are able to respect issues that occurred some time again. Just attempting to get these gamers to know the names which can be up on the board that he is passing, the rarity of what you are truly seeing within the flesh, watching him deal with it with such pleasure.
"There's so many classes to remove from it, however simply soaking it up and having fun with each minute of it. These gamers, Miggy may be the primary Hall of Famer they've ever performed with. You can put it in that perspective. It's fairly wonderful that we get to be part of it."
The intersection of Cabrera's profession feat with a roster that has grown younger round him has added to that impact. Cabrera's Tigers teammates gave him an emotional tribute in the clubhouse after he reached 500 house runs. His 3,000th-hit celebration included rookie first baseman Spencer Torkelson, who was simply 3 years previous when Cabrera had his first big-league hit.
"He grew to become a Hall of Famer by staying contained in the baseball," Torkelson mentioned earlier this week. "It sounds easy, however that's what he's achieved. He'll take that single the opposite manner, or that double within the right-center-field hole to remain on pitches. It's positively what I'd love to do. The dedication to his method is second to none. …
"I'm actually joyful for him. He deserves all of it."
"Even although we play for various groups, he's nonetheless from Venezuela," longtime division rival and good pal Salvador Perez mentioned final week. "I really feel joyful for him, joyful for my nation. I at all times say that Miggy represents each Venezuelan participant within the huge leagues. I do know we play in opposition to one another lots, and I wish to win, he needs to win. But moreover that, we're from the identical nation, so it makes me really feel proud {that a} man from Venezuela is doing what he's doing proper now."